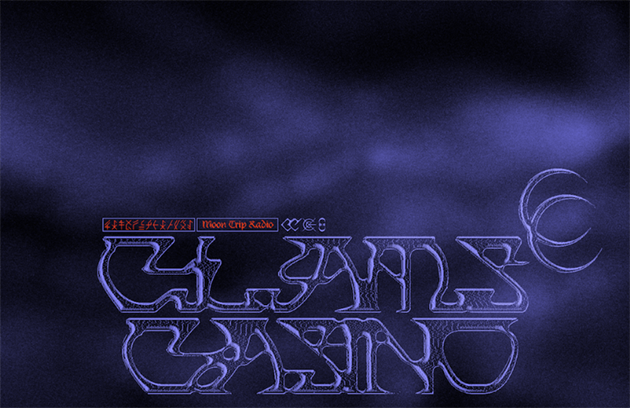 Clams Casino aka Michael Volpe is a mysterious figure, working behind the scenes with many of music's biggest stars. This November, he's moved the spotlight towards himself, with his second studio album Moon Trip Radio.
We first reviewed this Italian-American producer and songwriter from Nutley, New Jersey back in 2016, after the release of his fantastic debut album 32 Levels. He has released several mixtapes, singles and EP's in the last decade, and is currently signed to industry giants Columbia Records and Sony Music (although Moon Trip Radio was actually self-released). His list of notable collaborators is endless, including The Weeknd, Schoolboy Q, A$AP Rocky, Vince Staples, Mac Miller and Kelela; as well as remixing Lana Del Rey, AJ Tracey and countless others. "I never stop working" is a very relevant quote taken from a recent interview with Vice, where he also admits to recent fatherhood restricting him to headphone based production; something that may have inspired an even higher level of detail. His atmospheric style helped to innovate the sound we now know as 'cloud rap', encompassing everything from dubstep to trip-hop.
On hearing the first few tracks of the album, it seems as though much has stayed the same since 32 Levels. His signature pitched-down moody vocals are present on "Rune", sudden flurries of drum glitches appear on "Healing", and on "NSX" he once again utilises sharp snares, swinging hats and lots of granular synthesis. Each of these tracks share a certain melancholy, but as the album progresses the mood begins to lift. "Fire Blue" and "Cupidwing" are altogether less gloomy, but they remain psychedelic and warped. The soft, elegant keys and hip-hop drum pattern of "Cupidwing" would not sound too out of place on a Bonobo album, and the clever sample layering and movement of "Fire Blue" is exceptional. There are even a few tracks with little to no drum work at all; the ambient, extraterrestrial nature of "Soliloquy" might not work for everybody, but the spacious guitar plucks in "Twilit" are sure to convert many non-believers.
Fans of Massive Attack and Portishead are likely to enjoy "Glowing Bones", which has a real trip-hop edge. It's dubby conga echoes and alien synths are unconventional within most rap instrumentals, but due to the album's complete lack of features it is pretty clear that these are meant to stand alone. "Lyre", as the name suggests, relies heavily on the Greek stringed instrument, alongside occasional Aphex Twin-style percussion glitches and crashing digital waves. Other tracks such as "In A Mirror" and "Moon Trip Radio" are intentionally painfully slow, leaving you waiting for the snare.
The project in general is missing a bit of the bite than 32 Levels had, but this roughness has been replaced with refinement. In many ways Moon Trip Radio is even more immersive and experimental. Some may hear it as being blander, or even unfinished, especially as the track lengths are often not very long. They are instead short and sweet, and this directness works wonders. This is a perfect album for cold winter nights, fans of anything ominous and lo-fi should definitely take note.