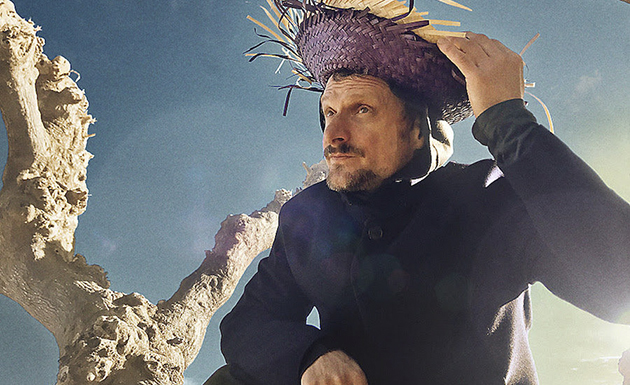 DJ Koze aka Stefan Kozalla has teamed up with vocalists Jose Gonzales, Roisin and more on his latest album Knock Knock. His house and techno roots shine through, whilst exploring the further reaches of R&B and pop. If the name is not familiar to you yet, this release may well put DJ Koze on your musical radar this year…
As fans would expect, there is of course an underlying club-oriented aspect to this project. However this may be the first time listeners will hear another side to Koze's creativeness, throwing influences from deep house, R&B, trip-hop, minimal techno, disco and even folk into the melting pot. From his Hamburg based studio, Koze has whipped up a real treat for Pampa Records, enlisting the vocal support from Kurt Wagner, Jose Gonzales, Roisin Murphy and label mate Sophia Kennedy.
There is a unique beauty to this rather discordant album, which offers just enough detune before wiping the slate clean with real clarity. However atonal each arrangement becomes, they are relieved by blissfulness. Overall there are less extreme rises and falls than you would expect from traditional club music, but the euphoria and tension created here would resonate well with house and techno fans. Some tracks opt for a triumphant vibe, with an uplifting disco edge; whereas there are equal measure of melancholy, either way the album is full of emotion. This emotion is exaggerated by the use of vocals, some which take centre stage ("Colours of Autumn"), whereas others linger in the distance ("Planet Hase" feat. Mano Le Tough).
As this spectacularly commanding collection of 16 tracks plays out, the shifting sonics climb and descend effortlessly. Koze's electronic drum machines and synths meet guitars, orchestral strings, woodwind and jazzy brass. There is no doubt that this was never meant to be an average house album, as Koze admits to being influenced by the emotional melodies of other genres in a recent interview: "Why do we have to stick to two house chords?". Much of this album does share a similar region, tempo-wise though, and thanks to this, some will surely still be mixed by DJ's within a house or techno set.
Knock Knock's opening track "Club der Ewigkeiten" begins with repetitive high strings, and a sinister analogue bass. There is a distinctly trip-hop feel, with a contemporary twist, and when the magical flutes join the party, the mood is switched completely. As its outro stretches and accelerates into the following track "Bonfire", a traditional 4×4 club rhythm emerges from the cloudy chords. Everything appears to be rather majestic and icy at first, but quirky synth growls and a range of vocals add plenty of edge as the track progresses. Eddie Fummler joins in on "Moving in a Liquid", where everything shines much brighter like a summer's day. The fantastic "Colours of Autumn" is up next, but as the greens turn to brown you can definitely still feel the warmth. Without the familiar synth growls (which do not hang around for long) it could be compared to a Kaytranada production.
Jose Gonzalez' collaborative track "Music on My Teeth" is possibly the furthest removed from the dance floor, a theme that continues onto the first Sophia Kennedy feature; a soulful, slow and steady modern R&B excursion. Even Knock Knock's slightly less notable tracks such as "Illumination" are still of a very high calibre, here and on "Pick Up", Koze does indeed begin to bring the tempo back up again. "Pick Up" features scatterings of brilliantly placed Gladys Knight samples, atop a throwback, flamboyant disco/house hyrbrid; Jamiroquai fans will surely get down to this grooving bass line.
Almost every track deserves a mention, from the quirky audio manipulation of "Scratch That" feat. Roisin Murphy, to the ambient restraint of "Muddy Funster"; every weirdly wonderful decision adds to the album's rich tapestry of sounds. Just when you think he has played his final trick, Koze casually drops in the marvellously twisted hip-hop cut "Baby (How Much I LFO You)". Its cheeky title is reflected in the track's style, with fun brass and vocal chops that are sure to get your toes tapping and your mouth smiling.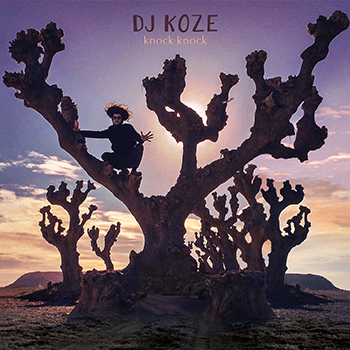 Knock Knock may surpass many expectations, blending curiously off beat or off key elements, with others that are so harmonious. It is a hazy, fuzzy collection of clashing musical influences, that is somehow executed with definition and clarity. Koze displays the whole spectrum, from wild vibrant colours to more subdued sonic tones. Whereas the album is far removed from conventional pop, it could very well be the catalyst that propels his crossover to a more mainstream audience. Knock Knock is a fairly scattered, yet considered album, and where often 16 tracks would leave too much room for error, instead it remains consistent with only a few blemishes. Fans of Bonobo, James Blake, and other more experimental-yet-soulful producers will enjoy listening. Even those who usually shy away from electronic music will find more here than just samples and synthesisers; instead they will find a deep and meaningful album that can also get the party started.
Don't just take our word for it though, come and hear it for yourself at your local Richer Sounds today in one of our demo rooms!