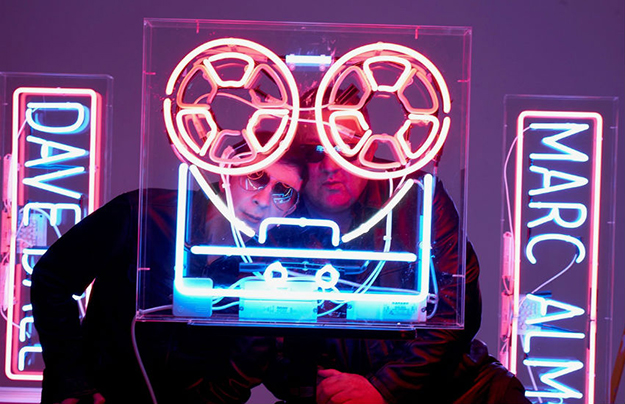 I've been a fan of Soft Cell and Marc Almond since 1981 when "Tainted Love" first thrust the duo into the public spotlight. That was 37 years ago. Almond had a great 10-disc box set a couple of years back, he's made many solo albums and been involved in many collaborations and various theatrical projects in the intervening years and was even recently given an OBE. 10 discs just didn't seem enough. Soft Cell though released 3 albums in their short career, a fourth followed in 2002 during a brief reunion and there've been remix projects etc. but my initial reaction was 'What do you put on a 10 disc Soft Cell set?' when I heard of this. Well, this is what they've done…
Disc One and Two give a remastered ride through the A&B-sides of the band original glory days. These are the versions of the tracks that Dave and Marc view as the definitive versions and they've never sounded as good as these new masters. And if you think glory days is an overstatement, then remember that "Tainted Love" was number one in 17 countries and "Torch" was only denied being No.1 by a Gallup cock up. And there are three other top five hits here. The B-sides perhaps tell more of the band than the hits do and are essential.
Disc Three, New Extended and Reworked Mixes is possibly my favourite set in the box. Using (almost exclusively) original recording elements but taking advantage of modern production techniques and tools Dave Ball has pieced together 12 tracks from the bands past as they 'envisaged' them at the time. "Say Hello, Wave Goodbye" sounds a complete version now rather than a track glued together with an instrumental version somewhat crudely. "Youth" is the anthem it always wanted to but never quite managed to be. "Kitchen Sink Drama" now has the orchestral flow it tried to attain originally. Remarkably, some of these new versions are actually better than originals. No mean feat.
Discs four and five collect rarities, alternate versions, curios and the early years ('78-'81). The audio quality isn't always as great (especially on the early years given the long-lost source of some of the material) but there's plenty here for the die-hard. The legendary self-released and financed by Dave's mum, Mutant Moments EP is officially released on CD here for the first time ever and in the best quality I've ever heard it in (I once, to the horror of my wife, paid 20 quid for a bootleg 7" of this record). A demo of "Tainted Love" masks the mega hit that the band's version of the song would become.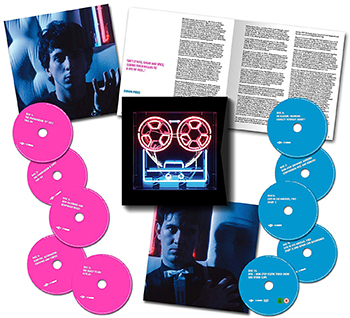 Disc Six presents radio sessions and music from 2002/2003 reunion that saw a tour and a new album, but is now generally regarded as a missed opportunity. It's actually pretty decent, but little to do with the reunion added to the groups legacy or even held a candle next to most of Marc's solo stuff. Having said that, everything sounds heavier, darker and more enticing on these new masters. Disc Seven is new Non-Stop Euphoric Dubbing mix taking in some lesser known moments of the band's back catalogue. It partly works – it sounds great, but I don't see myself returning to this disc for too many repeated listens.
Discs Eight and Nine give us a great 1983 Los Angeles gig and some other live recordings including fan recordings and some live stuff from the early noughties reunion shows including a great version of the Scott Walker-lite "Barriers". These two live discs very nicely whet the appetite for the rapidly approaching final ever show at London's the O2.
Disc Ten is a DVD extravaganza, all the bands videos collected, a pre-fame May 1981 show and loads of TV appearances. (You might read about a manufacturing issue on the DVD, but to their credit Phonogram have already stated they will replace these discs).
There's also a nice hardcover book with an intro from both Dave and Marc and a fantastic potted history/essay from Simon Price. As you'd expect there's a good spread of pictures, too. The set pleases me perhaps more than I expected it too. There isn't too much repetition, 'Tainted Love' is only represented about half a dozen times including videos. The unreleased, early rare and 'new stuff' is a joy.
The band have recently announced a total of three new tracks, it's a shame they came along too late to be included. There is plenty of supporting merchandise out there if you want it, there is even a 'Say Hello, Wave Goodbye' real ale, in pubs now and for sale at the upcoming O2 show.
It's been hinted that the duo could continue to work together as some sort of ongoing studio concern but live it seems like this is it. The box set is the icing on the cake for the band's 40th anniversary and farewell celebrations, and it's not overly expensive either. Highly recommended if you're a fan of the band or Marc Almond, or even if you're just a causal fan with a disposable income.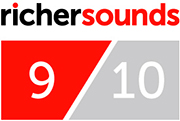 Author: Ian, Romford store