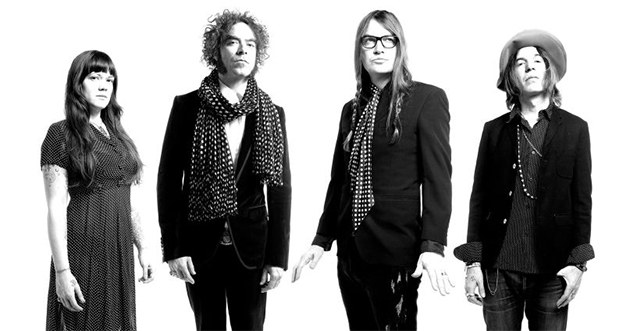 The Dandy Warhols return with their 10th studio album; can they keep the concepts fresh after all this time?
For many, The Dandy Warhols epitomise the musical zeitgeist of the late nineties and early noughties. Formed in 1994 in Portland, Oregon in the States, the band have bagged chart-topping hits the world over, been documented in the award winning 2004 movie Dig! and have rubbed shoulders with musical monolith David Bowie on tour. Their more popular songs (think "Bohemian Like You") conjure up vivid images of the turn of the century. Effortlessly cool and hipster, the Warhols are a band synonymous with noughties indie swagger. However, time has trundled on and the Warhols have been releasing albums like clockwork every two and a half years for the last twenty-five years now…
Time can be unkind to such a stylised band and, in light of this, one imagines the most pressing concern for an outfit now a quarter of a century old is the maintenance of relevance. Musical climates change, and audiences are arguably more brutal than ever before. As the industry becomes commercialised more by the day, it's hard for older bands to remain relevant and exciting whilst retaining the qualities that made them popular from the outset. Trends fluctuate and successful bands have to tap in to this flux, striking a balance between commercial popularity and artistic integrity. Happily, and rather impressively, the Warhols have managed exactly that with their 10th studio album, Why You So Crazy. The album rounds off twenty-five years of creative output rather nicely and suggests the band aren't ready to give up just yet. The album finds its locus in the reproduction of typical Warhol pop and shoegaze, whilst regularly deviating from it, experimenting and innovating.
In Why You So Crazy, The Warhols have crafted a dynamic album that explores the concept of genre. Juxtaposition of tone is deployed to great effect, most notably in the disparity between the early tracks "Terraform" and "Highlife". "Terraform" is a subtly constructed, almost minimalist soundscape that relies on the existence of space between its instrumentation. Not a lot is happening, but what happens is compelling. Compressed drums keep the song moving in hypnotically metronomic fashion; repetitive, dreamy, robotic vocal pieces compound the trance-inducing electronica whilst crunching synths and electronic crackles and pops career around the piece. The whole affair feels dark and angular, not entirely unfriendly but certainly dangerously close to emitting sinister undertones. It's not necessarily the music that catapulted the Warhols to fame, but it has a dark energy that captivates and engrosses the listener.
Then, suddenly, as the track fades out, "Highlife" barrels along with a contrastingly jovial and bashful nature. From the moment that the vocals kick in, evocative of a very stylised, caricatured Americana, the listener knows they've been transported into a completely separate sonic space. The more traditional instrumentation plays on a blues framework, with wandering bass lines and shuffled drums treading a more familiar path than the preceding track. As the track blisters on, up rears a rough and ready guitar solo, followed shortly by a more ethereal synth lick. Even within this one song, there a meshing of vibe that's incredibly intriguing. It's blues-cum-country western with a distinct electronica, bordering on psychedelic at times.  It's difficult to pin down, and toes the line between genius and hilarious.
Whilst the aforementioned tracks are engaging and stylised, many listeners may be hankering after a more 'classic' Warhol feel. Fear not, the Warhols have got you covered, and deliver a brilliantly familiar offering in the single "Motor City Steel". Arguably the most accomplished song on the album, the song is Warhol-esque attitude fully realised. A simple drum loop keeps the song rolling, a bravely basic backdrop that acts as a perfect framework for some muted string parts and layered synth pops. The vocals drip with an Iggy Pop influence and there's no shortage of choppy guitar parts giving the track a sharp edge. Harking back to "Highlife", there's a distinctly American vibe to the song. However, it feels a lot less kitsch; not so much pastiche, more un-ironic celebration of red white and blue.  Slice open the chorus and motor oil spills out; like an American muscle car, this song sails down straight-line open roads, sun beating down on its shining exterior. It's fun, its cool, and it epitomises the Warhol's ability to craft solid pop licks that ooze style."Motor City Steel" grabs hold of the listener and doesn't let go, a properly contagious three minutes of music.
As the album draws to a close, it becomes plausible to imagine critics levelling the claim that the album lacks a sense of tightness, of cohesion. There's certainly no overarching concept that drives the piece forward and unifies it as a watertight unit. Indeed, this line of argument is valid, and would be convincing if the only way to consider the album was from above as a whole. Instead, the album functions best when it is dissected and wrenched apart, a clash of genre and tone, oscillating from moody, cooler-than-thou indie psychedelia, to carefree synth pop. It's a contradiction in stylings, but feels oddly connected by a loose thread of exploration and shape shifting. Whilst the Warhol's contemporaries have either faded into obsolescence or become infuriatingly impenetrable (apologies to Brian Jonestown Massacre), The Dandy Warhols have adapted. Why You So Crazy is a solid offering, and is emblematic of a band that has its finger on the pulse of contemporary music, yet likes to bend the confines of popularity just the right amount. It's experimental pop that intrigues and engages, and keeps the Warhols feeling surprisingly modern after a quarter century of productivity.
Explore the album for yourself on a system that can shine light on its complexity at your local Richer Sounds!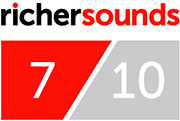 Author: Lewis, Chester store