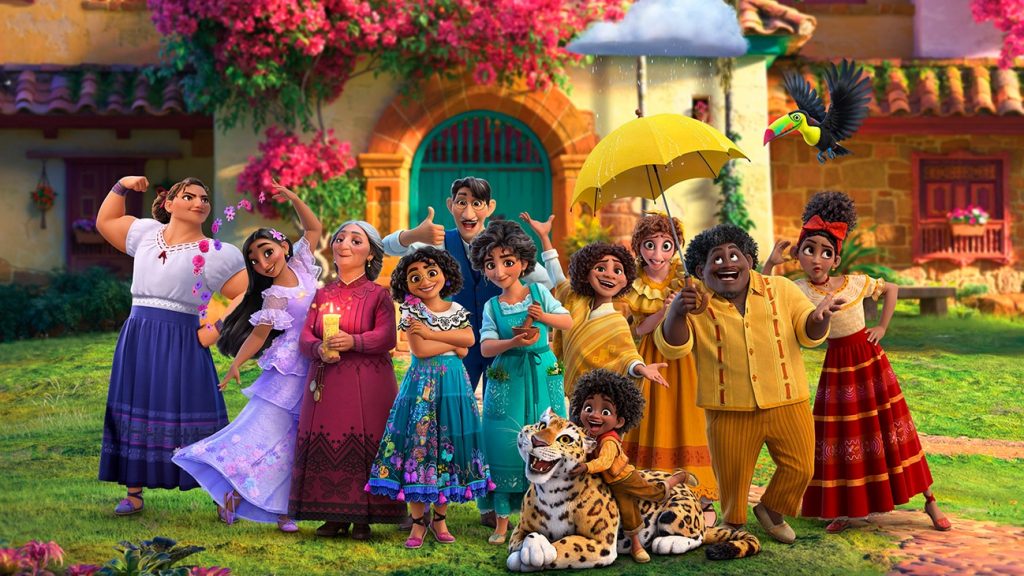 The latest in a successful return to form for the studio, Disney's 60th animated feature, Encanto, has everything you'd want from a family movie this festive season.
Heart, humour and spectacle… these are the three ingredients needed to make a great family film and Encanto has them all in spades. Featuring an impressive line-up of catchy new songs from long-time house of mouse collaborator Lin-Manuel Miranda (Hamilton, In the Heights) Encanto impresses straight away with its cast of quirky characters, comedy and amazing visuals.
The film centres around Mirabel (Brooklyn 99's Stephanie Beatriz) the seemingly unexceptional member of the flamboyantly super-powered Madrigal family, held together by matriarch Abuela Alma. Who, after fleeing social upheaval in her home town when she was younger, was granted a magical candle that can bestow amazing powers on those it deems worthy. But when it comes time for Mirabel to receive her supernatural gift, nothing happens… leaving Mirabel questioning her worth within the family.
On its surface this may seem like a smaller story, with no discernible antagonist in the form of a wicked witch or hook wielding pirate. Instead, Encanto is a family-centric affair, exploring what happens when we hold on too tightly to the things we think are important. The film's South American setting (Columbia to be exact) evokes a similar colourful world to that of Pixar's Coco, but with a lighter feel tonally. 
Also impressive is how the filmmakers play with our expectations of what the film is going to be and instead take us on a more introspective journey. When the black sheep of the family, Bruno (John Leguizamo) predicts a terrible fate for the Madrigals and the decline of their power… instead of going on a grand adventure to solve the problem, Mirabel travels quite literally INTO her own house. Which true to Disney style has its own magical personality and danger about it. 
The film is perfectly punctuated by Lin-Manuel Miranda's expertly crafted songs, through which Mirabel discovers from her family, that life with X-Men like abilities, is less than perfect. Miranda combines the Latin vibes of In the Heights, with his previous Disney outing Moana, with toe-tapping success. 
Stand out songs include, "The Family Madrigal", which cleverly introduces you to the whole family within a few verses. Also, "Surface pressure" and "What Else Can I Do", both of which delve deeper into the bond between Mirabel and her 'perfect' sisters and begin to show the audience the cracks forming in the family (and the house). As the film progresses, we find out that the fates have much more in store for Mirabel than she thought, making the stakes unusually high for such an intimate story.
Voice performances and animation are (as usual for Disney) all top notch, with more than a moment or two that will bring a tear to your eye as well as a smile. The film doesn't outstay its welcome and if anything, you feel like you could happily sit there for another 15 minutes and bask in this lush world the filmmakers have created. The fresh, South American heartbeat of the film serves as a welcome antidote to Disney's usual fairy-tale based story telling and will leave you humming its songs for the rest of the day.