After the resounding success of their first wireless speaker system, the Mu-So, Naim Audio have returned to this hotly contested arena once more. Taking the idiom that "good things come in small packages" as their design cue, the Mu-So Qb is a downsized version of its older brother – but make no mistake: this is no lightweight.
Sharing many of the Mu-So's beautiful aesthetic flourishes and superb audio hardware, the Qb looks to be the perfect speaker for those with space at an absolute premium, but with a desire for brilliant sound quality still at the top of the wishlist.
Fitted with no less than two mid-range drivers, two tweeters and two bass radiators, the Qb's audio credentials are clear from the off. Each of these speakers is positioned for best possible sound dispersion, and a meaty 300w amplifier is in the engine bay, giving plenty of oomph to drive them all. Not only that, the Qb sports a custom designed woofer, itself driven by a separate 100w amplifier, giving plentiful, punchy bass.
Hardware needs a good 'brain' to work at its best, and Naim have once again plumped for the 32-bit digital signal processor used in the original Mu-So. Naim themselves claim that the work that went into designing their speaker system found in Bentley's range of cars was a huge influence in creating the fantastic sound dispersion the Mu-So and Qb are capable of. Two EQ settings are provided to allow for different room placements, giving the best possible sound no matter the situation.
Audio playback options are aplenty, with UPnP for streaming across a home network from a PC, Mac or NAS drive, Airplay for easy connectivity to Apple devices, AptX Bluetooth for compatible products, a USB-A socket for memory sticks and other MP3 players and both a 3.5mm and digital optical input that'll let most modern TV's hook up, too! As well as all these inputs, direct streaming options for Internet Radio, Spotify Connect and Tidal are also supported straight out of the box.
One of the most striking features carried over from the Mu-So is the large control wheel on the top of the speaker. Used for volume and input selection, the dial has a wonderfully tactile feel, and its size makes sure that even the novice or visiting guest can operate it with ease. But whilst this is the easy 'hands on' way to access some of the Qb's features, Naim have made a real effort with the system's real controller – the Naim App.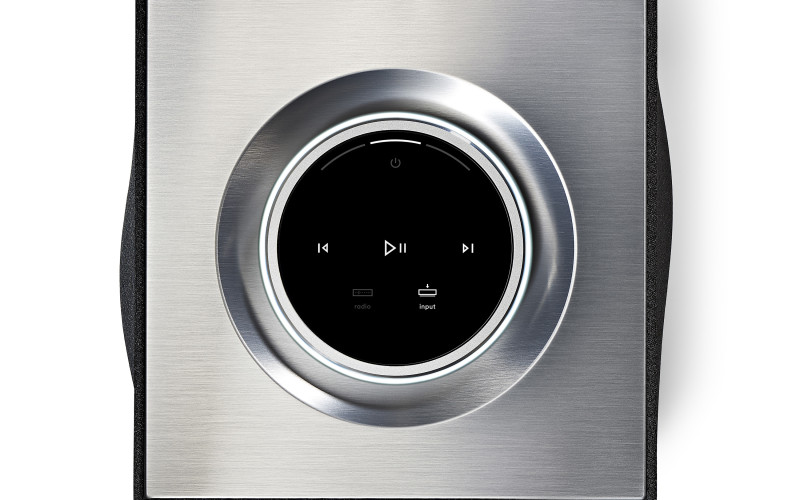 Available for both Apple and Android devices, the Naim App gives you access to all of your music at the tips of your fingers. Showing album artwork, allowing searches by artist, album or genre, creating playlists from scratch – the app does it all. Fast and fluid in operation, the app is the perfect partner for the slick Mu-So and Qb. Naim's 'party mode' feature allows more than one Mu-So or Qb to connect to each other to give simultaneous playback, ideal for when you want to keep the music pumping in every room. We tested this feature out in-store – soull in the demo room and funk on the shop floor. The control was easy, and very responsive. I would imagine pairing this up with other Mu-so Qb's, or even the original Mu-so, around the house would be a great way to fill the home with your favourite songs. A very nice feature indeed!
Last but certainly not least, the Qb's standard black grille is replaceable, with a choice of Deep Blue, Vibrant Red and Burnt Orange available to purchase for those that truly want to customise. From the clear perspex base it sits on, to the solid aluminium top plate, the Qb looks every inch the luxury product, and these optional covers make sure that it's the perfect fit for any room. This isn't a speaker you'll want to hide away!
Available now in-store… Please contact your local store to find our more details and to book a demonstration.
To find out more about the Naim Mu-so Qb, click here.
Author – Chris, Liverpool store.