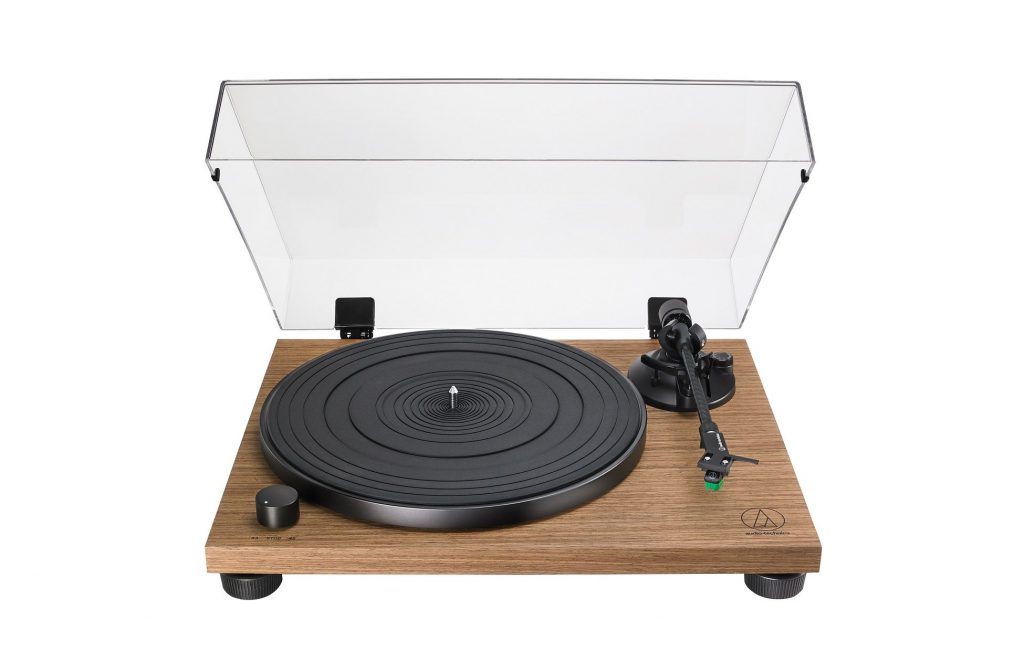 With vinyl's ongoing resurgence still chugging along happily, Audio Technica have released another addition to the entry level turntable market. Alongside their ATLP120X DJ model, and convenience focussed LP60X sets, will this new LPW40WN model bring anything new?
Audio Technica has been one of the go-to brands of this new generation of vinyl lovers. If you found all of the calibrations, speeds, belt changes and connections intimidating, they had a model for you. Be it a simplistic direct drive model with button controls for speed, that also happened to be a great way to dip into DJing with vinyls, the LP120X is still a winner. The LP60X series arrived as well, stripped back in terms of build quality, but adding USB or Bluetooth connectivity for recording or wireless speaker usage respectively.
The LPW40WN fits neither of these niches. Instead we're presented with a belt-drive, faux walnut-veneered, fully manual turntable.
'But why is this a benefit over the DJing tank or one that can connect to my Bluetooth headphones?' I hear you shout (or ask quietly from the back). To rapidly cover this; fully manual and no Bluetooth means more money spent on fewer frills, better sound quality tends to follow; belt drive offers less potential for distortion over hefty direct drive motors that aren't well isolated from the motor, better sound again.
So with this focus on sound over features, the turntable gains a carbon fibre tonearm for better rigidity – similar to competitors from Pro-ject. It also has a more traditional MDF plinth to help this along, improving over the plastic and aluminium of its sibling units.
Top this all of with their well-regarded AT-VM95E cartridge and stylus (also upgradable if you get the bug) and with an RIAA phono stage built in – and we're ready to play.
Being fully manual, it's slightly less 'click and go' than other models such as the Denon DP300 – so if you're gifting and know they won't want to fiddle around with the counterweight and lowering the arm on, it's worth considering. This doesn't make it hard to operate however, and the improved build quality reflects quickly in the sound quality – making it easy to not to care about the fact it won't connect to your Bluetooth speaker.
Getting it running out of the gate with The Strokes – Juicebox, we're presented with plenty of detail you'd otherwise be missing from CD or Spotify. The pacing is excellent, with barely a foot out of place in the stamping beat that underlines Julian Casablancas' smooth vocals.
The song is a little bright through its own phono stage, as you might expect from Audio Technica, but this is easily fixed running it through a warmer in-built phono stage on your amp, or a suitable separate one such as the Project Phonobox, feel free to ask your local Richer Sounds store for more advice tailoring the sound. This was connected directly to a set of Ruark MR1's, so no traditional amp was involved. Great for those looking to maximise space, or simply use as few boxes as possible.
Despite the constant supply of new releases (and re-releases of older albums) on vinyl, it's still important to try out the older recordings – especially with the wealth of charity shop vinyl available! Popping on a more aged copy of Miles Davis – Kind of Blue, it shows us why vinyl is still king when set up properly.
Even through the brighter Audio Technica internal phono stage, the depth of the recording, with its intrinsic warmth and crackle from the older tape recording (then etched into vinyl) is gorgeous, and although it's still present on good streaming services such as Qobuz, it still ends up feeling more clinical when digitised.
If you're looking for a stylish turntable that doesn't scrimp on sound quality, and is still near enough ready to go out of the box, make sure your loved ones know this is on your Christmas list.
If you just can't wait – understandable – then drop on down to your local Richer Sounds!
Find out more about the Audio-Technica LPW40WN turntable.
Author: Tom, Cardiff store