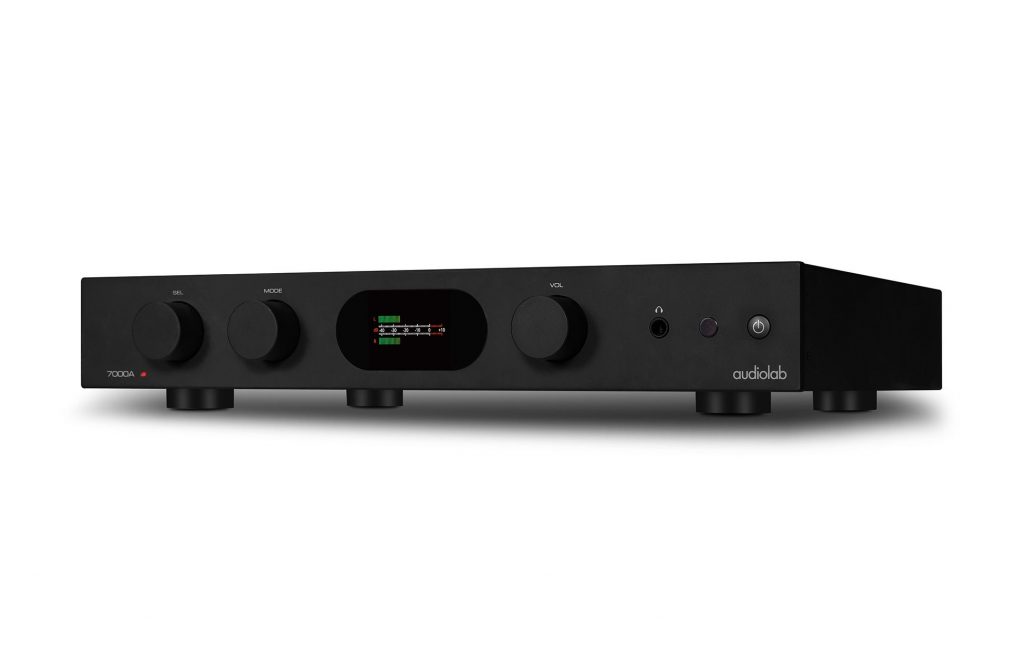 Nothing quite gives us the same excited anticipation of getting our hands on a newly released HiFi amplifier and when it's a prestigious brand such as Audiolab, the pre-listening goosebumps are all the more intense.
Founded in England 40 years ago, the brand was acquired in 1997 by the McLaren Group (of motorsport fame) and was known as TAG McLaren Audio until 2004 when it changed hands to the International Audio Group. Most recently, Audiolab received much praise for its affordable but great performing 6000 range and the 7000A amplifier on test today uses this as a springboard to push into the next level of HiFi equipment.
Visually, the 7000A picks up where the 6000A left off with a very clean front fascia and that familiar matte finish to the casing. Featuring three dials for source selection, toggling settings and adjusting volume, there is also a 6.3mm headphone socket and a standby button. The central LCD display has been upgraded from monochrome to full colour and is slightly larger, allowing the user to choose between source display, music file quality, left/right VU metres (very cool) or volume displays.
The three line-level RCA inputs have carried over and are joined by an upgraded moving magnet phono stage input. Digital sources are handled by the same two optical and two coaxial digital inputs but where the 7000A goes further is by adding a USB input capable of receiving PCM 32-bit/768kHz and DSD512, upgrading the BT receiver to AptX HD and also including an ARC HDMI port for connection to compatible TVs. The addition of AptX HD means that on the occasions when you need a quick connection to stream something, you can be sure that you're still getting the fidelity you want and very little distortion should you choose to use Bluetooth. It's not the main feature of buying an amp like this, but its inclusion is appreciated.
It's not just connectivity that has had a shot in the arm though, the power rating has been upped to 70 watts per channel with a better toroidal transformer and circuitry taken from the high-end 9000 range. Overall, that's a pretty comprehensive set of improvements which make the 7000A a very tantalising prospect.
After hooking up a Cambridge Audio CXN streamer and a pair of Dali Opticon 6 mk2 floorstanders to the 7000A, we open up our Tidal app and start things off with a rendition of "Whole Lotta Love" by 2CELLOS. The fleet-footed and airy character that we're used to from Audiolab is evident from the off, with the melody crisply soaring around our demo room. The leading edge of the notes from both performers are articulate and lend an attacking feel to the drive of the song, making it bounce along with abandon. It is worth noting that the 7000A isn't the warmest of presentations, so it is a good idea to avoid partnering it with speakers that are on the brighter side of things.
Switching over to the MM Phono Stage and a Pro-Ject X1B turntable, we spin "Strangest Thing" by The War On Drugs and take in the mellow but room-filling verse before the huge soundstage kicks in the chorus. If you are a fan of loud volumes, there is potential for the Audiolab to get a little brash when pushed, such as in the guitar solo, but its dynamic reach is obvious and very stirring when it's allowed to show off a bit. The layering of the various instruments are kept in check very admirably too which just adds to weight of when everything kicks in.
More variety is rarely a bad thing and we are happy to see the 7000A join our catalogue of entertaining amplifiers. If you are in the market for a new engine to your HiFi system, give your local store a call and come test it out for yourself!
Author: Steve, Bristol Store