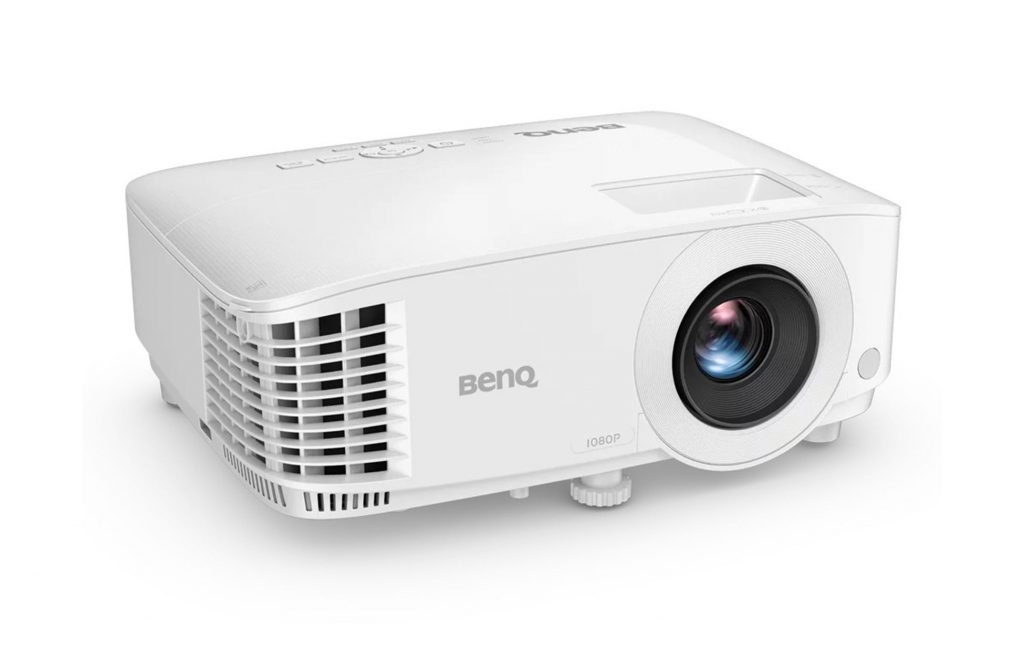 As TV innovations relentlessly march onwards, it's fair to say that projectors live somewhat in their shadow. Though fantastic for achieving a huge image for relatively little outlay, they can be compromised when it comes to some other specs, in comparison to TVs. There's nothing quite like that big-screen experience you get from a projector, however, so it's great to see an updated model come out.
One such product is the BenQ TH575 projector. This strikes new ground in the entry-level market for gamers by offering Full 1080p resolution with a dedicated Game Mode and a low input lag of 16ms at 60Hz.
It isn't a projector that's aimed just at the gaming community though, as the TH575 also sports a fantastic 3800 lumens brightness. This means that you won't be limited to sitting in complete darkness in order to get a bright picture, regardless of what you're watching. For example, sports can be a more social event than a film, so this extra "oomph" means you can watch with the lights on or during the afternoon, and still enjoy a vivid image.
Of course, every projector looks at its best in a blacked-out room, but being able to watch your entertainment in ambient light is definitely an attractive option. Using full brightness will run down the life of the lamp, so it's wise not to use it like this all the time, but its flexibility at this price point is great to see.
Contrast is 15000:1, which is still good at this level, and the addition of automatic vertical keystone means installation is a doddle. The included remote has buttons for keystone and picture modes, giving quick set-up, and isn't too big and clunky. On the rear panel there are two 1.4 HDMI ports, a USB for powering streaming dongles and 3.5mm analogue audio input & output (though we'd always recommend running your sources through an AV receiver or compatible soundbar for a better audio experience).
The throw ratio of 1.49-1.64 and 1.1x zoom deliver screen size flexibility -with an 80" image available from 2.64 metres away and a mighty 120" image within 4 metres.
To kick things off, we put on a Blu-ray disc of Jurassic World and, being a DLP projector, we immediately see a lush and vivid rendition of Isla Nublar. If anything, you may even want to take the colour saturation down a touch. The intensity of brightness means that white tones come through very pure against the various tropical colours and this doesn't interfere too much with the darker scenes.
As with most projectors, there are several picture modes to work through depending on whether you like your colours cooler or warmer, but, providing you avoid the "Bright" mode (which introduces a questionable green tint and lots of digital noise) you'll soon find a setting that suits your room. The DLP technology used within the TH575 does mean that some of us may see the "Rainbow Effect" (flashes of colour), but it's not overly disrupting and is certainly not unexpected at this price point.
We're not blessed with a games console in the shop (we'd never get anything done!), but bringing an Xbox Series X from home allows us to test out the Game Mode with a bit of Apex Legends. The enhanced contrast makes for a great view when you first drop into the map, and sneaking around inside the darker corners of buildings has an added feeling of depth that we wouldn't normally expect from an entry-level projector. Obviously, the TH575 isn't able to give you the pin-sharpness of 4K resolution running at 120Hz, but the Game Mode is certainly a feather in its cap.
We love a product that delivers an impressive performance at a great value price. That's why if you're looking for big-screen thrills at a small price, we'd certainly recommend the BenQ TH575. For more information and to make sure that this is the right projector for you, visit our website, or why not contact your local branch and check it out for yourself?
Author: Steve, Bristol Store