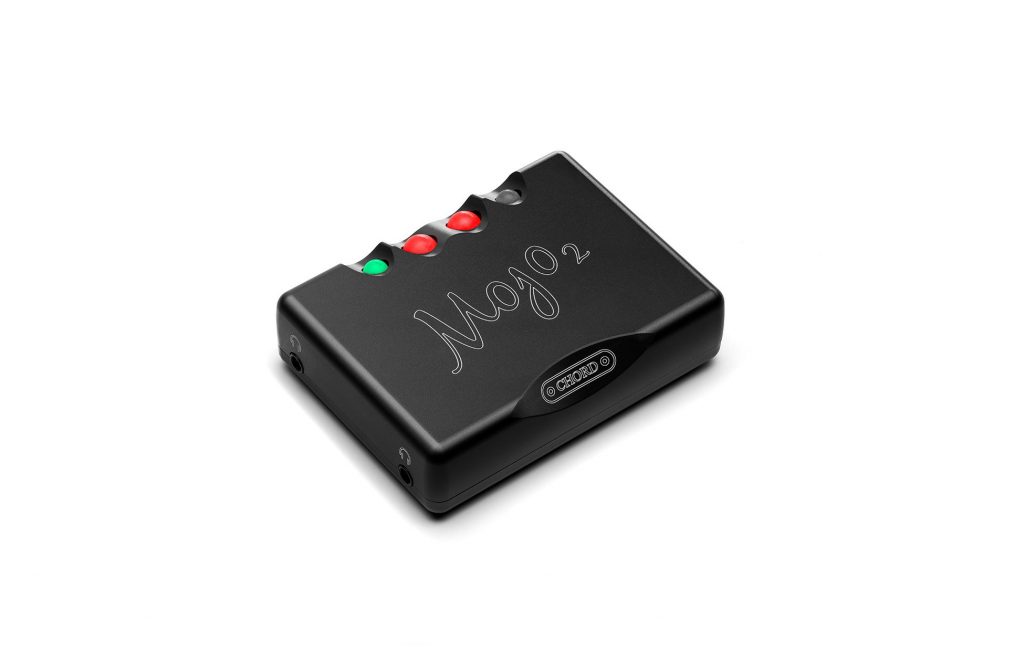 The original Mojo quickly became Chord's highest selling product worldwide. Seven years on, the Chord Mojo 2 aims to carry on where its predecessor left off.
Prior to 2015, British hi-fi stalwart, Chord Electronics were best known for their esoteric audio equipment. Their gear combined stunning good looks with equally stunning price tags! With the release of the Chord Mojo portable DAC and headphone amplifier, however, Chord's class-leading engineering was introduced to a whole new market. The question is – has the Mojo still got its mojo? Let's find out.
From the outside at least, it would appear that not a huge amount has changed. Given the rave reviews lavished upon Chord's casework the first time around, this is hardly surprising. The Mojo 2 has a full metal enclosure, and feels very solid, while maintaining that all-important portability. Chord's unique control system makes a reappearance, and again, keeps things simple whilst upholding Chord's idiosyncratic industrial design cues. Small, translucent orbs take the place of buttons, with power and volume controls, plus a new 'menu' button that lets you cycle through the various settings built into the Mojo 2's software.
If that sounds fairly straightforward so far, it's the buttons' translucence that makes them truly unique. Each of the orbs changes colour to display the current status – sample rate, tone settings and battery level are just some of the functions covered. You get comprehensive information, without the need for an expensive screen taking up valuable space on that compact casework.
Elsewhere, Chord has increased the number of inputs that the Mojo 2 has over its predecessor, taking the total up to a healthy five. It has the same USB, optical and coaxial digital sockets as the original Mojo, but Chord have now added USB-C and dual-data coaxial sockets. Dependent on which of these connections you select, the Mojo 2 is able to render music in bit rates anywhere from 16-bit/44kHz CD-quality all the way up to 32-bit / 768kHz, covering even the most techy music fan's burgeoning digital collection. There's also support for DSD, the SACD follow-on that eschews discs in favour of files, and provides a lush, analogue sound despite being fully digital.
Battery life is another area to see improvement, with the Mojo 2 now capable of chugging along for up to 8 hours without the need for a mains supply – which should be enough for even the longest commutes or a day at the office.
So it's clear that the Mojo 2 is a veritable Swiss army knife when it comes to connectivity, but the biggest question of all still remains, how does it sound? The answer, thankfully, is exceptional! Chord's chief engineer, Rob Watts, has returned to the drawing board and upped the ante on the original Mojo's performance. Unusually for a portable DAC, the Mojo 2 doesn't rely solely on an off-the-shelf DAC chip to do the important digital signal conversion. With its very clever 'Ultra High Definition Digital Signal Processor' (UHD DSP) that's entirely coded by Chord, they take in-house responsibility for perfect sound tuning.
The results are clear to hear from the first listen. Using the Focal Elegia over-ear headphones (amongst others), the Mojo 2 gives a wonderfully assured performance, digging deep into the syncopated drumming and fast fretwork of Radiohead offshoot, The Smile's debut album- 'A Light For Attracting Attention'. Layering and separation of the primary trio of players, as well as the accompanying brass sections on a handful of tracks, was fantastic. It allowed great insight into the individual strands of music, while simultaneously rendering the performance as a cohesive whole.
Switching to 'Spare Ribs' by Nottingham's Sleaford Mods, showed the Mojo 2 to be equally adept at handling more straightforward beats (although equally as satisfying!). It gave a real sense of drive and bounce to frontman Jason Williamson's lyrics, with the album sounding exactly as I'd hoped it would – full of life, vigour and anger, and helped in no small part by the excellent work of the Mojo 2.
Having taken Chord Electronics so long to bring the Mojo 2 to market, expectations were always going to be sky-high. Yet the Mojo 2 still manages to surprise with just how impressive the leap forward has been. Anyone looking for a new DAC, whether portable or for home system use, should do themselves a favour and take a listen – it's Mojo reinvigorated!
Contact your local Richer Sounds store today to arrange a demo, or visit our website to find out more.
Author: Chris, Liverpool Store