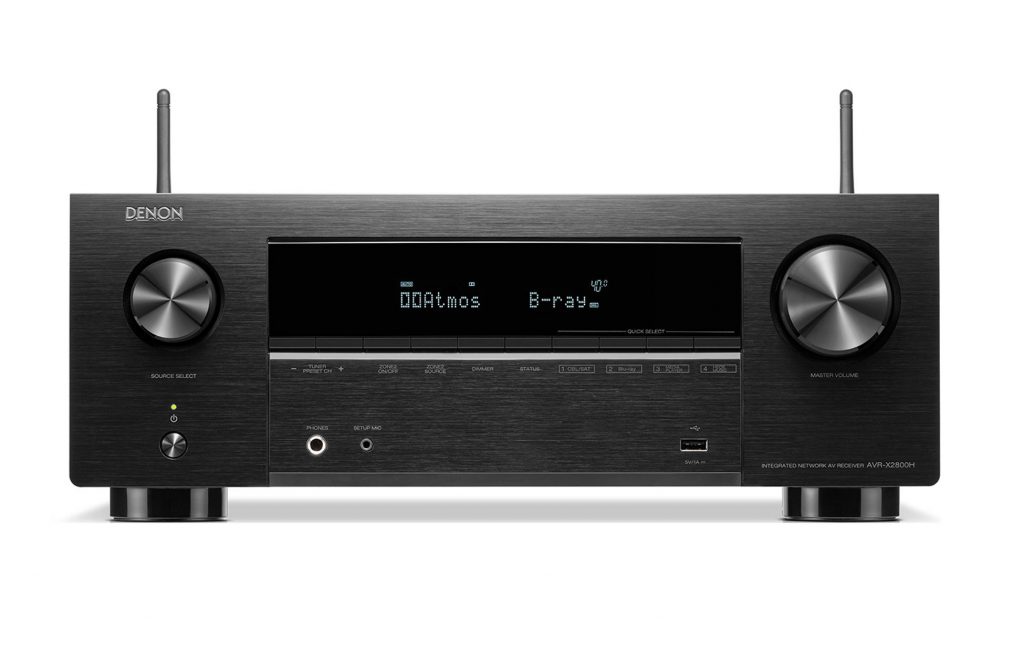 Superseding the X2700H that swept awards, the Denon X2800H looks tipped to achieve exactly the same accolades and praise, but is it merely evolution rather than revolution?
In my own way, and hopefully that of other Richer Sounds colleagues, the changeover of Denon AV receivers has become so regular that it helps us mark the passage of time with strange accuracy. Regularly picking up What Hi-fi? awards since the 2200 series nearly a decade ago, Denon has been top of the list for those looking to upgrade from their soundbar, all in one box set up or simply slightly older AV receiver with less features. The AVRX2800H looks to continue the same theme, packing in a surprising amount for the money.
Out of the box, the AVRX2800H looks basically identical to its predecessor mentioned above. Two big dials for volume and source selection set either side of the basic LCD screen display in a brushed aluminium fascia. This reviewer is of the mindset that although other competitors such as Yamaha have managed to keep things looking a little fresher, the large black box is hardly here for eye candy, despite my views on hifi appearances, and is here to do a job, one it should do well if history repeats.
Feature-wise the 2800H really does sing, bringing everything you could reasonably want or expect at this price point in the market. 6 inputs and 2 outputs via HDMI are not to be sniffed at, and with 3 inputs capable of the latest HDMI spec ready for 8K, 120hz and other features such as VRR and ALLM, you can run both an Xbox and PS5 without compromise if you own both and still have inputs to spare. All inputs can also upscale to 8K and are capable of full HDR compliance as well, so if you own every streaming box and subscription going, you should still be able to run them all without issue as well, or having loop things via your TV.
Musically, it is also compliant with Airplay 2 for Apple users, Roon for true aficionados – as well as full Hi-Res support; and whilst it does link direct to Tidal, it doesn't perform a full MQA unfold, something sorely missing in the AV market.
For multi-room, it of course comes fully HEOS equipped, allowing you to build within this ecosystem if you're without a full multi-room audio set up at this point. It will also take instruction from Google or Alexa – but still without full Apple HomeKit support, not that this is something its contemporaries have yet either.
If you want something to work perfectly with Sonos – you may wish to turn your gaze to the Onkyo TXNR696 M3 which, when paired with a Sonos Port, will integrate seamlessly to control via Sonos.
Sonically – this should be where this ideally some improvement over its predecessor. The 2800 does sound a bit more 'grown-up' over that the 2700, managing to widen the soundstage even in a 3.1 set up and removing some of the more 'over-egged' bass that some felt was present on the 2700H. Being a difficult bunch to please as colleagues – having personally referred to Denon as 'too polite with the bass' on the 2500 series, it feels like they've finally struck a balance here.
Watching The Incredibles 2, even in the opening scenes where the super-powered family fight the Underminer, the fight between the villain and Mr Incredible onboard his giant drill machine manages to stay cohesive despite the sound of machinery, rumbling rubble and of course a surprising amount of dialogue for a fist fight.
Scaling up to take full advantage of the amps available channels, it still manages to keep this same control in a 5.1.2 setup, with Atmos and rear effects staying nicely controlled and accurate, benefitting from the same refinement as the front channels. It lacks the muscle of its bigger sibling the Denon X3800H, but still holds onto our Dali Oberon 5.1 system (plus Monitor Audio in-ceiling speakers) admirably.
To bring us full circle – we're definitely looking at 'evolution' rather than a complete overhaul. However, Denon have at least recognised that at most their winning formula simply requires a breath of fresh air every few years to bring it into the most future-ready form they can. If you're looking at what may well be the best value modern AV receiver on the market, why not speak to your local store for a demo now?
Author: Tom, Cardiff Store