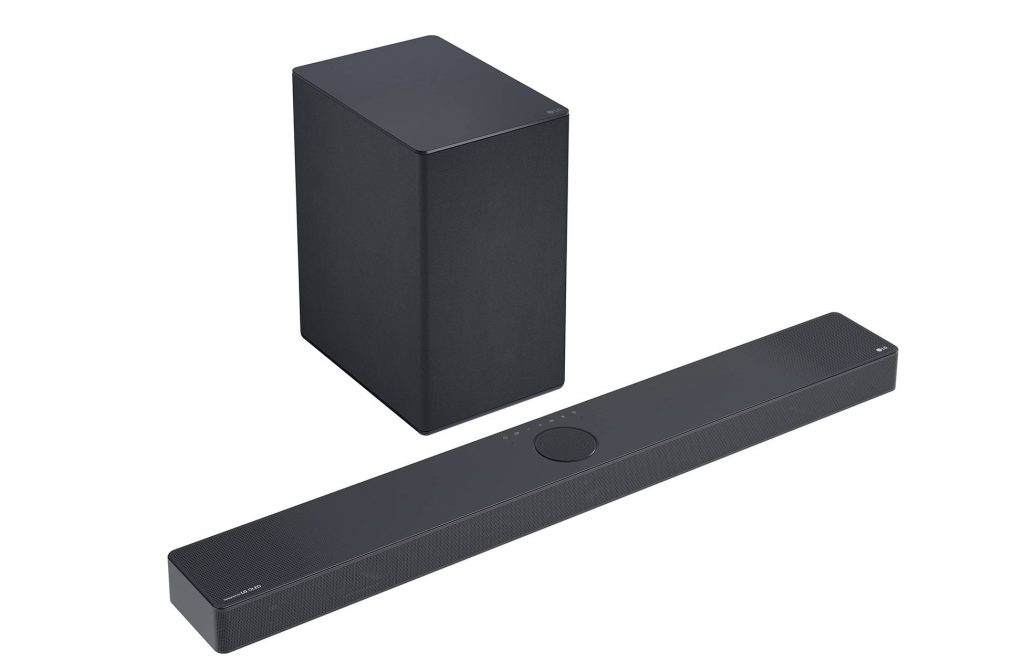 Normally we'd begin a soundbar blog by telling you all about the cinematic sound options, but not here. Not yet, at least, as this isn't the most striking part of LG's impressive USE9S. What's unique about this soundbar is how well it syncs, both physically and sonically, with a matching LG OLED TV.
Supplied with a new, exclusive bracket for LG C2/C3 TVs (compatible with 55, 65 and 77-inch versions), the soundbar truly becomes part of the TV's style and blends more seamlessly than with any other soundbar / TV combo we've seen. The USE9S looks great with TV and soundbar seamlessly attached in table stand format, but offers even more benefit when attached to a wall mount, eliminating all the hassle usually associated with wall mounting a soundbar under a TV – even hiding the cables for a perfect installation! More than just looking good, however, the USC9S also sounds its best when partnered with an LG TV. Featuring WOW Orchestra, the soundbar harmonises with the TV's speakers to produce an enveloping sound that's superior to the sum of its parts. Compatible with most 2022/23 LG OLED and QNED TVs, this feature gives you a big uplift in sound quality.
Speaking of sound quality, this is a mighty soundbar, even when used with another brand of TV. If you're looking for cinematic sound, then this soundbar impresses with its triumvirate of cinema-inspired technologies. Dolby Atmos, DTS:X and IMAX Enhanced are all on board, guaranteeing you an immersive sound with any format.
Immersive is certainly the right word here, if you don't want speakers around the room, this is as good as it gets. Thanks to LG's 'world's first' fitment of triple up-firing speakers, you really do get the impression of 'sound from above', rather than just from beneath the screen. Whether it's an aircraft roaring overhead or the intensity of a tropical rainforest, there's no doubt that up-firing speakers bring a sense of atmosphere that would otherwise be lacking.
Continuing its cinematic credentials further, the USE9S comes with a separate wireless subwoofer. When it comes to action movies or music, it's this subwoofer that makes all the difference. Deeper bass notes are punched out with authority – just make sure to ask the neighbours around to enjoy the experience too!
With such great sound quality, it would be a shame for it to be hogged solely by your TV. LG has made the USC9S a fully functioning Smart music speaker, too. Compatible with Spotify and Tidal Connect (premium accounts required for full features), and featuring MQA – the revolutionary system that maximises sound quality from smaller file sizes – this soundbar makes the most of your streamed music.
The USC9S also works readily with the operating system of your choice. Big Apple fan? Then you can link up via Apple's AirPlay 2 and integrate the soundbar as part of your Apple music ecosystem. Alternatively, the USC9S is just as happy with Google. Chromecast and Google Assistant compatibility make this the perfect match for your Android smartphone. It even works with Amazon's Alexa, when paired up with one of their compatible devices.
An impressive soundbar in its own right, but truly outstanding when paired with a compatible LG TV, we reckon that an LG C2 or C3 OLED TV is only half the TV without it! Take a listen to how good the USC9S sounds at your your local store today or give our telesales team a call.