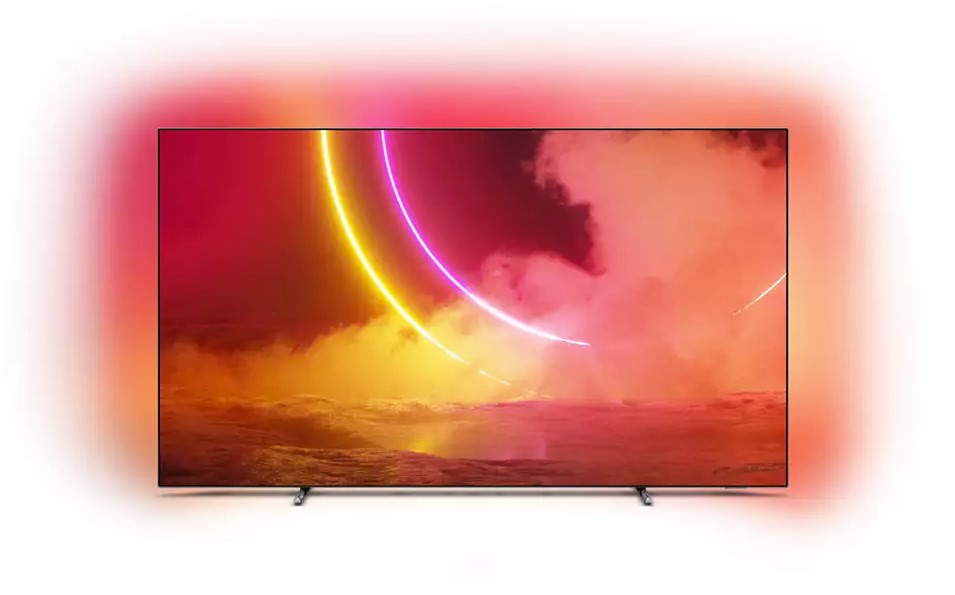 Philips have been delivering some fantastic OLED televisions over the last few years that really push the boundaries of picture quality. Join us as we see how their 55OLED805 model stacks up against the competition.
The Philips 805 is an OLED TV and therefore offers all the benefits of this technology like many other brands. These include self-illuminating pixels for infinite contrast, excellent colour accuracy and lightning quick response times. However, it's what Philips promises to build on top of this that really has us excited.
Philips claims their new P5 AI Perfect Picture Engine delivers maximised detail, colour realism and smooth motion no matter your source thanks to it's learning behaviour. This means it will improve with time to adapt settings on the fly. This feature is present in addition to most of the pre-set picture modes, so you know whatever your personal settings preferences, they are adapted to suit the content you're watching.
Speaking of picture quality, Philips supports HDR10, HDR10+, Dolby Vision and HLG HDR formats for one of the widest selections on the market. In practise this means, whether you're watching The Crown on Netflix (Dolby Vision) or The Boys on Amazon Prime (HDR10+) or even the football on BBC iPlayer (HLG) you're always getting the best picture quality. It's something we are desperate for more manufacturers to support as otherwise it leaves consumers missing out.
The party piece of Philips TVs has always been their Ambilight technology and this is present here too. It is a 3-sided array of colour changing LEDs on the back of the set which replicate the colours at the edge of the viewing area to trick your eyes into thinking the screen is bigger than it actually is. It truly looks fantastic with punchy bright content such as Blade Runner 2049 and we've always been a big fan. If not, you can turn it off with the press of a button.
When it comes to setting the Philips up there are a few things we notice, the minimalist feet come with adaptors to raise the set for use with a soundbar. There's a detachable power cable meaning wall mounting is instantly easier and a beefy looking rear subwoofer to deliver a more impactful sound from the internal speakers. Little touches like this show a level of detail sometimes missed.
This year Philips have changed up the remote for a single sleeker design which ditches the previous QWERTY keyboard on the rear for a simple leather backing. Some will miss it, but we can't honestly say we used it that much, I personally always prefer dictation software. This is present in the form of voice control powered by Google Assistant or Alexa depending on your preference. There's also Philips Hue compatibility through the Ambilight system for even greater room control. It's an impressive level of smart home compatibility and shouldn't leave you missing anything.
Once we fire up the set, we're greeted by the familiar Android TV setup process with a few tweaks for Philips TVs. This has been constantly updated over the last few years to offer one of the best user experiences around. There is Freeview Play for all your catchup services and integration into the TV Guide plus Netflix, Amazon and Rakuten TV for streaming content. It's a good selection and not one which is standard across all manufacturers this year.
Once we're all setup, we start to explore what this TV can do. Starting with Thor Ragnarok in UHD Dolby Vision, we're seriously impressed by what Philips has managed to squeeze out of this OLED panel. They've chosen a slightly darker shading as their base but the performance from this is exceptional with excellent detail and colour accuracy. Motion is handled excellently by the P5 AI processor and we didn't notice any tearing or juddering during our experience. We then switch to The Boys on Amazon Prime. The switch from darker scenes to full daylight is handled excellently with no jarring switch but a natural progression.
The overall impression we're left with after using the OLED805 is one of a fantastic movie and TV machine which would look great mounted on most people's walls. The Ambilight feature is a nice extra to stand the Philips out from the crowd but the overall picture quality is what really sets this apart, the new P5 AI processor is a giant leap forward for Philips and it makes it one of the best in class.
We generally think this would be a great option for anyone looking for a movie and TV based television with excellent contrast and fantastic HDR support. It's a little disappointing to not see HDMI2.1 compatibility but we think on balance this set isn't aimed at the gaming market where those features are important. Considering the highly competitive price point we can't recommend this TV enough. Contact your local Richer Sounds store today to arrange a viewing and see for yourself what this set is capable of.
Click to find out more about the Philips 55OLED805 TV.
Author: Robert, Brighton store