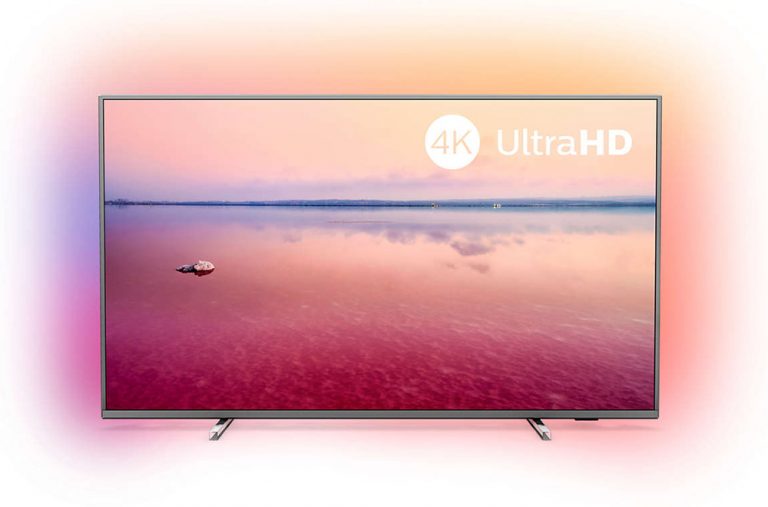 With 4K UHD with HDR compatibility now making up many televisions sold in the UK each year how can a manufacturer stand out from the crowd with their new models? One way is by offering as much choice as possible when it comes to compatibility. Philips has chosen to take this route with its new PUS6754 TV range thanks to a wide array of HDR formats. Join us as we find out what else makes this TV shine.
The PUS6754 comes in 43", 50", 55", 65″ and 75-inch variants. The only difference between these models is that on the 55 – 75-inch variants the stand is adjustable. All are 4K UHD enabled with support for HDR10 and HLG high dynamic range colour formats.
One of the new features for this year is also support for both HDR10+ and Dolby Vision HDR formats. These use dynamic metadata to adapt to each scene of a movie and provide the best colour. In layman's terms you always get the best possible picture no matter how bright or dark the scene.
The reason this is so noteworthy is a reluctance from other manufacturers to include support for both formats on their televisions. Previously, it's been common to see one or the other but now as a consumer you can have the best of both worlds. Whether that is Dolby Vision support via Netflix or HDR10+ on Amazon Prime.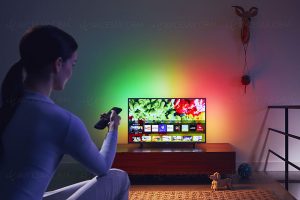 While 4K HDR provides the best possible picture quality currently available it's far from being the standard. Most content is either in 1080p Full HD or less, be that broadcast channels on Freeview or on demand via the internet. Therefore, it is important for your 4K television to be able to upscale this content accurately to display on the extra pixels it provides.
With this in mind, Philips has developed their Pixel Precise Ultra HD technology to provide the best possible picture for this television no matter the source. This provides smooth motion and less fuzzy edges to non-4K content being displayed and works with the micro dimming built into the panel to give you a great image.
We wanted to see how all this technology works in practise so we setup the 55-inch version in our demo room to have a look. The build of the frame is aluminium so feels more premium than some cheaper alternatives. There are also the usual Philips Ambilight options which are eye catching for those who haven't used a Philips before. The TV will analyse what's on screen and project the same colours onto the surface behind the panel, this creates a less harsh viewing environment and provides a more cinematic experience.
The inputs on the PUS6754 are broad for an entry level TV with 3 HDMI, 2 USB, a headphone jack, component input and optical an ethernet ports. It's nice to see a legacy port like component kept on where other manufacturers might be dropping support and certainly makes using old games consoles easier. Broadcast TV is provided over a satellite connection or traditional aerial.
We plug in our in-store satellite feed and switch to BBC News. First in standard definition and then in Full HD. It's a great example of how well a TV can process less than optimal sources because of all the graphics on screen which normally have sharp edges. We're happy to report the Philips did very well with the HD content and even reasonably well with the standard definition feed.
In contrast, next we fed the PUS6754 a 4K HDR feed from our Panasonic UBP9000 Blu ray player. We went with Guardians of the Galaxy 2 and were more than impressed with the range of colours and smooth motion of ships moving about in space during the opening battle scene. Colours were sharp and popped out of the screen while there was still plenty of detail in fast moving objects.
All in all, we were very impressed with the quality of the PUS6754 from Philips. It ticked plenty of boxes for us on the 4K front and even did well with normal broadcast television. To see for yourself whether this might be the TV for you, why not pop into your local Richer Sounds store today?
Learn more about the Philips PUS6754 TV range.
Author: Robert, Brighton store