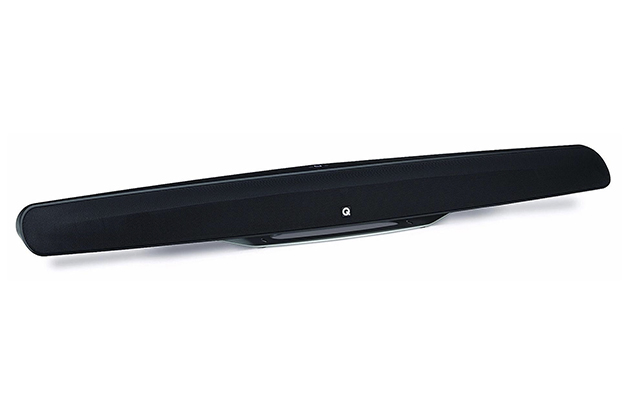 Having been totally fixated with the Q Acoustic M4 that was released back in 2015, I was expecting big things from the sleeker, more modern-looking M3…
As soon as you get Q Acoustic's M3 soundbar out of the box, it immediately feels well put together. Its definitely a more modern take on the M4, like a Master Chef trying to put his modern take on Coq au Vin. Whereas the M4 takes the appearance of a more traditional speaker, the M3 has a more angled design. It angles back away from you for a more aesthetically pleasing view. The stand comes in the form of a silver one piece design, not too dissimilar to some of the stands you'll see on 2017 televisions. Personally, I think this helps it blend into the piece of furniture it's sitting on.
The sound is dispersed from two 5.8cm BMR (Balanced Mode Radiator) drivers stationed at the two edges of the bar, accompanied by a built-in subwoofer in the rear. The subwoofer is good enough to negate the need for a subwoofer output, which you may find on other products of this nature.
Play a blockbuster like Star Wars: The Force Awakens through it and it all seems very natural. Speech is clear and defined, the bass is there throughout without being too overpowering and the two BMR drivers really do a good job of trying to create that cinematic feel. Now to dive into the Q Acoustic heritage and see what the M3 can do with a bit of music….
Connecting via Bluetooth is instant and I start off with a bit of "Shiny Happy People" by REM. Vocals are fantastic and really open up but I felt there could be just a bit more depth throughout the whole track. Maybe something a bit heavier will offer something different. I then put on "Little Lion Man" by Mumford & Sons and it seems to bring it to life a bit more. Cranking up the volume definitely helps bring out a different side to the M3 and it starts to really impress me. Not quite as impressive as the M4, but it's getting there.
There's every connection you'd expect on a soundbar these days, plus a few extras. It includes the common optical port, which is a necessity. Two analogue inputs (stereo RCA and 3.5mm) allows you to connect anything from an old iPod classic to a CD player. But the ARC-enabled HDMI connection really allows you to connect this any way you wish. This was something missing on the M4, so this is a welcome bonus for the M3. You also get a 2m HDMi cable included with the soundbar for good measure. As mentioned earlier there is aptX Bluetooth and NFC (Near Field Communication), allowing for easy access to any smart phone or tablet and it couldn't be easier to connect.
Everything works well and the remote control included is basic, but does everything you need. My only gripe is that I keep comparing it to the M4, which just takes everything up a notch. Saying that, the M3 does have the edge on appearance and connectivity.
Overall, the M3 really ticks a lot of boxes. It's a well rounded soundbar that does it all and would not be out of place in any living space. Swing by your nearest Richer Sounds today to see how the Q Acoustics M3 can elevate the sound of your favourite shows and movies.
Click to find out more about the Q Acoustics M3.
Author: Bradley, Plymouth Store