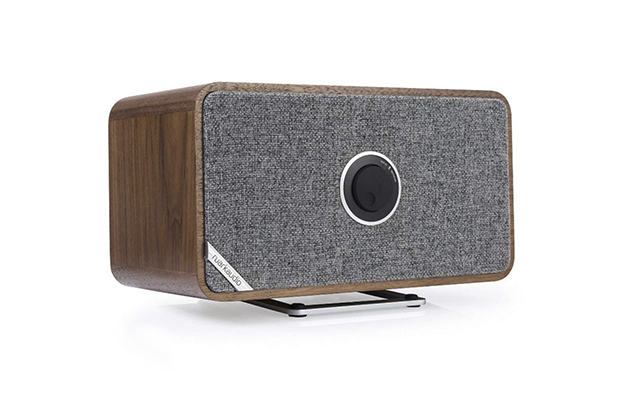 When it comes to all-in-one devices, the Ruark MRx shows how to provide excellent sound quality all wrapped up in stylish designs and reassuring build quality…
Not only are high quality components used to create 20 watts of power in MRx , such as the A-B class amplifier, the sleekly finished real wood veneer of the curved cabinet is damped to give a rich, low distortion sound. The front tweed-like grille ensures that idle hands won't be able to damage any of the drivers and is the perfect balance between retro and contemporary. Two 75mm full-range drivers sit behind the grill and in conjunction with 2 reflex ports on the rear, aim to emulate that rich and focused sound we associate with any Ruark product.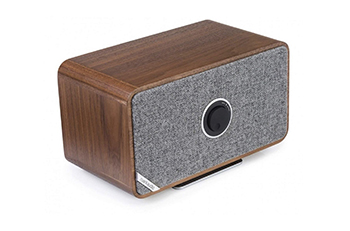 The MRx builds on the success of Ruark's DAB radio and CD-based solutions by utilising WiFi or Ethernet connection for network based streaming. Spotify, Deezer and Tidal and among the services you can use as well as playing music from Network Attached Storage (NAS) such as laptops or hard-drives. On top of this, portable devices can also connect via Bluetooth or the 3.5mm aux connection and there's a USB port for local files so whatever your music source the MRx has got it covered.
The MRx is controlled via the Ruark Link app available on iOS and Android platforms but for simple control there is a dial on the front of the unit that allows you to toggle between the aux, AptX Bluetooth and Network functions as well as volume. As part of Ruark's multiroom line, the MRx can be set as either a single speaker or as part of a dedicated right and left stereo pair. Simply sync your two devices via the app and select either the right or left function on the switch on the rear panel.
After the easy to follow step-by-step setup, the app treats you to a clean and simple layout that's easy to navigate through. By swiping left and right you can go between different tabs where you can either select different speakers or enter the browsing function for selecting music whether via the internet or your home network. Internet Radio allows you to listen to live broadcasts or catch up on missed shows and a favourites tab allows you to bookmark up to ten of your preferred stations.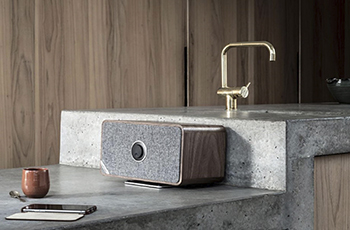 We started off by streaming "Let It Go" by James Bay from a laptop and it's immediately evident how open and expressive the sound is from the MRx. The high frequencies are particularly spacious and clear for such a relatively small cabinet. Naturally, you won't get too much depth of bass but providing you don't max out the volume it's still reasonably focussed and taut. Switching to Tchaikovsky's "Swan Lake" and the soundstage of the strings and brass is vastly larger than we have any right to expect from this size of unit.
When switching to Spotify Connect, "Be Like You" by American producer Whethan and featuring Broods treats us to a snappy rhythm whilst maintaining that airy treble. The synth bass line struggles a little no doubt due to the compact design of the MRx but there are still enough low frequencies on offer for the general character not to be too brash and to still enjoy the track.
In summation, the MRx is a very capable mini system that looks as good as it sounds. In and of itself it isn't a solution for those looking to fill a larger room unless you pair two of them up and bass fiends won't be satisfied by the low end that's on offer. However, for a clear and expressive mini system that doesn't take up a lot of space and looks stylish in any environment, this Ruark should be on anyone's shopping list for small to medium sized rooms. Available for demonstration at select Richer Sounds, contact your local store to arrange for a listen.
Click to learn more about the Ruark MRx wireless music system
Author: Steve, Bristol store