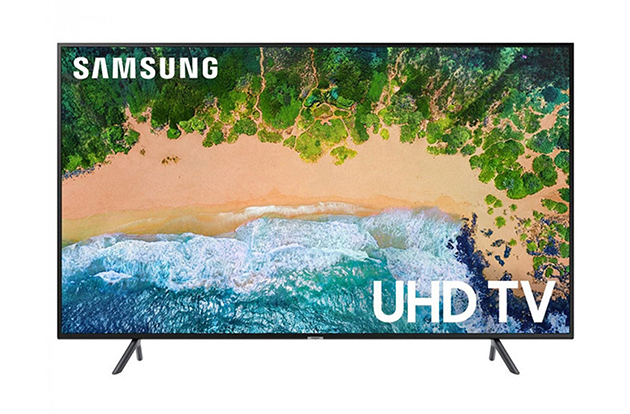 Samsung introduces a new range of 4K TVs that won't break the bank in the form of their NU7100 series. Read on to find out more… 
The last few years have seen Samsung's much lauded Quantum Dot LED or 'QLED' technology take much of the limelight when it comes to what the TV brand is known for. However, when it comes to entry-to-midrange level screens, Samsung have been and still are up there providing excellent value for money as well as class-leading performance.
As opposed to previous years, Samsung's first range of UHD 4K TVs now starts with the 7100 number, replacing the popular 6120 range from last year. Standard features of 4K resolution, Smart hub with built-in Wi-Fi, HD tuner all feature along with High Dynamic Range compatibility for HDR10, HDR10+ and HLG formats. Three HDMI, two USB ports and inputs for analogue equipment mean you're pretty set for connectivity, while digital optical and HDMI ARC handle audio output for soundbars and the like.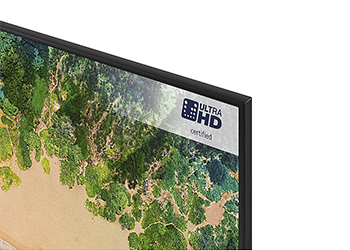 Instead of the wide central pedestal that can be seen on many TVs, the NU7100 uses two feet placed at far end of either side of the bottom of the chassis. This means that for the extreme sizes of 75" and 65" you'll need a fair sized TV cabinet to place it on. However, the 55" and 49" are easier accommodate on the standard racks we have in the store. The screen is lined with a dark grey bezel, which finishes off the NU7100 aesthetic in a slick and understated fashion.
Although this is the entry into Samsung's 2018 UHD 4K sets, it's by no means "budget" in terms of the technology inside. Samsung's Picture Quality Index rating is 1300 and UHD dimming of the LEDs to control the back light in different areas of the screen means that there's reasonable processing going on to control colour accuracy and motion. Lastly, a quad-core processor powers all the Smart functionality for quick loading of apps and streaming content.
Samsung's Smart Hub is one of the more intuitive and cleaner layouts around and provides you with plenty of apps to choose from. BBC iPlayer, ITV player, All 4 and My5 are all present for catching up on missed shows, as well as a wealth of video on demand from Netflix, Amazon, TV Plus and Google Play Movies, along with many others. The main star feature, though, is the 'Continue Watching' tab that will show the recent things you've been streaming and allow you to carry on where you left off without needing to search for the content on the relevant app. The NU7100 also have connectivity for Samsung's SmartThings software, allowing you to control compatible household items from Samsung from the SmartThings app.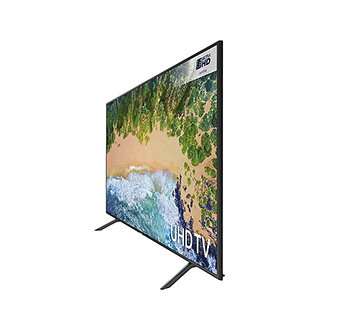 As the BBC recently announced that it was streaming the FIFA World Cup and Wimbledon in UHD via BBC iPlayer we quickly boot up the app as soon as the TV is turned on to see the benefits that everyone with a 4K TV can enjoy – providing they have an internet connection. The HLG format used to provide HDR for broadcasts meant we were treated to rich colour of grass and team kits in Russia and a clean, pure white of the tennis players in London. The NU7100 only feature 8-bit panels (you'll need to go up to the 7400 range for 8-bit +FRC and further up still for 10-bit panel), so you don't get quite the same level of colours that you can see from 4K, but it's still very much a welcome boost in performance.
HD performance is good with an expected dip in quality from our 4K stream, but it's still handling upscaling enjoyably well. Our Blu-ray of Casino Royale shows a little picture noise, but nothing that a switch from the 'Standard' picture mode into 'Cinema' doesn't fix nicely. SD content takes a step down in terms of smoothing out rough edges, but this is one of the expected weaker points of entry level sets. Providing you don't exacerbate this digital on-screen noise by using Samsung's 'Dynamic picture' mode, which sacrifices clarity and naturalness for outright brightness and colour saturation, it's fairly watchable. As can be the case with entry sets, brightness is evident but at the cost of wider contrast, so the detail in the shadows isn't as sharp as more expensive sets. However, the overall picture is vivid enough to enjoy most content.
So it looks as though Samsung have come out of the traps well for their standard range in 2018. If this sounds like the TV you're looking for, why not visit your local Richer Sounds store and see it for yourself?
Click here to find out more about the Samsung NU7100 range
Author: Steve, Bristol store