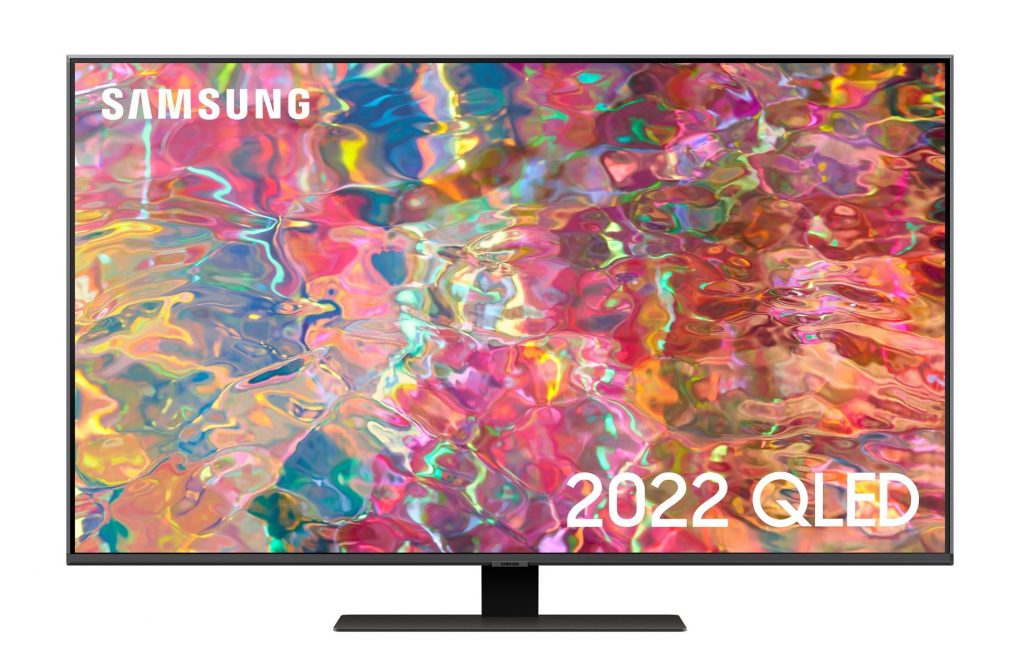 Another twelve months, another cycle of TVs. It's hard enough keeping up with the buzzwords and technologies that seem to be released each time, but Samsung's QLED series has become the island amidst a sea of OLEDs. Having more time to perfect the tech, will the new Q80B series be able to hold up against the vast amount of competition.
Out of the box, the Samsung 55Q80B is exactly what you would expect from a premium Samsung. The TV is almost completely frameless, a great design feature to have at this level, without having to shell out for the next echelon of Samsung TV's – the Neo QLEDs. The lack of Neo QLED matrix controlling the picture does also mean the Q80B isn't quite as slim as you might hope, but it's still not a chunky unit.
The stand is also a stylish central metal plinth, as opposed to plastic legs, making it feel and look more stable – as well as being easier to place on narrower units, of course you can always wall mount it too. Whilst this review is covering the 55" version of the Q80B, it's worth noting that if you're looking for a larger model, everything here will be true as well. HOWEVER, if you're looking at the 50 inch version of this series, please note the differences on the Richer Sounds website, as it doesn't quite meet the same quality level.
So, on to those features. Not to move away from what is arguably the reason you want a Samsung in the first place, the colour. The Q80B runs to Samsung's HDR1500 measurement, not a new version like Dolby Vision, but an in-house measurement to dictate the level of brightness, colour and contrast – all of which this TV has in spades. It can't quite manage the inky blacks you'd expect from OLED panels, but it manages to do a great job of holding up even against the superior Neo QLED models.
The Q80B even has a full array backlight as well, meaning that the Q80B manages to keep dark areas looking mostly dark, and colour nice and sharp with very little to mention in the way of light or colour bleed – for the most part. You'll still get a degree of 'halo' effect when viewing bright scenes that sharply drop off into dark areas, but without being an OLED or Neo QLED, it does well.
Motion is also smoother and more natural than previous iterations have been. To really get it running properly for sports or games you'll probably want to dip into the more detailed settings, but for everyday viewing the TV does an ample job. As for your smart experience, Samsung is running the latest iteration of its own Tizen operating system – meaning you have more apps and functionality than you'd ever reasonably need.
As Samsung has developed their own TVPlus service, you may find if you're used to Freeview/Freesat menus that not everything is the exact same number. However, you do get to attach both feeds to the TV and combine them into one list, which is an absolute boon, particularly if you're not using Sky or Virgin etc.
As for sound, there are a lot of buzzwords and impressive features loaded onto the TV – on paper at the very least. AI Sound, Object Tracking Sound, Super Surround Sound powered by Dolby Atmos. It's a lot of focus on sound to heap onto a TV. These features all work, to a point. In its slim frame with all speakers being thin themselves there is a limit as to how well these will all work. There is only so much space to physically place them all – so whilst the actual 'spacing' of the sound is fairly impressive, clarity gives way to volume and detail is sacrificed. This isn't solely a Samsung issue however, they've just chosen to make a rod for their own back.
If you REALLY need a TV to be your entire speaker system, the Sony Acoustic Panel OLEDs will offer more clarity. OR, you could spend less on adding a soundbar! Overall, within their frankly huge range of TVs, Samsung have pitched this upper-mid range model perfectly. The feature list keeps it level with, if not better than much of the competition. Visit your local store to arrange a demo, or call our Telesales team today.
Author: Tom, Cardiff Store