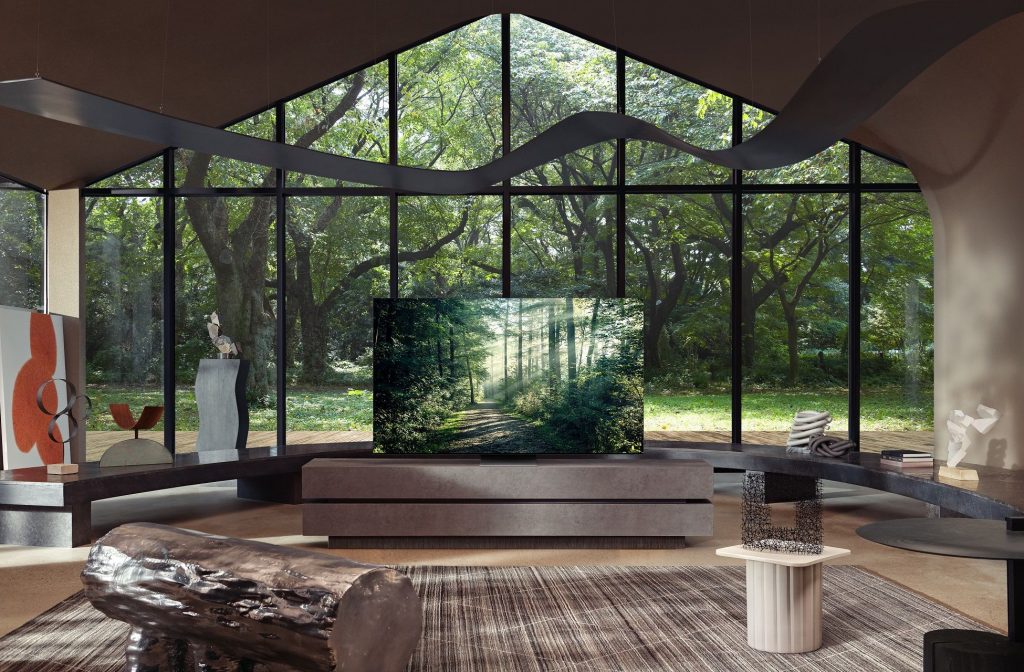 8K has been with us in the consumer market now for a few years, the pioneers have been Samsung mainly with Sony and LG being more recent entries. Today we are taking a look at the new Samsung QE75QN900A.
This is the third iteration I have seen of this TV now and it is has only become better and better! Design wise this is one of the most striking TVs I have seen. The infinity screen pushes the display right to the edge, which is only 0.9mm thick. This makes it just melt into the background, really aiding the immersion – to a point where it almost resembles a projector screen. Sticking with the thickness the entire set is only 15mm deep which begs the question where do you put all the connections for all the other devices we demand in this day and age.
Samsung have thought of this and incorporated their tried and tested One Control Box. This has been around in their flagship sets for a long time now but for this model they have finally changed the design to be more space friendly! For those that aren't aware, this is a box that contains all the sockets for every input, it then connects to the TV through single fibre optic cable. This makes life a lot easier if you want to wall mount the TV! Another addition to this year's sets, is if you want to have it desktop mounted like ours then incorporated into the stand is a space for the one control box. The whole idea of this is quite unique to Samsung who have really pushed this forward compared to some other manufacturers.
It is all well and good the TV being incredibly slim and well packaged but if it doesn't have the picture that we want then it is just a big piece of glass. Thankfully this is of no worry – the TV is stunning to watch. The picture quality has come on a long way since last year's model. This will be in no doubt thanks to the addition of the NEO technology which has given it a new lease of life. The 1900 dimming zones are new for this year, only 480 the previous year, this has made a huge difference with the HDR (High Dynamic Range), which has always been one of Samsung's weaknesses compared especially with OLED sets. The increase in dimming zones has really helped! Yes, you still get some haloing effect with extreme contrasts but this is just the nature of the panel.
As for sound, Samsung boast the use of what they call OTS – which stands for Orbit Tracking Sound, and refers to the eight speakers on the rear which use a clever programming to simulate a surround sound effect. TVs generally don't have the best sound but this breaks that curve. It may not have the overall punch or bass response of say a soundbar with subwoofer or full a surround sound system. It does offer a very complete package that would be perfectly acceptable. I was spoilt as I used it mainly through the Samsung HW-Q950A which is the matching sound bar for this TV, so if a sound bar is what you want then this is a perfect fit for the Samsung QE75QN900A!
Alongside the audio and picture enthusiasts they have also thought of the gamers with HDMI 2.1 being standard now across all the HDMI ports. This is key so now owners of Xbox Series X and PlayStation 5s can game where compatible in 4K at 120fps!
If we are to put aside the obvious elephant in the room that there is no reliable 8K content and focus on a genuinely great TV then we are on to a winner. Content will come but I have watched multiple sources from HD and 4K and I can say that they have had a punch added to them that isn't present on a standard 4K set. I am excited to see where Samsung go next with the future looking at Micro LED and possibly an OLED hybrid! For now I will say that 2021 has been their strongest line-up in years.
Find out more about the Samsung QE75QN900A.
Author: Tom, Bath store