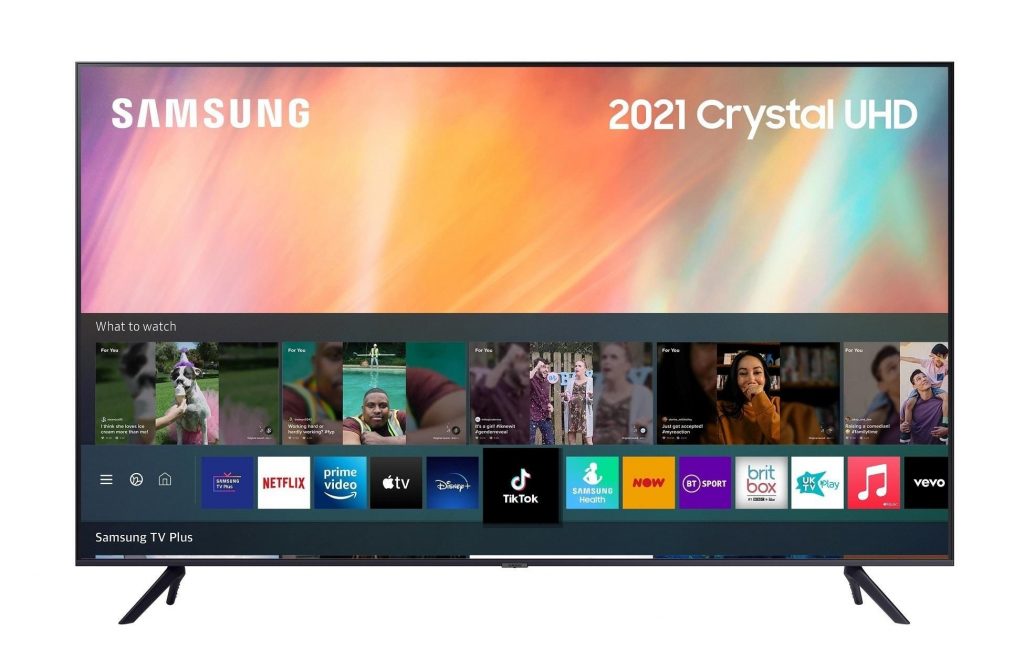 Brand new for the 2021 season this mid-level entrant to the Samsung range offers some great bonus features.
There are some key elements to Samsung's range that are central to all that they do that earns them many returning customers. The UE65AU7100 does not deviate here as it features Samsung's attention to user-friendly operating systems, an all-inclusive app platform and a great overall build quality. For those who are used to the brand the signature dynamic colours and brightness are there right out of the box. As usual there are also plenty of options to tone the picture to your personal taste.
One of the new features you will find in the AU range is PurColour which Samsung states adds impressive colours to everything you watch. Comparing with our 2020 Q60T model which in the range from last year sits at a slightly higher spec there is certainly a noticeable improvement in this year's AU7100. The colours are definitely brighter and more vivid on comparable settings although perhaps not with the subtlety's the higher spec QLED technology can offer.
Samsung Q-Symphony LITE is another new addition to the 7 series LED range from Samsung. You may have seen it in certain Samsung QLED TVs and Soundbars from last year so this is an even broader roll out for 2021. The concept is to use the wired digital input from the TV to create a tandem utilisation of TV speakers in unison with an enabled Soundbar. While it states on Samsung's website you will then hear amazing surround sound this could be a little misleading. If you're understanding or experience of surround sound is that of a cinema or home cinema system, this technology is not replicating that, only attempting to emulate it to varied degrees. Samsung soundbars with this technology come in all shapes and sizes and with different levels of faux surround sound emulation, if this is a feature you are interested in, do chat to your local Richer Sounds store for a deeper understanding.
Tap view has also been added this year for those running specific Samsung Galaxy phones that are compatible. This function enables you to share screen or music to your TV via a simple tap action rather than browse through settings to enable the function. This is the last of the new additions for the AU range.
The 65AU7100 continues to feature the same adaptive sound to give you a decent quality of audio for general TV, the clarity on the vocals is good so likely to be adequate for most general users but for larger rooms it will lack volume. As always for movie watchers wanting that extra punch from the experience, we would always recommend chatting to us about additional sound options tailored to your requirements.
The panel continues to be a 50Hz as with last year. It is worth noting for those looking to use this for gaming and you are looking in the AU range the AU9000 might be model for you. With its motion acceleration to 120Hz it is designed for better optimisation with the next gen consoles.
If you are looking for a well-priced 65" with the full suite of current standards and functions for the general consumer this is certainly a great contender. With its dynamic picture it will always look engaging and the slick operating system makes it easy to use on a daily basis. For more information do call, email or visit your local store and we will be happy to answer and questions.
Learn more about the Samsung UE65AU7100 TV.
Author: Joe, Bath store