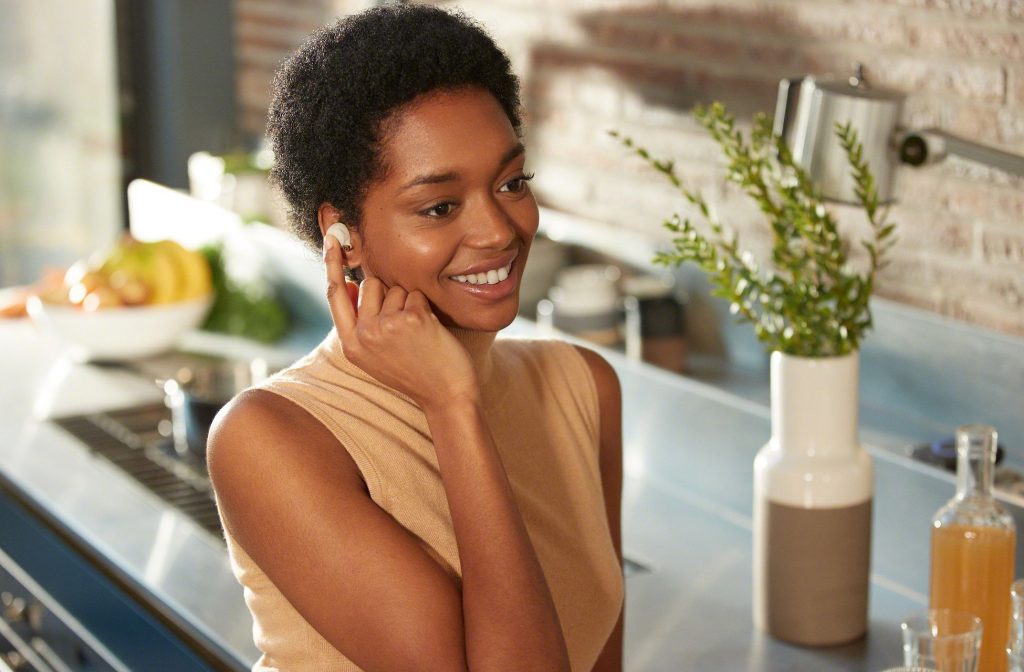 Never content to rest on their laurels with well-reviewed previous headphones versions, Sony have released the 4th iteration of their WF1000 wireless in-ear headphones – you guessed it, the Sony WF1000XM4.
Sony, Sennheiser and Apple are usually the big names that come to mind when people think about or consider noise-cancelling headphones, be they on or in ear versions.
With headphones being glued more and more to people, from commutes, home meditation, flights or the dreaded and continuing home conference video calls – people have bought them in droves. Trying to be good at all of the above and more however is a big ask – something the Sony's are trying to take the crown for however.
The WF1000XM4's are, for the most part, very similar to their predecessors out of the box. Relatively small units, though not as discrete as the Cambridge Audio Melomania 1+ once in the ear. The key aesthetic difference between these and the XM3 variant is actually the charging case. It comes in at nearly half the size, making this a genuinely pocket portable set of headphones, with the previous casing lending itself more to living in your bag, scratching up against your keys etc.
The charge on the headphones clocks in at an impressive enough 8 hours INCLUDING the ANC (Active Noise Cancelling) being on. Class-leading, and potentially enough for a week of commuting, but definitely doable with the additional 16 hours held by the case. Although it CAN charge wirelessly (pop it onto a Qi pad), you'll likely find that the USB-C port is simple enough, and charges faster to boot.
Although similar to the XM3's, the XM4's have had a bit of a smoothing out from their predecessors when it comes to fit. They now fit just as snugly into the ear canal once you've selected the correct bud size, but also fit more 'ergonomically' into the conch of the ear.
Having tried these out on a long city walk, this reviewer can confirm that they sit comfortably and lightly in the ear making for minimal readjustment whilst wandering around – far more comfortably than the 'toothbrush' rivals.
They're also sweat/splash-proof if you're more athletically minded and although I didn't try them this way, they feel secure enough in the ear to survive this without pitching themselves to the floor.
For getting music playing through them, or ensuring the noise cancelling and 'air tightness' is exactly as you want, there is the Sony headphone app. It's a bit convoluted, not quite as simple and sleek as the Bowers and Wilkins variant for their own headphones – but if you like more complex controls you'll love it.
If you don't want ANY extraneous controls or apps, don't worry, the gesture controls will let you deal with function switches and play/pause/answer controls etc, if only at a more remedial level.
There's also an interesting feature carried over from the the WH1000XM4's (the over-ear cousins) – in talk to speak. Interesting, not necessarily good. If you start talking, it will pause the music and let you chat to someone, be they family, a colleague or someone asking for directions. They won't pick up on strangers in this way, which is great, however, an erstwhile cough or sneeze managed to set mine off. This however plays into the clarity, sensitivity and directionality of the mic. This was tested on a weekly online DnD game – no issues reported from other players, and also a call to my family during my walk about the city. They may have been bemused for the call – but at least everyone could hear me clearly!
Musically, the Sony's are sort of Hi-Res ready. They support Sony's LDAC format, but not the more universal AptXHD – a bit of an annoyance when Sennheiser Momentums' will cover all the grounds for a similar cost, but not a dealbreaker.
The Sony's are however, accurate, well-paced and detailed. Sometimes they can feel a little flat at the top end, lacking a little air or sparkle – but if you're a bass fan you'll be at home. Far from being over-egged on the bass, they are tight and responsive allowing for great depth and scale, particularly on the low end.
The Sony's have, like their predecessors, already started sweeping up some awards and top reviews – but in this reviewer's opinion, far more deservingly.
To see these for yourself, give a call to your local Richer Sounds store, where the colleagues will happily help secure you a pair.
Learn more about the Sony WF1000XM4 headphones.
Author: Tom, Cardiff store