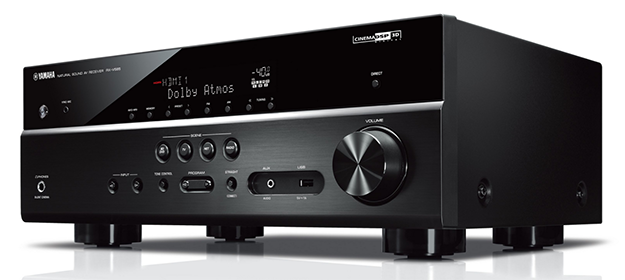 Yamaha has launched an updated line of AV receivers for the coming year with some exciting improvements to an already fantastic range. Join us as we look at the new RXV585 to see what's changed and see whether now is the time to upgrade your old surround sound amplifier.
Yamaha has a long history of making consistently good quality AV receivers which come packed with features and meet all the latest technical standards. The new RXV585 is no different.
It comes with a great range of connectivity including 4 HDMI inputs and 1 output. These all come equipped with HDCP 2.2 compatibility meaning there is no trouble connecting all the latest 4K HDR devices and even providing the capability to pass through Dolby Vision content.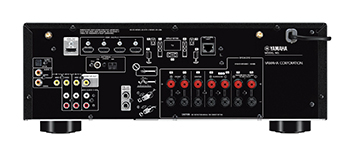 The RXV585 comes well equipped for the latest three-dimensional sound formats, there is support for both Dolby Atmos and DTS.X and the required 7.2 channels to properly support the height speakers. For those who haven't experienced this effect before it's well worth popping into your local Richer Sounds and listening for yourself, the extra height makes a stunning improvement. You truly feel the effect of rain falling all around you or a plane passing overhead.
One of the main upgrades for this generation of Yamaha receiver is support for the use of wireless surround speakers, meaning if you hate unsightly wires running the back of the room you can still enjoy the benefits of surround sound. This feature uses Yamaha's MusicCast system over Wi-Fi to wireless connect your receiver to either the MusicCast 20 or MusicCast 50 Yamaha wireless speakers. You can use the MusicCast 50 speaker to give you stereo surround through one speaker in the rear of your setup and there is even support for a Yamaha wireless subwoofer if you want the cleanest possible look.
The use of MusicCast doesn't stop there, however, as Yamaha's Wi-Fi application allows access to a wide array of streaming services such as Spotify, Deezer and Internet Radio. In addition, there is support for high-resolution audio through apps such as Tidal and Qobuz allowing to get the best possible sound.
Another new feature this year is support control via an Amazon Alexa device. Alexa enables you to change inputs and adjust the volume without a second thought, we can see this being a regular feature in years to come. This is something really handy for those who are looking to improve their existing smart home or simply for those constantly losing their remote controls.
To give these features a try we sat down with the RXV585 and went through setup. It's a pain free process thanks to clear instructions and a simple menu system and Yamaha has packed a microphone in the box to allow for calibrating to the rooms specific dimensions. It's worth selecting what speakers you have connected and letting the receiver know what sort of speakers you have. As an example, there are several different height channels available, we selected in-ceiling speakers which allows for better calibration.
For our test we paired the RXV585 with a set of Cambridge Audio Min12 speakers and the Cambridge X201 subwoofer. The calibration process was quick, thanks to the previously mentioned YPAO microphone which uses Yamaha's own software. It created a nice wholesome sound for our demonstration room in a few minutes.
To see what sort of performance Yamaha has provided we put on a copy of Spiderman: Homecoming and we are pleased to report the experience was excellent. The sound was full and the RXV585 got the best out of the Cambridge Audio speaker package. We were particularly impressed with the room calibration as nothing was overpowered and it meant vocals were clear even in the loudest moments.
All in all Yamaha have done a great job in updating what was already an excellent line of AV receivers for 2018. Nice inclusions such as voice control and wireless rears mean there is very little to complain about in terms of features and leaves us wondering how will they improve on this package next time around. The RXV585 in particular is a well equipped unit which gives you everything you need to create a Dolby Atmos system in your own home for years to come. There is plenty of expandability here for the future and Yamaha has a history of rolling software updates out to keep their units up-to-date.
To see why we speak of the RXV585 so highly why not pop in to your local Richer Sounds today and try it out for yourself? We're sure you'll be impressed by what you hear.
Click here to learn more about the Yamaha RXV585
Author: Robert, Brighton store