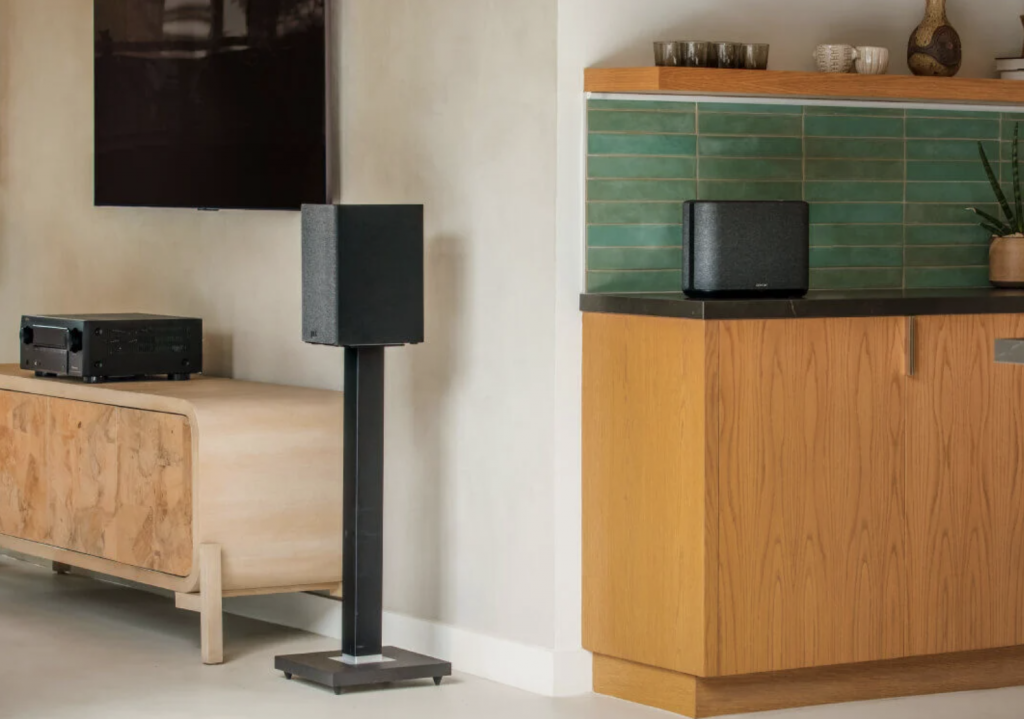 Take your home listening to the next level. There once was a time when multi-room audio meant turning the volume up loud enough to hear it in another room. Thankfully, things have come on a bit since then. Denon's HEOS Built-In is leading the way for a new generation of multi-room audio, a way of wirelessly connecting all your speakers, Hi-Fi Systems, AV receivers and other AV gear so they can work together as a true home audio system. Intrigued? Let's see what it can do.
What is HEOS Built-In?
HEOS stands for Home Entertainment Operating System. It's a wireless multi-room audio platform created by Denon that connects your audio kit wirelessly. And because it works over your home wi-fi network, your gear can work together seamlessly even if it's dotted in different rooms all around the house.
If a device is labelled as having 'HEOS Built-In', you know it's compatible with other HEOS products. In other words, you know it will work effortlessly with your other HEOS Built-In devices, so you can buy it with confidence knowing that it'll slot right into your home audio ecosystem.
What can HEOS Built-In do?
HEOS Built-In connects all your devices wirelessly, so they can talk to each other over your home wi-fi network. That means they can play the same music – so it'll be audible wherever you are in the house – or you can set a different playlist for each, creating a different mood in each room. Great for house parties.
HEOS Built-In works with all kinds of digital music services over wi-fi, or you can stream offline using Bluetooth straight from your phone or laptop. You can stream all sorts of services using HEOS Built-In devices, including Amazon Music, Deezer, Napster, SoundCloud, Spotify, Tidal, Tune-In and more. It also plays nice with locally stored files on media servers or PCs. Better fire up the NAS drive.
And if you don't have a NAS drive, you can effectively create one yourself thanks to the USB port. Every HEOS Built-in device has a USB port which lets you stream music from that source across multiple rooms. This basically lets you create your own little NAS system. Very handy.
What music file formats does HEOS Built-In support?
You'll be happy to hear that HEOS Built-In supports streaming uncompressed music files over wi-fi. These will sound better than those compressed ones streamed offline over Bluetooth. HEOS Built-In supports MP3, AAC, Apple Lossless, DSD, Flac, Wav and WMA.
How do you use HEOS Built-In?
It's all about the app. Once you've downloaded it, it works as the control centre of your HEOS Built-In system. And setting it up is a doddle – just tap 'Setup Now' within the app and it'll automatically sniff out and connect to any HEOS-compatible devices in the house. The app is free to download for iOS and Android. All sorts of devices feature HEOS Built-In, from speakers to soundbars to mini systems, AV receivers and even traditional hi-fi set-ups.
What about analogue media?
It supports that too. As long as you have a HEOS Built-In capable product, you can stream music from physically connected sources like a CD player, turntable or even cassette deck. You didn't throw out those old cassettes did you?  Products like the CEOL N11 or Melody X feature HEOS Built-In, which means you can play through your CD collection and stream the audio across multiple HEOS compatible devices. If you have a Turntable, you can do the same by connecting it to a HEOS compatible amplifier or by simply connecting it directly to a Denon Home speaker via an auxiliary cable. This auxiliary cable solution also applies to multiple sources and is an easy way to integrate your analogue set-up into a multi-room network.
Why not speak to our experts at your local Richer Sounds store today. Or speak to our Telesales team about what Denon HEOS Built-In products can do for you.