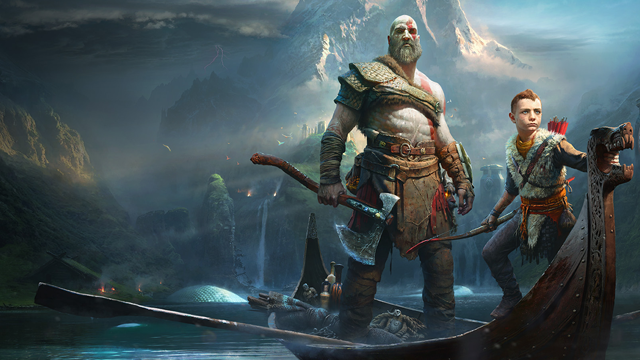 This was a monumentally solid year for games, gifting us with many that you could argue will fall into the very best of the current console generations once the time comes to review all releases. With that in mind lets look at some of the top video games that were released this year.
God of War
Is this the greatest God of War Game? Yes. Is this one of the greatest games for PS4? Again the answer is yes. Taking the arguably one note character of Kratos and turning him into one of the most complex in recent video games is a mark of pure genius and sticking him in a remarkable Norse world with (BOY!) Atreus adds a father-son narrative not often seen in games based around tearing monstrosities to death with an axe.
---
Marvel's Spider-Man
For the most part Superhero games can feel ironically mundane with no sense of speed or power being imbued to the player themselves. All that changed when Marvel's Spider-Man came out and raised the stakes when it comes to powered city traversal. Utilising Spidey's patented webs to sling around Manhattan is so perfect that I often found myself just casually swinging my way around town with nary a care in the world, and that is high praise indeed.
---
Red Dead Redemption II
A game so good that even its absolutely despicable online money grabbing antics couldn't get it banned from this list. Arthur Morgan is one of the greatest characters of all time, the depiction of 1910's old west is picture perfect, and the unscripted moments bring a tear to my already sodden eye. I'm so enamoured with Red Dead II that I plan on starting it all over again so I can get back to my outlaw ways.
---
A Way Out
What's with all the hate against two people wanting to share  a gaming experience but happen to be in the same room? I can't answer that but what I can say is that if you're looking for a co-op experience like no other then you have to pick up the wildly overlooked A Way Out and play one of the best two player jailbreak games of all time and get super stressed when the other person does something wrong.
---
Dragon Ball Fighter Z
The greatest 3v3 fighter since Marvel vs Capcom 3 says I, and I will stand by that statement until the inevitable sequel is released. I'm not a massive Dragonball fan but annihilating waves of online players with my pure skill team Of Kid Buu, Cell and and Gohan is as exhilarating as you can get in a fighting game. Unfortunately the part about me being good at the game is a lie but regardless this is the best fighting game right now for any console.
---
Spyro Reignited Trilogy
This is three games in one, and is also cheaper than any new release and is amazing. Getting to play as Spyro in lovingly recreated remakes of the first three games is such a joy to the senses that it can only be described as nostalgic perfection. I thoroughly recommend this trilogy of games to both new and old fans of 3D platformers.
So there it is; what I believe to be the greatest games of this year and the ones that I have spent the most time with this year. Let me know if you think there are any I have missed!
Author: Hal, Plymouth store