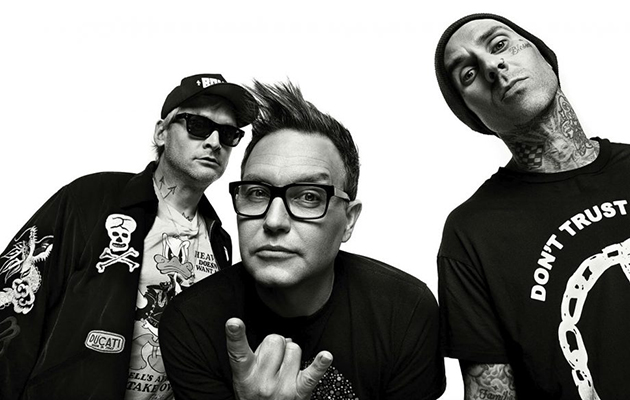 With their 2016 album California being nominated for a Grammy, will blink-182's recent shift in musical style lead to more awards three years on?
Those familiar with the blink-182 of the late 90's may not recognise every member of today's lineup, which has changed over the years. Tom DeLonge left in 2003 after their self-titled album to pursue a new band Angels & Airwaves. DeLonge returned after spending possibly a little too much time with U.F.O conspiracy theorists, to create Neighbourhoods with the band in 2011, but since then his vocals have been replaced by Matt Skiba of Alkaline Trio.
Luckily, immensely talented drummer Travis Barker has chosen to stick around. He has continued to work with blink-182, as well as performing and being heavily involved in the production of countless hip hop and rap projects during his career. The names he has collaborated with carry some serious weight within the scene, including established names such as Lil Wayne, Run the Jewels and Xzibit, as well as successful newcomers from the SoundCloud rap movement like XXXTentaction and Lil' Nas X. Barker's rap/hip hop influence is apparent throughout much of NINE, this combination of styles is of course nothing new however, with bands like Rage Against the Machine, Linkin Park and countless others gaining worldwide commercial success from blending the rock and rap worlds.
At fifteen tracks long, there is plenty of time for the band to cover ground musically on this record. Its opening track "The First Time" is a decent overview of what to expect. In terms of the vocal layering and guitar tracks, there is a definite traditional pop-punk feel, listen closer and the tell tale signs of modern production are more apparent. Everything sounds as if it has been scrubbed clean, there is no denying the effort involved; however their rough edges were undeniably part of their early appeal.
Lyrically blink-182 have often delivered simplistic ideas very effectively, on this album there seems to be more focus on the content having more depth. On "Happy Days", lyrics such as 'face down in the deep end/face down every weekend/faced all of our demons/chased all of our dreams' are still delivered in a positive and uplifting way. This theme appears again later on the interlude "Darkside"; 'I'm going to the dark side with you', which could be interpreted as  a love song about a toxic relationship, or possibly drug abuse, while maintaining a relatively happy feel.
NINE sees the band innovate with a more modern palette than in the past, with drum work that could be compared with The Neptunes. Whether this is to appeal to a more youthful audience or not is unclear, but this year's release is still missing some of the fun that captured the hearts of so many fans twenty years ago. "Black Rain" is one of the album's heavier and rougher tracks, with glitchy, electronic drum programming at points. Even with these new elements and influences, there is no doubt that you are listening to blink-182. On that track there is an obvious contrast between these sharp-edged guitar parts, and a breakdown that could be confused with a Coldplay song. As the album progresses, we hear more sonics from 2019 subtly working their way into the bands sound. "I Really Wish I Hated You" and "No Heart To Speak Of" for the most part sound like a pop-punk band, but Barker can't resist a bit of unnecessary trap-style hi-hat work.
Some things thankfully have never changed. NINE is full of playful, catchy guitar playing style and a sense of teenage angst (even though these days the band may be worrying more about receding hairlines than acne). On "Pin The Grenade", Barker's live drum work is exceptional, the nostalgic vocals sound familiar in a wholly positive way, and it will surely be an album highlight for many. However elsewhere they fail to nail the believability of tracks from their back catalogue, such as "What's My Age Again" or "All The Small Things". That being said, pop-punk is essentially two opposites, making it one of toughest genres to pull off.
Oddly enough, NINE is actually the eighth album from Blink 182. Their transformation appears to have worked in some regards, and while they may have succeeded in creating their vision with NINE, catering for their die hard fans may have proved to be a wiser choice.