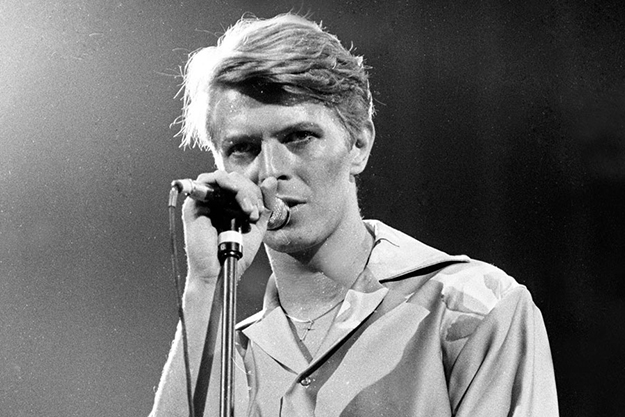 Bowie and the 80s. It all started off so well (Scary Monsters (and Super Creeps) and a few spin off single productions) yet even the most ardent Bowie fan would be hard pressed to argue that the decade was a continuation of the man's glory years. Yet, commercially he was never healthier, scoring huge sales and massive live engagements. So for me this latest in a series of four (so far) box sets offers me time and a chance to re-evaluate a period that I've always viewed with some disregard…
First off, the box is another fine package, great 'mini LP' artwork reproductions, though some of the details are so small I'm struggling to read it even with a magnifying glass (aka the perils of getting old). The book contained within is great, but I'm not so keen on the cover illustration of the package. And as for the music? Well, let's be clear, Let's Dance (1983) is a fine, fully-realised in the artistic sense, complete Bowie album. It's an era defining blueprint for pop, it has weird, political and personal relationship numbers. The production is amazing and the performances top-rate. OK, so it showed that David was struggling to write new songs, but I even like the so-called lightweights on this album ("Shake It" and "Without You") and the choice of covers and re-works is considered sublime ("China Girl" could not be more different from Iggy Pop's Bowie assisted original, but as a pop song it's even more commercial than the album's title track). And the remaster here breathes life and detail into the minutiae of the recording. In short, it has never sounded better.
Tonight (1984) was a rushed and incomplete follow up, so unlike Bowie to miss an opportunity of this scale. "Blue Jean" was a decent pop hit, "Loving the Alien" the album's only inspired moment, but David brought no more new solo compositions to this set. His cover of the Beach Boys "God Only Knows" is one of his most lamented recordings, creating more disdain than even "The Laughing Gnome", but I like it – it's heartfelt and genuine. However, the album wallows in a lack of direction and ultimately in lack of interest from the artist. Never Let Me Down (1987) certainly regained direction, it brought eight new solo compositions to the table, a couple of co-writes and another Iggy cover. A huge world tour was built around this album. But for me, it stinks. Bowie's only less listenable album for me is Tin Machine 2. The songs aren't great, but the production is overwrought and typifies the era x10. "Day In, Day Out" was an OK single, and the title track was sweet and gentle. There's a track on the original that Bowie has erased from his official history to such a level that it's nowhere to be seen anywhere in this 11-disc (CD) collection ("Too Dizzy"). So, is it not so strange that a newly constructed 2018 rework is the centrepiece of this box set?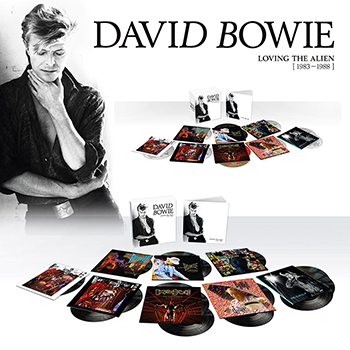 Well yes, obviously, but also no. Bowie himself was involved in a 2008 reworking of "Time Will Crawl" for a compilation album and expressed a desire to re-visit the album, to realise and release what he felt was a collection of really good songs from its trappings. This new version has virtually all new instrumentation and uses some alternate vocal takes. To me it is an improvement on the original album, probably preferable to Tonight as an album now, but still suffers from some of the original version's weaknesses. The songs are not classics, the latter half particularly nosedives in quality. Perhaps the main beneficiary from the 2018 rework is "Glass Spider" which is no longer cringeworthy. It is still however a failed attempt at Diamond Dogs era scene painting and storytelling. But overall, I am pleased that this project has been undertaken, though I hope dearly that no more Bowie albums get this treatment (Nile Rodgers has already worked on an orchestral version of the track "Let's Dance" for an upcoming various artist 80s project). For the record, both "Tonight" and "NLMD1987" benefit from sensitive remasters and like their more illustrious sibling "Let's Dance" have never sounded better.
Also included in this set, Serious Moonlight (live 1983) a decent live offering though only singles from the album David was promoting made it into the set. The sound is OK, a bit lacking in focus, maybe down to the fact performances were largely open air/enormodrome affairs. Glass Spider (live Montreal '87) perhaps sounds better, has an interesting setlist but too much of the attendant Never Let Me Down album and brings back some horrible memories. Snippets of dialogue are still present from the Broadway-like in-between song exchanges and add nothing to the experience, just as in '87. This was the only time I saw Bowie live, I just couldn't do it again for fear of being similarly disappointed. It left me standing on my seat shouting the question/statement 'why is this so bad?'. Or words to that effect. Neither of these live albums add to the Bowie legend in the way other post Jan 10th 2016 live releases have. But they do document the era.
There's also Dance, a collection of dance and dub remixes from the time. A similar project was nearly released in the mid 80's and would maybe have had some validity at the time, though now it leaves me cold. Bowie made his artistic statement mostly complete in his finished songs, and extended rehashes from outside collaborators just add nothing. There's also 'Re-Call 4', a two disc round up of single edits, B-sides and soundtrack contributions. This actually collects some of Bowie's best works of the decade ("This is Not America", "Absolute Beginners", "Underground", "When the Wind Blows") but also has some superfluous content. Original vinyl only edits of "NLMD87'"numbers anyone?
After all of this, Bowie drew a line under solo activities for a while, attempted to regain his mojo with the ultimately ill-informed Tin Machine, and finally re-emerged with a second career as a still relevant aging rocker in a fine series of albums right until his passing. But the 80s happened. Those of us that lived through the decade will testify that it wasn't all bad. A fair bit of it was though.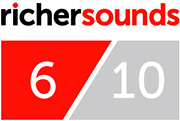 …for the music, but 9/10 for the packaging.
Author: Ian, Romford store