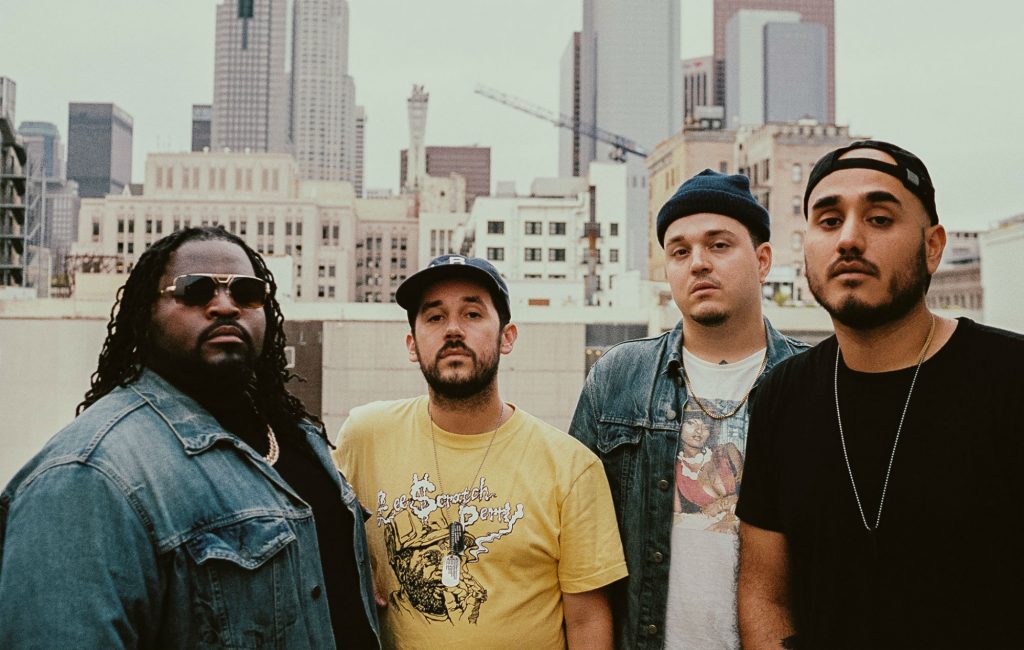 Some of you may already know multi-instrumentalist, rapper and singer Anderson .Paak for his solo work or guest features. His backing band Free Nationals are essential to his sound, and even though he appears on one track, their self titled album proves their worth.
Without a constant lead singer they instead rely on a bunch of guest vocalists, from the late Mac Miller, to modern reggae superstar Chronixx. Of course their sound has similarities with .Paak's, leaning towards retro funk and soul influences with a subtle modern twist; but on this project they have managed to carve out a sound of their own. The band itself is made up of four main ingredients, coming from Jose Rios on guitar, Callum Connor on drums, keys from Ron "T. Nava" Avant and bass from Kelsey Gonzales. These guys have been a unit for many years, and it shows, they are as tight as it gets both live and in the studio. Back in 2016 they were propelled into the limelight on .Paak's Malibu album, a match made in heaven resulting in red hot tracks such as Come Down. Since then they have toured the world with two more .Paak albums, honing their skills even further. However the price for this busy schedule has been multiple delays to their own projects, but after listening to this album it has clearly been worth the wait.
The constantly changing lead vocals makes for an interesting listen, meaning that the band can stay within their comfort zone; without them it would be a much blander affair. There is certainly very little innovation, instead choosing to proudly display their influences from 70's artists such as Parliament / Funkadelic and Isaac Hayes. This is far from a negative however, and the entire album fits the brief well. Other current bands such as Jungle have used a similar formula, but it is hard to think of a more traditional collection of recently released instrumentals. Each piece is slicker than slick, showcasing their world class musicianship time and time again; Apartment is a particularly delicate groove. Other highlights include the gorgeous, previously released single Eternal Light with Chronixx, and the additively poppy Time, featuring the buttery soft tones of Kali Uchis and a stellar Mac Miller rap from beyond the grave. Less impressive moments such as the The Internet's Syd collaboration Shibuya, and the less cohesive Cut Me a Break interrupt the album's flow.
There is a purposefully live style to this album, and on the brief introduction to Oslo you can hear the addition of a crowd in the background. It then emerges into a west coast, G-funk inspired joint with a talkbox on some of the vocals as well as the lead guitar. They also take influence from motown and disco on one of the album's only purely instrumental pieces Lester Diamond (which in fact turns out to be one of the project's strongest tracks). Their use of contrast and layering is truly inspired, giving each player a chance to show off a little; especially drummer Callum Connor. One thing that brings Free Nationals into the present is their inclusion of rap, something that Wu Tang's Ghostface Killa and live jazz band Badbadnotgood perfected back in 2015. The Rivington is possibly the most successful of these pairings, the fantastic horn and string sections sit on top of slapped bass notes and a laid back beat, which are strong enough on their own. Verses from Westside Gunn and Conway are the icing on the cake, with Joyce Wrice's chorus being the cherry on top.
It is almost impossible to pick a favourite, but the album's second track Beauty & Essex is a strong contender. It features fairly sexually explicit vocals from Unknown Mortal Orchestra's Ruban Nielson, and Daniel Caesar, setting the scene a sensual album. The bands vintage style remains the only constant, as each guest successfully weaves in and out. The weaker pieces definitely fail to take away from the overall quality of the album, and we cannot wait to listen through again.