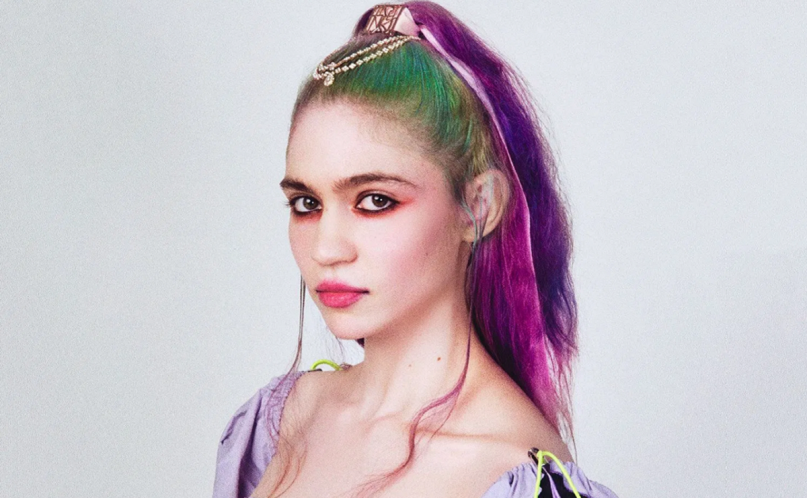 Everyone's favourite anti-pop star Grimes is back with a bang, her 5th album Miss Anthropocene is as fascinating as ever and demands your attention from the very first moment…
Welcome to the weird and wonderful world of Grimes, in case you are not already familiar. She is one of modern music's most interesting characters, not only due to her unique visual style, but also because of her ultra-modern take on electro-pop. More than comfortable being an outsider, Grimes is certainly not your average pop star, akin to FKA Twigs. Originally from Montreal, Canada her musical inclinations seem to draw her to a much more artistic side of things. Eclectic to say the least, her sci-fi influenced sonics have been shaped by almost every genre imaginable over the years. This time around she has described her album as ethereal nu-metal, and much of its lyricism has been influenced by the current climate crisis. Some may have first heard Grimes via her very well received single Oblivion from her 2012 Visions album , and you can hear much of that dazzling, futuristic vibe on this year's project. Another stand out moment from 2012 was her ground breaking Boiler Room performance, which showcased her versatility as she sung, whilst simultaneously playing a live set on various synths and drum machines. Grimes is much more than just a vocalist, she has always been heavily involved in every part of the creative process, from the writing, to the production and engineering.
The album begins within a spacious spacious Bjork-meets-Burial kind of territory, and on So heavy I Fell Through The Earth her trademark ethereal vocals really shine. Her voice is often dripping wet with reverberations, and on New Gods this is pushed so far that she sounds as if she is singing inside a deep cave. The accompanying chord progression and melodies are truly world class, and although the piece never really gets going, that is definitely part of its charm. Miss Anthropocene shows more than one side to her music output though, for example We Appreciate Power sounds as if it is from an alternate reality, where powerful, eccentric, sharp and heavy metallic guitar and drum parts cut like a knife. There is plenty of contrast too, and a surprising amount of guitar, check out Delete Forever, which was written about death of Lil Peep and America's opioid crisis; somehow squeezing banjo, Wonderwall-esque acoustic guitar strums and violins into the mix. It may not always be that pleasant to listen to, but Grimes' music has always been slightly challenging for the average listener (like Before The Fever which is drowning in a sea of fuzz and lacks real direction). One of the album's most confusing pieces comes in the form of its only feature, on Darkseid Grimes is joined by previous collaborator Pan, a wild, Taiwanese MC who we heard on Art Angels back when she used her old alias Aristophanes.
There are also pieces that are comfortably familiar, for example on Violence she picks up the pace with an electro-trance hybrid. Conversely, on IDORU she tears up the rulebook and includes a simple melodica introduction complete with birdsong, pulsing noise and a creeping, heavy break beat drum pattern. One of the album's stand-out songs is the beautifully dark 4AEM, with its immersive half-time introduction, and southern asian percussion. She even appears to sing in an Indian scale, and before you know it you are listening to a full on drum & bass banger; although we would have preferred a whole track of the breakdown and intro.
As you would expect, this is another twisted journey of alien-pop that only Grimes could pull off. It is deeply emotive, and dark, without being depressing. Her heart is worn proudly on her sleeve and her uncompromising attitude is impossible to ignore. Even during the album's messier moments, there is always something positive too, whether it is sound design, synthesis, or vocal ability and processing. This definitely is not for everyone, but we think everyone should give it a try.