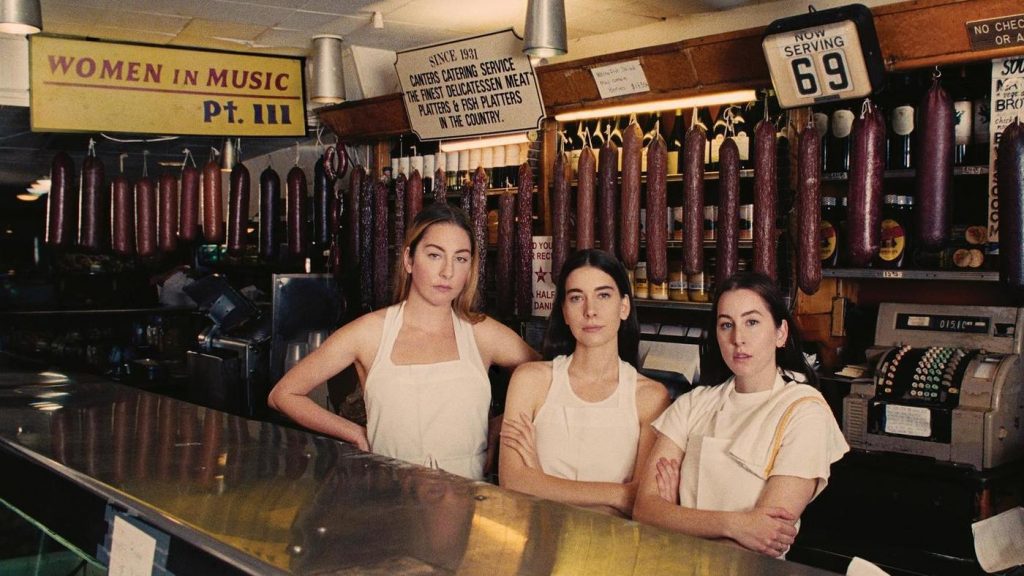 A very high level of musicianship and a vast array of genres and sounds have been cleverly pressed into one album on Haim's latest offering. Whether it's rock, folk, country, pop or electro, they're just as comfortable exploring each genre as they are at merging them. Choose any of the tracks to hear a catchy melody with a seamless eclectic blend, subtly underwritten with an authentic southern style. You'll find tasteful harmonies that are executed with a level of skill that can only be achieved with many, many years, perhaps even a lifetime, of practice.
You may be familiar with Haim from the radio circulation of the outstanding tracks "Up From A Dream" and  "Summer Girl" from this release. They are Three sisters from Los Angeles who have been playing together from a very early age, which is apparent on first impressions. They are also proficient multi instrumentalists with diverse musical backgrounds including touring and academia. Haim topped the BBC's Sound of 2013 poll industry poll on the back of their debut EP "Forever", and gained mainstream attention later that year when their album "Days Are Gone" topped the UK charts.
Since then Haim have been gaining traction, and this, their third release draws inspiration from their personal struggles and experiences over their last few years spent on the road. It touches on themes of depression, isolation and grief, but it should also be noted that they can take you from moments of melancholy to moments of ecstasy in the snap of a second. The songwriting is a sharp, fast paced rollercoaster throughout, even on the sadder songs. The title is a dig at their least favourite line of questioning.
The production is a multifaceted entwinement of acoustic and electronic sounds, the lo-fi and the hi-fi, a perfect counterpoint of vintage and modern. The instrumentation is a lush array of processed guitars and synthesizers, often enhanced with layers of brass, strings or more obscure sounds. However processed any part may be, the rawness of the performance always shines through, and that is a testament to the excellent production work from regular collaborators Rostam Batmanglij, of Vampire Weekend and Ariel Rechthaid. There is a greater focus on capturing a live sound for this release, and this allows for more of the organic emotional honesty to cut through the mix than some of their previous material.
The bonus track "Summer Girl" is noteworthy for it's deconstruction and amalgamation of Lou Reed's "Walk On The Wild Side" with the famous saxophone riff from Blodwyn Pig's "Sing Me a Song I Know". The result instrumentally has its roots in hip hop, and the original vocals bring back the pop sensibilities. It is a great example of how Haim are masters of the postmodern. They often borrow, but they are always trailblazing their path with their unique sonic signature.
At times reminiscent of Christine & The Queens, at times almost a Dixy Chicks of the future, you'll even find guitar licks that expand the sound out as far as The Smashing Pumpkins, and bass lines like that throw back to bubblegum pop. Haim never stay in one place long enough to be pinned to a specific genre and although Women In Music Part III is ultimately a pop album, that term has a very broad definition here.
This is an album that deserves to be heard on a good sound system. Give it a listen and you'll see what I mean. Better still, give us a call to arrange a demo (please check if your local store has reopened) and we will be happy to show you how you can improve your experience with friendly, professional and impartial advice about your setup.
I give this a score of 10 out of 10 because it is the sound of three people who together have devoted their lives to their art and reached an almost unattainable level of skill, whilst writing catchy songs about common experiences, with expert production. I cannot fault it.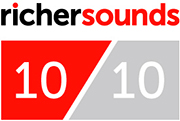 Author: Dan, Kingston store