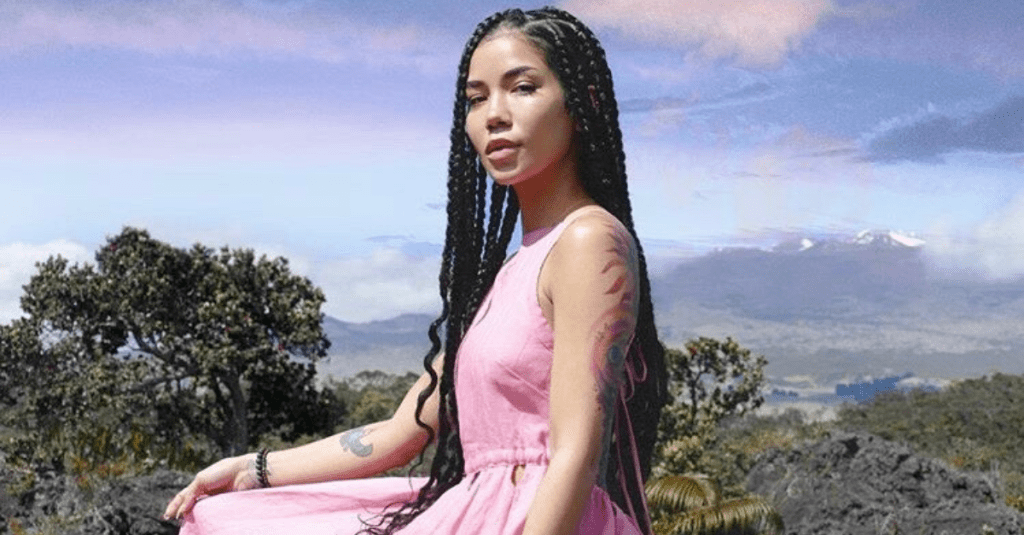 Following Jhene Aiko's previous conceptual album Trip, and its accompanying short film and poetry book, Chilombo is far less extravagant. Instead of focussing on grief and loss, this year's album is instead based mainly on relationship failures.
These days Aiko tours the globe, sharing the stage with superstars J. Cole, Drake, The Weeknd, Snoop Dogg, Wiz Khalifa, Lana Del Rey and Beyonce. However the limelight was not always aimed directly on her, in fact her voice first appeared as a backing vocalist for B2K. This and a handful of music video spots with the group, paved the way for her first solo album. Unfortunately whilst still at school, her album project with Sony fell through and was never released. She instead pursued her education, until 2011 when she signed a recording contract with ARTium (a label distributed through Def Jam Recordings). An appearance on a Big Sean single with Lil Wayne followed in 2013, which became her first top 40 single.
Fast forward to 2020 and this talented, multi-grammy nominated artist is on album number 3, Chilombo. It is, as to be expected, a sensual project which champions both vulnerability and strength. Aiko continues to use a tried and tested recipe of confidently soft vocals, chilled out productions, and relatable lyricism. Each song tells a story, something that Aiko does particularly well. Her painfully honest narrative is one of heartbreak, and one that is unsure whether the outcome is bitterness or positivity. In some ways it seems as if the break-up she is singing about has actually done some good, as she appears to have even more self-confidence and self-assurance than ever.
Almost every piece has been produced by Lejkeys and Fisticuffs, and there are a load of high profile features (across the rather unnecessarily long 20 tracks), from Big Sean, H.E.R, Future, Miguel, Ab-Soul, Dr. Chill, Nas, John Legend and Ty Dolla $ign. Although the album benefits from some diversity, these collaborations feel forced at times; and realistically they struggle to match Aiko's abilities. A huge portion of the album sounds very similar, but there is something so chilled about this contemporary, alternative take on R&B that it is difficult to see that as a negative. She grew up on Aaliyah and Brandy, and has cited John Mayer as one of her biggest influences, leading to an often calm, spiritual sound that could be compared to SZA or Summer Walker.
The album begins with a classy piano introduction, where we are also introduced to Aiko's impeccable vocal skills. Straight after we dive into one of her most successful singles to date, summer 2019's addictive Triggered (freestyle); a perfect example of Aiko nailing her formula. Fans thought that this may have been a diss-track against her ex Big Sean, but these rumours were squashed via Aiko's Twitter. Never one to shy away from risky themes, we move onto the confident P*$$Y Fairy (OTW), and None Of Your Concern, both are boastful and sexually explicit (Big Sean also hides no secrets here). This cocky attitude is also heard later on B.S, which is overall less tame than most of the album, the accompanying beat also has a little more edge too, but remains just as pretty as the rest.
We step away from the usual R&B framework a couple of times too, and One Way St. has more of a hip-hop feel to the production ; unsurprisingly this is where Ab-Soul shows up for his decent guest verse. Unfortunately other appearances such as Future's almost-in-time addition to Happiness over Everything (H.O.E) (an updated version of Hoe, taken from Sailing Souls), and Nas' disappointing verse which touches upon his marriage with Kelis, add very little and fail to combine well. Other tracks, like Born Tired with its simple acoustic guitar picks, is one of the more commercially viable pieces, but on the other hand it is one of Chilombo's least exciting. Again on LOVE, following on from the prime-time radio vibes of the previous track, sounds a little like Beyonce's – Irreplaceable ; a song that also shares a similar sentiment. Luckily it is not long before the neck snapping, Dilla-inspired back beat of 10k Hours arrives, once again the ever constant Aiko traverses this terrain deftly, delivering an exquisitely natural performance.
One track that sums up the general tone of Chilombo is Speak, where her effortless, emotional voice takes centre stage "I'm moving on, I'm putting on my favourite dress, the one you hated, said I look naked in, f*ck your opinion about it, I'm feeling my best, I won't hide it". Others that stand out include Define ME (interlude), which is so easy on the ears that it probably deserved to have an entire song built around it. Mourning Doves also could have easily been a full length piece, complete with bird song and delicate electric piano, her voice at around 1:45 is just perfect, although it does not hang around for long. Surrender featuring Dr. Chill also sounds great, where waves of layered vocals fill the space wonderfully and everything is right where is needs to be. With so many tracks there are bound to be a few slip ups though, such as Lightning and Thunder, which utilises a more traditional production style; opting for a soulful live-band set up for a change. Unfortunately the song itself, especially the duet with John Legend is undeniably corny. Finally, Party For Me, the album's 20th and final track, plays us out. This one has bags of energy, and a more digestible arrangement, Ty Dolla $ign's cheeky rap ties up the track nicely but it is odd for Aiko not to have the last word.
Jhene Aiko's charisma holds this lengthy project together. Her hushed, controlled voice is the main event, with smoky, hazy beats becoming less important. The album, for the most part is very mellow, this atmospheric, meditative vibe works wonders for a single, or even an EP, but may not be enough to carry such a long album. Maybe there is too much of the same vibe, or sonic palette, or maybe the project could simply do with losing a handful of tracks. There are loads of good and great tracks, but with so much choice it makes it harder for the strongest to shine. Within the stylistic switch-ups there is still a lack of variety, a lack of clarity, or conclusion. We will however forgive this because when she gets it right, you cannot help but be impressed.