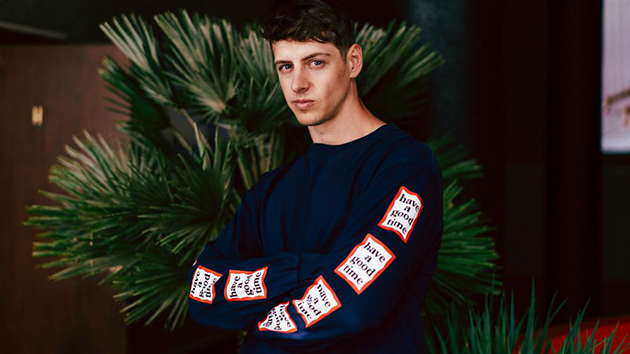 Nathan Micay's Blue Spring is an eclectic electronic triumph.
Electronic music fans might be forgiven for mistaking Nathan Micay as a new name on the scene, but in fact Micay has been creating jubilant and beautiful dance floor anthems for years as Bwana, releasing stellar EPs for the likes of AUS Music and Infinite Machine (his Flute Dreams EP on Aus is highly recommended listening).
Originally from Toronto, Canada but now based in Berlin, Micay has a rich history in electronic music, with early works echoing early 2010s post-dubstep wonkiness, and his more recent sounds inflected with classic Chicago house, progressive trace and European Techno. His first full-length outing under his own name, Blue Spring sees Micay truly step into his own sound as an artist, offering a richly cinematic experience that usually isn't on offer when it comes to electronic music.
"Romance Dawn For The Cyber World" sets the tone for the record, with a slow build of arpeggiated synths that give way to sampled news reports, teasing at a somewhat eerie vintage sci-fi spin. "Join Me Or Die. Can You Do Any Less" sees the arpeggios continue, frenetically building to an ethereal breakdown, driven by what sounds like an acoustic guitar. This might sound like an odd choice, but it fits extremely well, a testament to Micay's ear for boundary pushing.
While there are certainly a fair few delicate moments on the record, there's plenty of club-ready heat for DJs and dancers alike. "Ecstacy Is On Maple Mountain" is bouncey jam that mixes the halcyon days of acid house at Haçienda with airy chill-out rooms atmospherics that echo some of The Orb's earlier work, while the stomping "The Party We Could Have" could easily have come out on XL or R&S in the heyday of rave.
The record is expertly broken up with some left-field experimentations, which are a real highlight for me, especially "He Has The Key". It's one of the slower songs on the record, with a decided hip-hop flavour playing with what could be a modular synth work out. This might seem out of place to some listeners, but given Micay's noted love of much lamented chill-out room music that was staple of 90s raves, it's inclusion–along with the titular "Blue Spring" that follows it–makes total sense and acts as sonic refresher near the album's middle.
Legendary underground label LuckyMe, who have released music from the likes of Jacques Greene, Hudson Mohawke and TNGHT, were instrumental in getting Blue Spring out to the masses (along with a stellar web experience), but this hardly the first time the Glaswegian label and Micay have worked together. 2017 saw the release of Capsule's Pride (as Bwana), an album inspired by the Neo-Tokyo anime masterpiece Akira (samples from the film appear heavily throughout the record). Micay stated in an interview with Truants that Blue Spring is meant in essence to continue that world: "I'm storyboarding that because I want it to be a follow-up to the Akira thing—not in the sense of the theme of Akira, but in the sense of creating a world with continuous tracks and ideas." It certainly explains the movie-like feel to the record.
Pulling together a bunch of different yet not totally disparate sounds that fans of house and techno are likely to get behind, Blue Spring succeeds where others often fail, that is making a long-player interesting, fresh and immediately danceable.