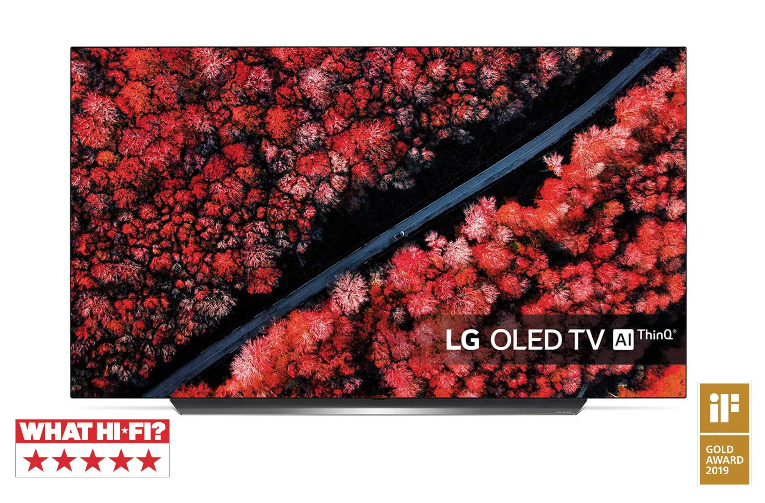 Another year another OLED! It's difficult to imagine what TV manufacturers could possibly do to improve on 2018, but the guys down at LG have set the bar even higher with the all-new C9 OLED TV.
Brands like Pansonic and Sony are churning out some incredible sets, so LG had to do something special to set themselves apart. Whilst some of the upgrades may be more subtle than others the C9 is set to be one of the best TVs of 2019. LG have given the C9 a bit of a facelift and a much more substantial stand, offering a much sturdier platform. It has a smaller overall footprint with an all-metal design which contributes to the C9's premium aesthetic. These features combined with the super slim screen make the overall product look striking.
The 2019 model feature HDMI 2.1. All four HDMI inputs can handle 120 frames per second, Variable Refresh Rate (VRR), auto low latency mode and has support for Enhanced Audio Return Channel (EARC)
Although many of these features are still in their infancy those of you looking at taking gaming more seriously will be able to benefit first. The Xbox One X already offers VRR support for some titles, with PC gaming following close behind and it won't be long for movies to jump on board too!
LG has also upgraded the processor to the Alpha 9 Gen 2, and whilst this may not sound exciting, picture processing plays a very important role in the incredible images the C9 can produce. OLED TV's are available at every price point, and whilst they are an OLED screen at heart, these cheaper sets can be massively let down by the processing. The Alpha 9 Gen 2 promises a higher quality of upscaling using machine learning, and the good news is LG is on top form with the C9 looking incredible.
Web OS is a familiar face for those of you already invested in the LG brand, and you could easily mistake the 2019 iteration as one from a few years ago. LG have stuck with the same platform for the last 4 years. The great news is that LG has added a few extra treats for 2019in the form of Amazon Alexa, Google Assistant and Apple Airplay 2. WebOS is now one of the most comprehensive smart platforms of any brand, whether you're streaming movies or music, LG have you covered.
Do all these extra bells and whistles actually work though? In short, yes. The LG C9 offers an outstanding image regardless of the source you're watching. The brightness is spot on and the colour balance is near perfect. It really is difficult to find a flaw. The low light performance is breathtaking and still able to maintain accurate colours – it is clearly not a one trick pony.
It is great to see LG taking the next steps towards future-proofing their sets with the introduction of HDMI 2.1 and EARC support as well as voice recognition.
If you're interested in this or any of our OLED sets then please feel free to pop into any one of our stores for a full demonstration!
Click to find out more about the LG C9 OLED TV range.
Author: Dave, Bath store