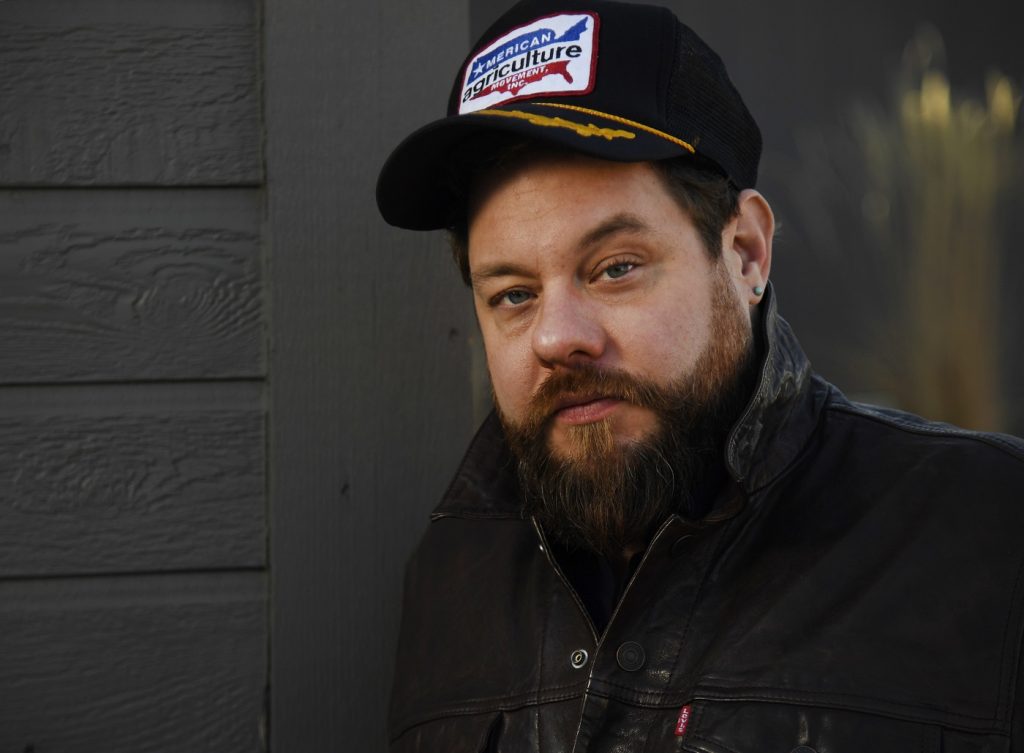 American singer-songwriter Nathaniel Rateliff returns with a new album And It's Still Alright that is already splitting opinions. After spending the past few years performing with his rhythm and blues band The Night Sweats, what will his latest acoustic-based songs sound like?
Born in St. Louis Missouri, Rateliff played drums from the tender age of 7 in the family's gospel band. He tragically lost his father to a car crash when he was only 13, which resulted in teaching himself to write songs and play the guitar. First releasing solo music under Nathaniel Rateliff and the Wheel, from 2007 to 2014, he also went on to work with The Night Sweats from 2013. Those of you who are familiar with his music will most likely be aware of his 2010 album In Memory Of Loss, and the stunning single You Should've Seen The Other Guy; and thankfully this album sees him return to this sound a decade later. It is a sound that leans heavily towards folk, with elements of country and blues used sparingly.
His voice and songwriting style is very unique, but one could compare him to the likes of Willy Mason, Ben Howard or even John Martyn. It is a style that has proved popular, leading to a 2011 performance on Later With Jools Holland, as well as a slot on The Tonight Show with The Night Sweats in 2015 (he has also shared the stage with some of the world's most successful acts, such as Bon Iver, Ben Howard, Michael Kiwanuka, Mumford & Sons, Laura Marling, Lumineers).
The album begins with What A Drag, which is easily one of the album's strongest moments. It is a fairly upbeat and optimistic sound by his standards, setting the bar high for what is to come. It doesn't take long for his melancholic side to appear though, and on track 2 And It's Still Alright he slows things down for some heartfelt lyrics "only have to bury your friends, and you find it gets worse, standing out on a ledge, with no way to get down, start praying for wings to grow, baby just let go". Rateliff's songwriting ability is still very good, but at first this album does not appear to have a real stand out track; even though there are elements of brilliance throughout. Like on Mavis, it is tough to distinguish what is actually being said, but the vocal layering sounds delightful. A simple guitar strum, shaker and hand drum are all that is needed until around the 2:30 mark where a full band joins in. Kissing our Friends is an interesting story, and features some of the album's most impressive guitar work. In fact, its his guitar playing that really shines on a number of occasions, such as the gorgeous introduction of All Or Nothing, and the accuracy of the expertly plucked strings on the Tonight 2 (which sounds as if it could have been recorded 50 years ago). Again on You Need Me, Ratecliff shows off his incredible folk-steel finger plucking technique, but like many of the album's tracks there is little to distinguish it from the others. That being said, there are still a few curve balls. For example listen out for the unexpected, unique rhythmic pattern of Expecting To Lose, which is accompanied by bluesy slide guitar, bold vocals, and somewhat lazy songwriting on its jazz-style scat chorus. Also on the final track Rush On, it almost sounds as if a different singer has stepped into the studio and is one of the project's slowest pieces; in contrast to its name. The guitar solo sounds like something from another planet, growling away, bending and twisting with insane amounts of reverb and distortion, it breathes a breath of fresh air to the album's sonic palette and is a very clever outro.
At just ten tracks long, And It's Still Alright is fairly short and sweet, but it probably did not need to be any longer. Rateliff has successfully revived his vintage, sombre style, but the album lacks the magic that was captured back in 2010. There is no doubt that a few of these tracks will be growers, and there is no denying his skills on the guitar, but it is unlikely to be as memorable as his previous works.