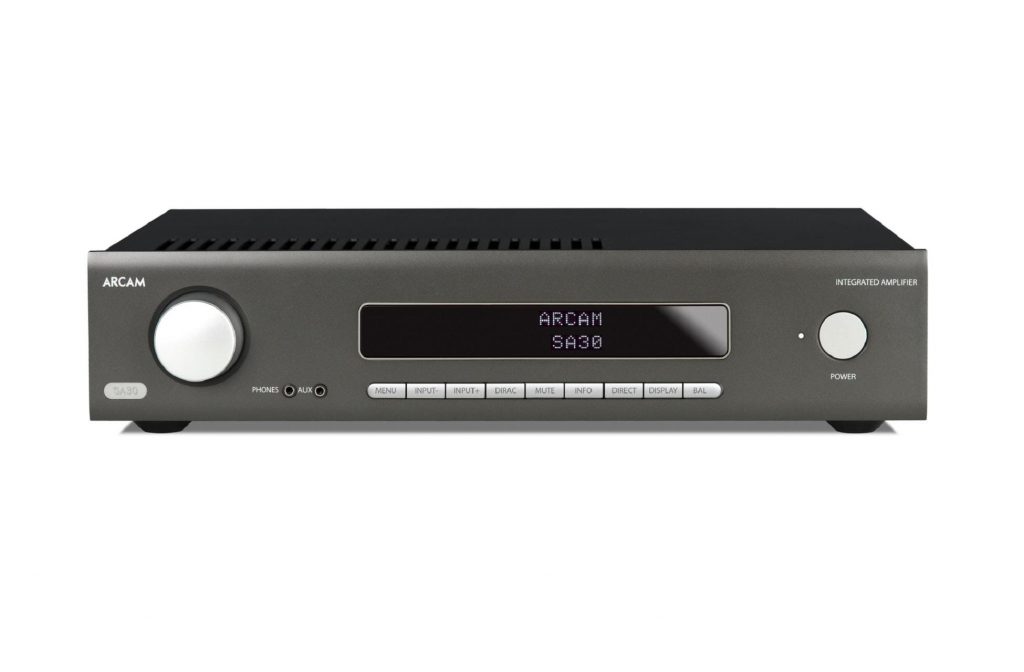 Whilst we were all* awake at night, tossing, turning, scratching our heads, sick with worry at what could possibly have happened at the Arcam facilities to leave us in the painful absence of a 'top end' Arcam amplifier for what felt like a lifetime, little did we know that our concerns were to be completely unfounded. You see, somewhere, deep within the walls of their Cambridge base, a team of the world's leading cybernetically engineered brains have spent the past months working out exactly how much good stuff they can squash into a one box amplification unit. If my calculations are correct, they must have been every part as sleepless as we have.
*term used loosely.
Features
Joking aside, this amplifier has a LOT going on within it's six surfaces.
Let's start with the basics, 120w per channel of Class G Amplification. Arcam's tried and tested amplification offers all of the good bits of a pure Class A amplifier (namely the sound reproduction), without being as recklessly wasteful and inefficient with the energy that is being drawn into it. Arcam describes this means of amplification as being similar to a hybrid car engine, drawing power from two supplies and only using the second supply when demand becomes too excessive on the primary source (which runs in full Class A).
In terms of inputs, the SA30 has you covered on most fronts. Three line level RCA inputs are provided, along with two phono level RCAs (one with moving magnet turntable amplification, the other moving coil). There are also four digital audio inputs (two coaxial and two optical), plus a further digital input in the form of a HDMI input, (fully supporting the new eARC format) and an input for USB audio playback. These are fed through into a high quality Sabre ESS9038K2M, 32 bit DAC which supports full MQA playback through Tidal Masters. The front panel includes an additional line input (3.5mm jack) and a headphone output.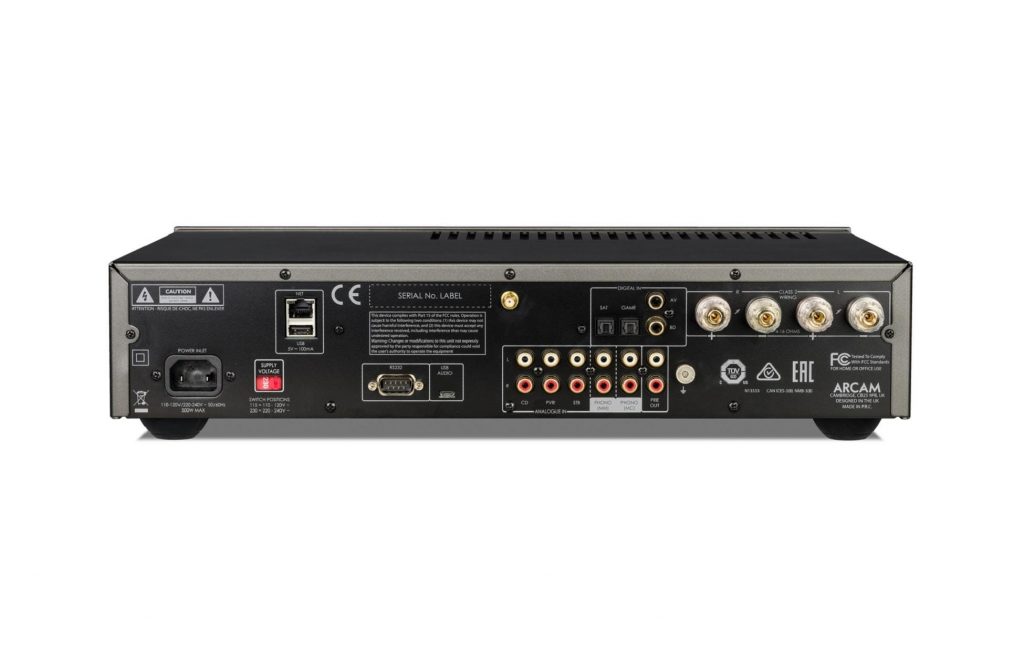 In spite of this abundance of connectivity, Arcam are equally happy for you to not have to plug anything into this amplifier. Streaming capability is built directly into the box in the form of Google Cast. Airplay 2 is also supported, as is streaming via a uPnP server. For the streaming elite amongst you, the SA30 is also equipped as a Roon endpoint, allowing you to access services directly through the Roon application.
As if this list wasn't exhaustive enough, Dirac's sophisticated electronic room calibration system also comes as standard with the SA30. This system takes measurements from around the room and uses a series of test tones, plus a piece of computer software (provided in the box), to adjust the waveform to suit any imperfections in the local environment of the HiFi. It is startling what a difference this process can make. (Please note that Dirac is a service that Arcam advises to have performed professionally by a trained engineer. Ask in store). Full I/P control is also supported by Control 4 and Crestron.
Design/ Build
Design wise, the SA30 falls in line with the rest of the Arcam family of products from the last 18 months. The sleek silver panelling and gently rounded edges are a far cry from those of the previous incarnations of Arcam amplifiers. The solid straight line, black box scenario that they had opted with for the large part of their operating history has been thrown out of the window.
There is certainly a feeling of heavy-weightness when it comes to the premium feel of this amplifier… and not just in the 12kg of mass that it carries. The dials and buttons along its front panelling carry a reassuring level of solidity, as does it's well featured remote control.
The digital display is minimal at best, displaying a small amount of track information but no album artwork et. al. This will certainly strike a chord with the more traditional HiFi enthusiast but may alienate the modernists amongst you.
Sound
As is to be expected, with all of the goodness inside, this amplifier does not fall short on sound reproduction. Listening to Charles Lloyd & The Marvels' 'Defiant' (Qobuz 24/96000), the overall clarity and body of the sound is instantly audible. The depth and character that one would expect of Class A amplification is transferred through to Lloyd's breathy and rasping saxophone, the rhythm section is exceptionally well placed within the soundstage and the steel guitars are brought forwards with frightening detail and accuracy.
Moving into heavier territory, Bonobo's 'Break Apart', is presented in a remarkable fashion. The amplifier's control over the smooth, rolling bassline is stunning. The vocals are rich and lavish, almost palpable in the way that you can explore the minor nuances within them.
(The majority of our listening test was conducted using Revel M16 bookshelf speakers. A pair of Monitor Audio Silver 300s were also used; the amplifier handled both very well and seems to be well suited to flexible system matching).
Conclusion
It is safe to say that this amplifier has entered the field as an immediate class leader. It is so often the case that versatile, feature packed products are offered at the expense or compromise of sound quality. Consider the SA30 to be an exception to the rule. Full marks across the board.
This amplifier is available for demonstration at all Richer Sounds stores. Please call to arrange a listening session.
Learn more about the Arcam SA30 stereo amplifier.
Author: Joe, York store