In a 25-year recording career Richard Ashcroft has released ten studio albums either as part of the Verve or solo. This latest offering has had some critical mauling, in fact, it got one of the worst write ups I've ever seen (The Independent) for an album by an established artist. A recent chaotic appearance on BBC's Breakfast show garnered some publicity but also felt a little desperate. So, is the album all that bad?
Well no actually. It is pretty derivative in places. Opener "All My Dreams" is built around a soft The Rolling Stones riff, and is pleasant enough, certainly not awful. Lyrically it's a fairly basic boy-loves-girl song, but it's well made and catchy. "Birds Fly" is a searching for peace of the soul near-country ballad with a hint of rock 'n' roll, and Ashcroft's voice at times reminds me of Mott's Ian Hunter. "Surprised By The Joy" Is more of the same really. It's lament to simple pleasures in a world of doubt and retreat. Vocally Ashcroft is on pretty decent form, as good as he's ever sounded in fact. But for an album called "Natural Rebel" there's no message, no impassioned meaning.
And so it goes, track after track of accomplished soft rock but soft focus in subject. The orchestrally lush and beautiful "That's How Strong" opens with 'We walk those streets together, It really was my pleasure' and also declares 'Your beauty is so fine, Really blows my mind'. The music underneath this deserves better. I'm sure it's all heartfelt and has meaning for the songwriter, but if it's not engaging for the listener, then it's not quite hitting its remit as art, no matter how nice it sounds. "Born To Be Strangers" channels Tom Petty infused American rock and roll with a song about (fickle) fame. It really has a great sound, but for me there's still no connect.
"That's When I Feel It" is a love song to Ashcroft's art, his music and this time you can relate, anyone who listens to a lot of music has a love and passion for it. It's a lush Jeff Lynne sounding track, and though lyrically it's still not poetry, the fact that I'm reaching for the words, listening to the message makes it the most engaging track so far. "We All Bleed" has a nice verse about tombs and cemeteries and Tokyo in blossom, but the rest of the song is lots of cliché, which is a shame, as it's moody musical backing shows craft and warmth. "A Man In Motion" has bright acoustic guitars and a pretty catchy melody, but the words are repetitive, and though the hook 'She's like, oh oh, yeah, hmmmmmm, You're like, oh oh, yeah, hmmmmmm' actually works, the message is plainly non-existent. In fact it places this track as the weakest on the album. The nostalgic "Streets of Amsterdam" is similarly repetitive but at least tells a story, though musically it's fairly middling. "Money Money" somewhat ironically warns those it is addressing that 'You know your songs mean nothing, nothing at all'. However, this is an album that's more listenable in its earlier parts.
If you were (are?) able to pick the album up at HMV in time, there's a two-track bonus CD. "Rare Vibration" has a soft approach with a shimmering guitar line, and lyrically asks questions about the meaning of it all and the value of phoney friends. It's a lot more interesting than some of the songs on the latter part of the album. "Guilded Halls" takes aim at rich musicians with a soft centre who are living in detachment from their audience before moving onto self-doubt and resignation, the music though is somewhat non-descriptive which perhaps betrays why it's not on the album proper. Ashcroft also recently dropped a streaming only single "Hey Columbo", apparently in response to criticism received whilst appearing on Sky's 'Soccer AM' as a small bag of allegedly drugs fell out of the singer's pocket. It's the only track from these sessions with some true vitriol in its words, some bad language and proper attitude. Its snotty off the cuff acoustic guitar and voice approach make it more endearing too. In many ways this 'throw away' after thought simply makes you think of what could've been.
So musically, not a poor album, the early slightly more influences on your sleeve tracks have more going for them than the latter foray into classic The Verve territory. The whole thing would gain much from a little bit more attitude and polish in its lyrics. More of a missed opportunity than a disaster.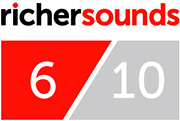 Author: Ian, Romford store