Sturgill Simpson is a 41-year-old native of Jackson, Kentucky who has moved from the pretty straightforward country of his 2013 debut album to somewhere barely reminiscent of country just six years and three albums later…
His last album, 2016's A Sailor's Guide to Earth was a genre-defying favourite of mine and housed a stunning version of Nirvana's "In Bloom". On his latest effort Sound & Fury Simpson is in full multimedia mode, this album accompanies (or is accompanied by) a 40-minute Anime film on Netflix… more on that later.
The music is far removed from Country music, it is synth and especially guitar layered rock, though Simpson's voice retains a distinctive country outlaw feel. Opener "Ronin" is a lead guitar solo instrumental and bleeds straight into the next track, as does in fact every song on the album. There is a bluesy/psych feel to its rock stroll, and the vocal on second track "Remember To Breathe" is a welcome release from the opener's slow crawling paranoia. It has a sort of 'if Pink Floyd came from the American south' feel to it. 'Sing Along' has a pretty straight forward boogie as is Quo vibe, but the music remains dense, just enough eclecticism to keep it reassuringly off mainstream, but familiar enough to appeal to retro fans too. And the marriage of synth to mainstream guitar licks is something that I don't ever recall hearing pulled off before with such aplomb. "A Good Look" manages to throw some old-fashioned funk into the stew and emerges extremely triumphant. "Make Art Not Friends" takes us to album midpoint, a very 70's light prog feel giving way to a chiming guitar/synth battle. The music evokes heat and a post-apocalyptic landscape.
"Best Clockmaker on Mars" (best song title on the album) is a straight up heavy rock song whilst being a love song to growing old in settled bliss. And if "All Said and Done" is a curse to lack of originality and writer's block, then I wish all singer songwriters suffered the affliction and self-doubt to the same degree as Sturgill, as even in a more mainstream frame of mind he still shines. "Last Man Standing" is a glorious 'Dave Edmunds/Dire Straits from the swamplands' rock n roll song. And before it's over the album still gives us a pop chugger about the perils and pitfalls of being a touring musician and some sticky blues and rock stew regarding being unable to stop, lest you expire. There's no easy listening here but there is invention and hooks, melodies and well-crafted words.
As for the Netflix Anime?  The dark themes are reflected, the cartoon violence is extreme, the setting is post apocalypse and ongoing apocalypse. There are echoes of the Batman narrative, in particular the Joker via Frank Miller's The Dark Knight series. Classic anime stylings are interlaced effectively with heavily treated real-life shots, and most importantly the music and visuals add to each other. I'd highly recommend a viewing. And I'd very highly recommend listening to the album too. It's dense, intense, creative and has an artistry most modern music artists fail to master.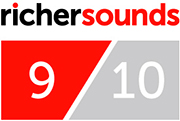 Author: Ian, Romford store