Blues rock duo The Black Keys are back with Let's Rock, a dense, rich fuzz rock barrage of danceable bouncy blues, laced with gospel-esque choral backing vocals and groove laden beefy drums.
The band's first album since 2014's Turn Blue, this effort sees an average comeback for the now ageing rockers. Since the turn of the century, bandleader Dan Auerbach and drummer Patrick Carney have become synonymous with a White Stripes-inspired, stripped back, two piece brand of bluesy propulsive fuzz rock, a market that has since become saturated with the likes of Slaves and Royal Blood.
However, by the late 2000s, they began to move past the limitations of two piece set up, opting for a wider range of instrumentation and sleeker production in favour of their rock edge that drew many to their earlier albums, and Let's Rock is another step in the same direction. The album sees the band progress from the more refined, psychedelia-tinged odyssey Turn Blue. They build on the soulful psychedelic RnB by adding broad chugging chord changes and bouncy drums, which sounds like a spliced Black Keys mashup of all their hits rolled into one. It is fuzzy and fast in some places, soft and soulful in others. Drawing from all aspects of the deep south, Auerbach's slick guitar work and Carney's ever solid, sometimes stolid cascading fills drive each song into the next, interwoven around lyrics full of religious iconography such as walking across water in the name of unwavering devotion to long lost lovers.
Auerbach takes his place as brokenhearted preacher at the forefront of the mix. His vocal flourishes and neat, tidy guitar work act as a cue for the choral harmonies and dynamic drums to play off. Although it is far from the raucous raw fuzz blues that formed the bulk of their formative years, it's what we've come to expect from The Black Keys since their departure from a two-piece format, since the release of 2008's Attack and Release. It's an album full of Kings of Leon style radio rock, and although it's not really pushing any boundaries, it's mildly enjoyable. The album peaks with "Get Yourself Together", a song driven by 'Born on the Bayou"-esque danceable shuffle, however, like most of the album, it is ultimately forgettable.
Although this record is good background music and would fit most dusty dawn drives from a low budget 80's teenage romcom, or your Dad's next BBQ, it's nothing more than radio-ready rock. Although the album has more of a pulse than the band's last few releases, it's a far cry from the soulful blues laden hard rock the band became synonymous with over a decade ago.
There is nothing groundbreaking here, and no huge change of pace or revelation of character. Despite this, the Keys capture the essence of solid, back-to-basics dad rock that draws from all eras of their mixed discography.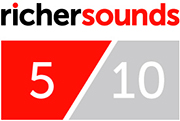 Author: Luca, Prestwich store