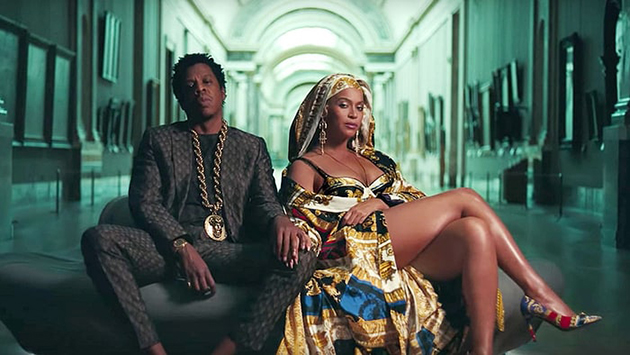 Following each of their solo albums, which highlighted their marital troubles, how will Jay Z and Beyoncé's first album as a duo Everything Is Love play out?
As The Carters release the final chapter of their therapeutic trilogy of albums, the world is of course watching and listening closely. As the dust settles on Lemonade (Beyoncé) and 4:44 (Jay Z), where fans learnt of the couples vulnerability and imperfections, the couple embarks on their victory lap. It is becoming harder to remember the time when Jay and Bey retained such privacy, with regards to their home life. Instead, fans now feel more connected than ever, as if they have read in-depth autobiographies. After admissions of flaws, the couple now appear more genuine than ever, and after all the turmoil they are more relatable. We already know so much, from the fight between Jay and Beyonce's sister Solange, as well as Jay's frank admissions of unfaithfulness; what will The Carters uncover this time around?
There are of course more harsh truths, confrontation and honesty ('This beach ain't always been no paradise / but nightmares only last one night'), but instead this project really aims to portray harmony. The Carters show new found togetherness and a forgiving nature, displaying themselves as a true power couple once again. Thankfully the album is not merely another insight into couples therapy, Jay and Bey explore themes of black empowerment and politics too. On "BLACK EFFECT" (song titles are stylised in all-caps) they wear their melanin with pride, referencing Malcolm X and countless other historically important black figures. They also touch upon the history of hip-hop (check out the Dr. Dre borrowed hook on "713"), as well as bragging about their own wealth and success. On "BOSS" they shamelessly flaunt their billionaire status, but Beyonce still admits 'I got real problems just like you'.
Both artists co-produced each song, with the help of Pharrell, Boi 1da and Cool & Dre in the studio. On the Pharrell-produced "APES**T", Quavo and Offset of Migos fame provide their unmistakeable energy and ad-libs. The tracks video was a bold statement, filmed in Paris' Louvre art museum / gallery, celebrating black culture instead of white colonialism. Beyoncé's rap capabilities are out in full force here, showing up her husband, and many current rappers including Migos. In recent years, Mrs. Carter has undoubtedly surpassed Jay Z (in more ways than one), but now she threatens to steal his crown as a rap-legend too. The album is in fact more of a rap album than a pop / r&b one (a first for Beyoncé), and is full of her clever, witty, skilful flows.
As "SUMMER" introduces the album with a dub wise, soulful arrangement, Bey's silky sonics take centre stage. Her vocals are as flawlessly controlled as ever, from soft to rugged in a second. The track is a heated story of love-making 'I wanna drown in the depths of you', with Jay providing ad-libs until around the halfway point where he sounds almost as rusty as on 4:44. His form improves on "APES**T", and again on the charismatic "NICE". In fact, on "713" his verses are getting closer to vintage Jay Z. Much of the project rely's on booming trap beats, similar to Beyoncé's 2013 hit "Drunk In Love".
Beyoncé always pulls it off, sounding believable, unlike so many of today's stars attempting to jump on whats "hot". "FRIENDS" is one of the album's strongest, where her harmonies and auto-tuned raps make a repetitive cold beat worth listening to for nearly 6 minutes. "HEARD ABOUT" us switches up the tempo, with more of an 80's synth-pop vibe, and the album's closing piece "LOVEHAPPY "is the album's only 90's boom-bap hip hop beat.
Everything Is Love is much less over the top than much of Beyoncé's back catalogue, production and songwriting-wise they have thankfully opted for a less-is-more approach instead. Lemonade and 4:44 showcased realness, flaws and drama, but now we witness the couples rebirth as a strong unit. This album is almost a public renewal of their wedding vows, and is their best work since 2002's "Bonnie & Clyde" or 2003's "Crazy In Love".
Unsurprisingly it has been very well received by critics and fans alike, come and hear it in a Richer Sounds demo room today to see if you agree.