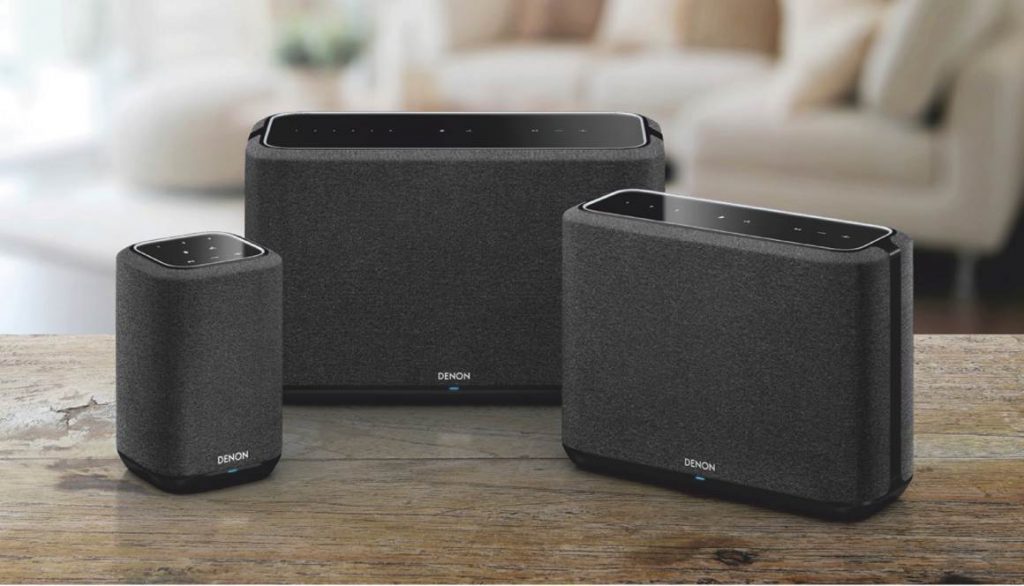 A brief visit to Denon's website makes clear how revered the Japanese giants' AV and HiFi offerings have been in recent years, picking up a dazzling array of awards from across the globe for their efforts. But it isn't just their AV receivers and HiFi amplifiers that have the wowed the critics – their 'HEOS' wireless multi-room system has also seen praise from all corners in recent years.
For 2020, Denon have introduced new, self-contained wireless speakers that form part of a new range, 'Home'. Whilst these speakers are fully compatible with pre-existing HEOS setups, Home is a simplified take on wireless speakers – and one that allows Denon to focus on what the products were designed for in the first place: playing music, and playing it well!
With just three speakers, the Home 150, Home 250 and Home 350 (and these could just as easily be called 'small', 'medium' and 'large'), and two colour choices (black and white) Home keeps things as straightforward as possible, but still giving enough choice to make the most of any size or shape room.
The Home 150 is compact – very compact, measuring just shy of 19cm in height and a tiny 12cm in both depth and width. But, beneath this dinky exterior, Denon have packed a 25mm tweeter and an 89mm woofer, and it packs a punch that belies its diminutive size. Having started life as a dedicated 2-channel hifi brand, Denon know the importance of quality components, and the inclusion of two high-quality digital amplifiers, as well as a top DAC, mean that the Home 150 kicks out plenty of sound, and can also handle Hi-Res audio streaming of ALAC and DSD, too!
Those who are less stuck for space are nicely catered for with the Home 250, the first of the range to include stereo speakers, whilst also housing twin passive radiators – bringing the 250 to a total of six speaker units. With four of the aforementioned digital amplifiers running the show, the Home 250 finds it much easier to fill out larger spaces, such as a kitchen or even a smaller living room.
Last, but certainly not least, the Home 350 – the biggest and baddest of the bunch! With six drive units, the 350 equals the 250 – but these drivers are all driven from dedicated amplifiers, rather than running passively like two of the Home 250s. At 295mm in width and 216mm in height, the Home 350 is perfect for larger rooms, dedicated listening areas – or just for anyone who wants to go loud without the speakers feeling the strain! And if this still isn't enough for you, all three of the models can be set as stereo pairs, allowing you to combine two speakers into a L+R configuration, just like a traditional hifi system!
A streaming speaker isn't much without music to stream, and the Home range has access to a huge number of streaming services, including Amazon Music HD, Spotify (and using Spotify Connect), Tidal, Deezer and many more. There's also access to the TuneIn radio app, with its unrestricted access to 20,000+ internet radio stations from across the planet.
The multi-room side of things works a treat too, with the free app snappy and responsive in use. You can just have the 150 in the bedroom playing if you choose, but why not have the 250 in the kitchen and the 350 in the lounge playing at the same time? You can set individual volumes on each unit that's part of a group and also ungroup them at the touch of a button.
So that's Denon's Home range, and to give credit where credit is due, Denon have persevered with the HEOS system, continuing to push forward and innovate when other companies decided to give it 12 months and walk away. Home as an addition to HEOS is a further improvement and refinement of an excellent system, and one that anybody that's thinking they'd like a multi-room setup should absolutely audition for themselves. If sound quality is your priority (and it really should be) the Denon is an absolute must listen. Well done, Denon!
Find out more about the Denon Home series.
Author: Chris, Liverpool store