As machine learning becomes a common part of our developing technologies, is the student becoming the master?
Netflix takes a deep dive into the world of Joy Buolamwini, founder of the Algorithmic Justice League and based out of M.I.T. She discovered through her studies the chilling hidden costs to imprinting computers with the human race's characteristics. While trying to utilise various algorithmic facial recognition software there was a distinct variation in results depending on skin colour. Knowing that computers have no natural tendencies, the results could only be coming from its human programmers. As she explores the various applications for machine learned algorithms there is an instant realisation that there are disastrous repercussions already being inflicted on people's lives.
One of the great aspects of this documentary is the scope of the social areas they reach out to. Joy visits tower block communities about their foyer door security systems to highlight issues on simple daily life. This is contrasted with discussing shocking police use of the software and even job application software. The TV footage from the senate hearing where the implications are only just reaching the ears of the powerful shows the huge need for this documentary.
The subject matter is certainly a complex one but the explanations are kept to layman's terms for the most part and supported by clear animation aids. The fact that even those who build these systems are not fully aware of how it works is startling. It does not however fall into the trap of many technology exposés where it only focuses on fear factor. The dialogue with big companies and government shows the focus is on regulation and better understanding, for example the interaction with IBM causes them to fix the bias in their systems. It is however important to have seen the companies who actively did not look to fix critical issues like Amazon.
Visually the camera work, animation and settings visited work well to draw you in. The topic could easily be very dry as it is referring to complex computer code but the social element is what is being focused on. Meeting the people whose lives have been touched and to put faces to the effect of coded bias really brings it all home. Hitting locations in the UK, South Africa, America and China it is clear this is not an isolated issue. It is amazing to honour the work of a small number of people whose vocal work will and is going to resonate in all our lives ever more.
Tech documentaries are understandably not everyone's cup of tea but I would recommend this to anyone. This is full of very relevant social knowledge that will inform our lives to even greater degrees as technology evolves. Tech is never bad at its core; it is the way it is used or the people who develop it that make it so. This show explains the steps to rectify it in a timely way before problems can spiral any further, so in a way it is a message of hope that people are standing up and fighting for improvements that could so easily have fallen by the wayside.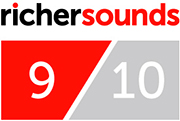 Author: Joe, Bath store