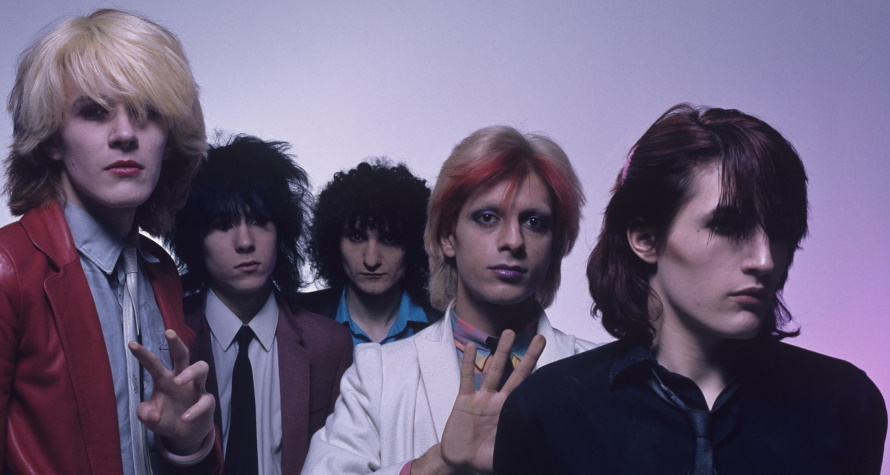 Sitting here now, it's easy to recall Japan as one of the early 80's most omnipresent and successful bands. Truth is they struggled for success and recognition during their lifetime (the band existed from 1974 to 1982 and their five studio albums were released in a hectic 3 year and six months period between '78 and '81). Having said that, they have still left behind a significant recorded legacy and much music has been released by the band members solo and in other projects since their dissolution in 1982.
A recent deluxe edition/remaster of third album 'Quiet Life' has raised the band's profile once again. A couple of months before this I began a deep dive into their output and singer David Sylvian's subsequent solo career. This might have been prompted by the upcoming 'QL' re-issue or it may have just happened anyway as during lockdown I have gone deep into a few artists recorded output.
Released in April 1978, debut album 'Adolescent Sex' has all but been disowned by the band members. But don't let that put you off, it's a great listen. But it's not the Japan you might know of. It a glam-new wave hybrid from before when new wave was even a thing, and Sylvian's vocals are unrecognisable form the smooth baritone offering of his solo years and later Japan recordings. Debut single, a cover of 'Don't Rain On My Parade' is great fun, Sylvian's vocals are snarled and whined out through the album. He sounds like John Lydon in make up, attempting and failing at a Bryan Ferry impersonation. The New York Dolls and Roxy music are obvious touchstones (brothers David and Steve Batt renamed themselves Sylvian and Jansen in homage to the Dolls) but the album has its own charms. As someone who was familiar with the groups 'Assemblage' compilation from back in the day (The first three albums were released on Hansa who issued this compilation as the band came to prominence on second label Virgin) the sound to me is as much a part of Japan as their smoother later sound, however the band view the second album as their debut proper.
Released just six months later 'Obscure Alternatives' was an attempt to appeal to the US market. Bracing guitars are still present but keyboards come to the fore more, and cod-reggae raises its head, but more as foundations to the songs rather than the main building blocks as per say, the Police's run of early singles. Album closer 'The Tenant', a piano led instrumental is the greatest hint so far at what was to come from later period Japan. Also in the mix are hints at Sylvian's later vocal style and some fretless bass from Mick Karn, a sound that would become synonymous with the band's later output. Neither album troubled the UK charts though some success was achieved in Japan. These records don't represent how the band is remembered but are worthy of investigation, they are succinct and fun, and have an artistry of their own.
Before third album 'Quiet Life' was released in November 1979 the group collaborated with Giorgio Moroder on single 'Life In Tokyo' in what can be called the first offering of their later more commercial stylings. This fantastic pop offering wouldn't trouble the charts though until 1982 when the band was a much more commercial proposition. The album that followed, 'Quiet Life', has a polished European feel to it, it reminds me of much of what I liked about Simple Minds music from this era. Sylvian's vocal snarl is gone and Karn's fretless bass work leaves a lasting impression. The new deluxe edition includes a ton of remixes and other stuff recorded for the album. Eastern lyrical influences had always been present in the band's work, and session track 'A Foreign Place' weaves eastern instrumental patterns into the mix pre-empting their work in the final stages of their recorded career.
Arriving a year later 'Gentlemen Take Polaroids' was the band's first for new label Virgin. It still only reached no.51 in the album charts but was a major advancement in their style, lyrically thematic and much more mature than earlier offerings. The band did some great cover versions, but 'Ain't That Peculiar' is a misstep, burying the songs melody and in fact bearing little relation to the Motown original, which in itself is fine but I just don't think the arrangement works. 'Nightporter' became another belated 1982 hit and is considered one of the band's most iconic tracks. The album was the last to feature guitarist Rob Dean, his instrument taking a backwards step in band arrangements, the album being very heavy on synthesisers. Karn's bass and Jansen's intricate percussive work come to the fore as never before.
The final studio album 'Tin Drum' came a year later again and finally gave the band a hit (no.12 in the album charts). The album's eight tracks spawned four singles, two of which hit the top 30, the minimalist 'Ghosts' peaking at number five whilst becoming the band's signature tune. The eastern influences are more apparent than ever, both in the lyrics and instrumentation. To be frank, the album is a work of art and should be listened to as a whole. It is the band's defining moment. However, tensions in the band were rising. The creative process though rewarding was tough. Dean had gone, Karn's girlfriend moved in with Sylvian who was himself dominant at the sessions. The band's split was announced in late 1982. Karn already had a solo album ready to go (Check out single 'Sensitive', a soft classic).
Other records of note are 'Assemblage', released by Hansa in September 1981, compiling work from the first three albums along with non-album singles. Despite the variations in styles presented the album flows wonderfully. 'Oil on Canvas', a 'live' album was released in June 1983 and became the band's highest charting album, hitting number 5 in the UK. I say 'live' in inverted commas because apparently the only live element from the original recordings to survive were Jansen's drums, everything else being overdubbed from studio recordings. It's still a great overview of the band's latter years and to me exists as Japan album number six. Likewise, for me, 1991's 'Rain Tree Crow' is Japan album number seven. Recorded by the final line ups members from 1989-1990, the sound was less commercial, and the tunes rose mainly from improvisation sessions. Yet it sounds like what I would have expected Japan to sound like in '91 had they stayed together. The label (Virgin) and all of the band members wanted to release it as a Japan album except for Sylvian and his insistence prevailed, and the record was released as by Rain Tree Crow. I enjoy the album much more now than I did at the time when it felt like a missed opportunity.
There are many other Hansa or Virgin compilations that scoop up hard to find single mixes, the odd B-side etc. But after 'Rain Tree Crow' the four band members never worked together again, though often collaborated with each other on solo projects. I find Sylvian's solo career the most interesting, especially his vocal work and Nine Horses project. He has also contributed many guest vocals to other artists works. There is a pretty exhaustive list on the Wikipedia Discography page. If any of this sounds interesting and you're not familiar with the band's work then check them out, Japan are on all major streaming services as is a fair chunk of Sylvian's solo output. They might have existed alongside the likes of Duran Duran in the image stakes back in the day, but their music and art has so much more substance. So much more.
Author: Ian, Romford store