Welcome back to Haddonfield…
It has been nine years for those amongst us craving the return of none other than the original OG of slasher horror movies;  Michael Myers. The last time we got to experience a Michael Myers movie was in 2009 when Rob Zombie gave us his sequel to his own 2007 reboot of the original movie, which debuted back in 1978, seeing John Carpenter really create the genre.
Carpenter, having already safely cemented himself as the go-to guy for kills and entrails spills has been absent from the franchise since his involvement with the 1981 sequel to the original Halloween which some have suggested may have been loosely based upon a 11 yr old boy named Stanley Stiers back in the 1920s. The story goes that Stanley was switched at birth by a deranged nurse. Upon learning that young Stanley wasn't theirs, his parents fell to drinking and abused the child heavily. When his parents had a daughter of their own, it's claimed the family started to neglect little Steven to the point that one Halloween night, he got dressed up and proceeded to butcher both parents and his younger adopted sister to death with a kitchen knife and on into the night to later kill a janitor at his school and eventually being picked by the local authorities and placed in a psychiatric ward. Whether any this is true or not, John Carpenter created one of the genre's most memorable–not to mention bankable–characters.
It is said that in the contracts that have been sold time and again in an attempt to breathe new life into the Myers franchise, the one non-negotiable point is that Michael cannot be seen to die on screen. With the rights to Halloween having been picked up by none other than horror maestros Blumhouse Productions, the same outfit that bought us stand-out thriller Get Out which managed a Oscar win for Best Original Screenplay at the 2017 Academy Awards, proving that horror and thriller movies are still a staple favourite of movie goers. As early as 2016, Blumhouse announced their acquisition of the franchise and that they had also managed the previously impossible task of bringing none other than John Carpenter himself back into fray. Not since writing the 1981 sequel (earning Carpenter an Executive Producer credit on the movie) had any of the subsequent eight movies had any actual input from Carpenter. John has gone on record in the past saying that the sequels diluted the character reducing the Halloween franchise to little more than a poor joke.
This Halloween is set 40 years after the event's of Carpenter's original film, ignores all subsequent films and acts as a direct sequel to the original by the same name. Jamie Lee Curtis reprises her role as Laurie Strode, a strong and welcome return to this legendary franchise. After a duo of true crime podcasters attempt to interview Micael Myers (played by his original actor, Nick Castle) at the sanitarium where he's been detained for decades, the pair try to persuade Strode to speak with Myers, in hopes he will finally break his silence on the motives behind his murderous spree before he's sent away to a maximum security prison for life. Strode, suffering from immeasurable trauma from the event forty years prior, declines the duo. But when the bus transferring Myers crashes and he escapes, with his infamous mask in hand, Strode is unwillingly thrown back into the nightmare she wearily thought was behind her…
Michael is on top form in the new movie, with a good script and a fresh team behind the film which I am sure is also due to Carpenters input, we can all rest easy that this is the true sequel to the 1978 original – Michael truly has come home. The new movie has been really well received, going on to take a record $77.5 million, second only to Sony's Venom which took $80.2 million making this the best October takings for a very long time.
Blumhouse have also gone on to say that the team is working on a follow-up, which of course means that we can keep our fingers crossed to get more Halloween and Michael Myers in the near future.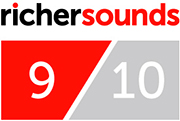 Author: Dave, Plymouth store