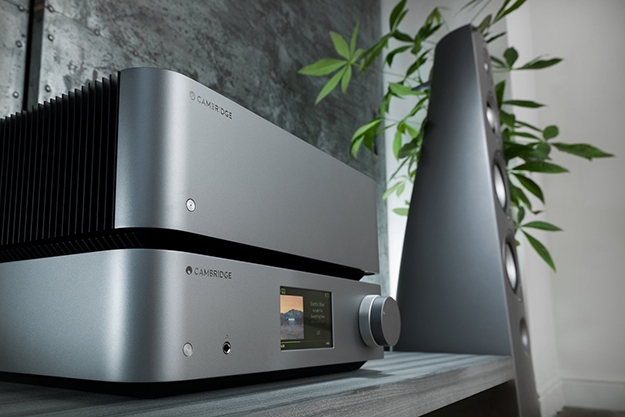 2018 marks the 50th anniversary of Cambridge Audio's inception, and the London-based firm are celebrating this landmark birthday in stunning fashion, launching an all new and wildly creative range of products known as the 'Edge' series…
The range takes in three components: an integrated amplifier, a power amplifier and a network streamer, which also acts as a digital pre-amplifier to work in tandem with the power amp. Today we'll be taking a closer look at the integrated amplifier.
Now, before we go any further, it's important to make something clear: the Edge series has been designed from the ground up as a real take on the concept of 'cost-no-object, no-holds-barred', and that means a pretty impressive price tag to go with the even more impressive build and performance. Any opinion on the relative value of these products will lie with the individual, but there can be absolutely no doubt that Cambridge's engineers have gone above and beyond their mandate to create something truly special. Because, oh boy, is this something special.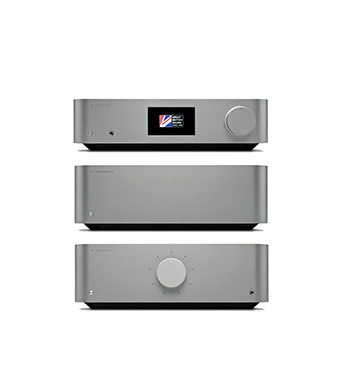 From the very off, the Edge alters your perception of what an amplifier, or any hi-fi component, should look like. It arrives in a box that is vast in its proportions, and is hermetically sealed in an array of outer and inner wrappings that protect it from any marks or knocks, which given its astonishing 24kg weight, seems particularly prescient. In 14 years of unboxing new gear to play with here at RS, I've genuinely never been as impressed by packaging (no, really!) or as eager to get the packaging out of the way so that I could get to the really good bit! Of which, more…
The first thing you notice when you take it out of the packaging is just how big this amplifier is: it's absolutely massive! At 460mm by 405mm and 105mm tall, the Edge is a monster, and will need a fair amount of rack space. The second thing you'll notice is just how jaw-dropping this thing is in the flesh. The Edge integrated is, quite simply, a thing of beauty. It's an exercise in aesthetic minimalism, and one in which the phrase 'less is more' is no mere throw-away cliche, but is an ethos which shapes the very core of the experience. Its elegant design cues are equal parts form and function, with the substantial side-mounted heatsinks helping to dissipate internal heat, but also giving an industrial-chic look that's still definitely more 'chic' than industrial.
The only thing of note on the entire front fascia (which is an elegant matte silver finish that matches the top plate) is the colossal volume dial, which itself is one of the amp's most impressive features. A dual concentric design, the volume control is actually two dials: one to change volume, and a separate wheel further back to allow you to change through the Edge's various inputs. What makes the simplicity of this arrangement so impressive is just how complicated it actually is behind the scenes, with over 30 components alone in just this control system. In practice, the dual rings are superb to use, feeling substantial in the hand and responsive to the touch. I think it likely that if Cambridge's engineers sat back down in 50 years time to try and beat this setup, they probably couldn't, and that's a huge testament to their efforts.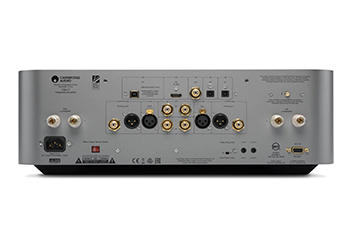 Around the back Cambridge have thankfully abandoned the 'less is more approach', with every possible connection you'd like to see on a 21st century amplifier present and accounted for. There are traditional RCA inputs, balanced XLR sockets, two opticals, a coaxial and even an HDMI socket, giving an easy hook-up option to any modern TV that uses ARC. A USB-B socket rounds out the physical connections, meaning laptops and computers can take advantage of the stellar onboard DAC, and Hi-Res bit-rates of up to 32-bit / 384kHz, and even DSD playback up to DSD256, are possible from this connection. Finally, Bluetooth is included, and in its AptX HD guise, giving a quick, easy and excellent-sounding wireless method of playback. It's not always had the best of reputations, but Bluetooth has come a long way in the past few years, and its inclusion here was a must. During listening, I switched to Bluetooth on a number of occasions, and was always impressed by just how close it came to playback from some of our wired sources.
Under the sizeable hood is where the true magic happens, with Cambridge designing an entirely unique PCB for the Edge amplifiers, and opting to use TWO toroidal transformers for delivering clean power to any speaker. This beefy power setup allows the Edge to pump out 100 watts per channel into an 8 ohm speaker load, doubling to 200 watts per channel into a 4 ohm load.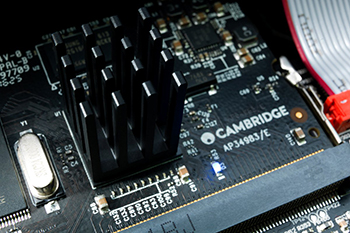 Continuing the minimalist approach alluded to earlier, the Edge A's internals are a true embodiment of the concept, with the Edge A integrated using fewer than 20 components in its entire signal path. If ever there was an area where a 'less is more' approach seems most sensible, it's in the transfer of the audio signal from the source to the speaker. After all, the fewer components placed in the path the signal takes, the lower the loss of information on its journey. There's also a particularly interesting take on the design of the PCB, with the Edge A using no capacitors at all on its board, opting for a DC coupled circuit instead. The long and the short of it is this: by picking the best possible components, and then reducing the amount of them to the bare required minimum, Cambridge's engineers have maximised sound reproduction. No unnecessary overcomplication. Just great sound – simple!
During testing a number of different speakers were swapped in, from range-topping floorstanders to entry-level bookshelf designs, and the Cambridge remained unflappable throughout.
And so, we move onto the listening! The Edge was given 48 hours of full use before any critical listening was done, and after chopping and changing through a number of speaker options, the DALI Opticon 6 were chosen as the best match-up in our listening room. Music was played back from Tidal in lossless via the Edge's coaxial input, but we also hooked up the shop laptop with USB for some Hi-Res listening, too.
Having previously reviewed the Cambridge CXA and 851 range of amplifiers for the Tech Blog, I thought it would be interesting to revisit some of the demonstration tracks used in those reviews. Admittedly, I had expected a big difference between the three, but just how big was a huge shock. Taking nothing away from the (multi-award-winning) CXA and 851 amplifiers, the gulf in class was far greater than the price tag would suggest, and that points to the Edge being not only a class-leader, but also, *gulp*, great value for money!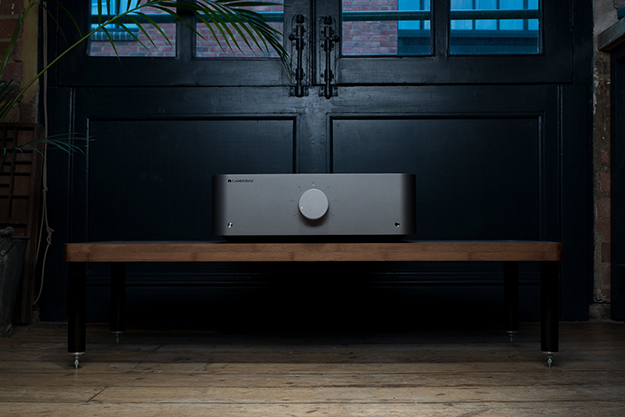 The first track up was 'It's All Over Now, Baby Blue' from the 'Royal Albert Hall' concert release, part of the 'Bootleg Series' of albums. Famous as the gig that saw Dylan heckled as 'Judas!' by an outraged pundit, the then 24-year old Dylan was reaching the arc of his early fame, and drawing in as many new fans as he was upsetting older ones, having plugged in his guitar and found a backing band. Interestingly, the concert itself took place at the Manchester Free Trade Hall, having been mislabelled in its actual bootleg release.
The song itself got hairs immediately standing on end. Seriously. I've listened to this recording a hundred times, and I've never before heard or felt the sheer 'size' of the recording. The hall is a palpable presence, drawing itself around Dylan and his acoustic guitar and creating a venue for the listener inside the room. The nuance in Dylan's voice, the stretched out syllables and exaggerated, almost barbed vocals were imbued with life and realism. Honestly, it's difficult not to make this sound 'flowery' and OTT – but the clarity and technical prowess of the amplifier heightened the experience immensely, adding a diamond-glass clarity to the organic and distinctly live performance. The two meshed perfectly, leaving the end result simply as magical music.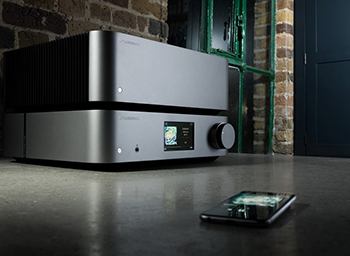 On to something with a bit more 'oomph'! Tom Jenkinson, AKA Squarepusher's 'Do You Know Squarepusher' is an aural tour-de-force, taking in breakneck drum patterns and bouncing synths that test a system's ability to handle timing and rhythmic structuring. Electronic music tends not to have a traditional soundstage as such, but layering of individual parts is important, and particularly in heavily detailed tracks such as this. The trick is in keeping a cohesive, holistic sound whilst revealing all of the intricacies of the song. The Edge integrated absolutely SMASHED these prerequisites! I had to restart this track the second it finished, because again, I'd never heard it brought to life so wonderfully. The depth of the bass in particular was startling. Bass is a difficult thing to do really well for a hifi system. If it's too heavy handed, you'll fill a room out but lose definition, too lightweight and the whole thing underwhelms. The Edge not only delivered deep, impactful bass, but it was textured, musical bass, too. The DALI's sounded tight and refined, picking out spots for the individual components of the track to sit and breathe, but retaining a toe-tapping and distinctly visceral feeling to the music. Again, I felt that even this wholly electronic music was organic and real – all of the words that people normally use to describe good vinyl playback, but from an entirely digital source.
Insight and detail retrieval were by far and away the best I've ever heard, and left other amplifiers for dead. Parts of tracks just continued to pop up that I'd never heard before, but none of this was in lieu of sheer musicality. Nothing felt forced or brought to the forefront to show off clinical precision for its own sake. Basically, all of this extra detail was still part of the music, not just chunks of sound under a microscope.
So, it's fairly obvious by this point how I feel about this amplifier. It's probably also fairly obvious that my enthusiasm doesn't change the high ticket price, and for some, that price of entry will remain out of reach. But as I alluded to earlier, this amplifier is actually – and rather incredibly – good value for money. Its relative performance in comparison to cheaper amplifiers set it apart by a far greater amount than the difference between their individual price tags, and that's surely the only true measure of value. Any music lover owes it to themselves to have a listen to this amplifier. This is a stunning masterpiece worthy of 50 years of innovation and creativity. The performance benchmark has been set, and Cambridge's engineers might need to get started again soon if they want to beat this in the next 50! Happy anniversary, Cambridge!
Click here to learn more about the Cambridge Audio EDGE series 
Author: Chris, Liverpool store