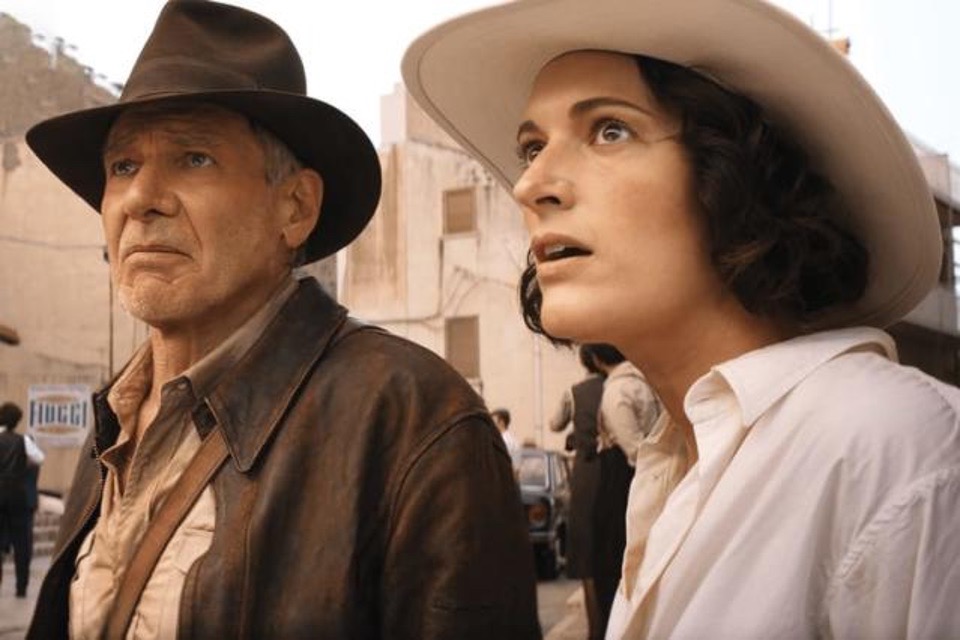 Indiana Jones must race against time to prevent the Nazis from acquiring the ancient 'Dial of Destiny".
After a legendary career in film spanning over four decades, we are delivered what is likely to be Harrison Ford's (now 80 years of age) last hurrah as Indiana Jones. With director James Mangold and his team of screenwriters Jez and John-Henry Butterworth, who together have given us such great films as 'Le Mans 66' and 'Logan'. Executive producers Steven Spielberg and George Lucas, who between them have been revolutionising filmmaking for almost half a century, have also been working on the release of this fifth film for the last few years.
The opening 20 minutes alone certainly delivered a thrilling ride that starts with an almighty bang, that on the whole continues throughout the entire 140 minute run time. Following the current trend of digital de-ageing, the opening sees Harrison Ford visually 'dialled' back to 1944 (which to to an extent, works amazingly well) as he attempts to stop Nazis during the end of WWII doing their best to change the outcome of the war. But in their haste to steal one priceless object, they stumble upon an even more powerful one, thus setting in motion the plot of the film. This rather long sequence transports us back to our youths in an instant with Ford playing a character 40 years his younger self, which physically is no mean feat.
Indy's previous outing 'The Kingdom of the Crystal Skull', was considered a flop by fans and almost stopped the series dead in its tracks. The inclusion of Shia LaBeouf as Indy's son Mutt was disliked by fans, so killing him off before the events of this film seemed the smart way to go. It also served as a catalyst for a poignant drama between Indiana and Marion, whom he married at the end of the last film, but is in the process of being divorced by in this film.
Fast forward to 1969… we see Indy living a dull life in New York, trying to make his way through his teaching job full of disinterested students. Enter Phoebe Waller-Bridge (Fleabag) as Indy's Goddaughter, Helena… who is embroiled in her own adventure to find the 'Antikythera', a clock-like machine created by Archimedes that can predict 'anomalies' in time. Attempting to find the other half of the device drove her father (Toby Jones as Professor Basil Shaw) crazy and led her to a life of wheeling and dealing stolen antiques. It's also great to see some fan favourite characters pop up later in the film, mainly in the form of John Rhys-Davies as Sallah. He doesn't have much to do plot-wise, but he delivers an extra twang of nostalgia and lights up the screen with his bigger than life presence.
Also in pursuit of the Antikythera is our 'big bad', Jürgen Voller (Mads Mikkelsen). Playing a Nazi who delivers the appropriate villainous heft, and has become obsessed with finding the device in order to rewrite history itself. As Indy becomes caught up in the hunt for the mysterious artefact, we set off around the world, with car chases in Tangier, diving for treasure in Greece and a bit of tomb raiding in Syracuse. Waller-Bridge's fast talking, resourceful Helena is a match for Indy in almost every way, without the character becoming annoying or one-dimensional. She also has a young ward in Teddy, an orphan who has accompanied her on her adventures, similar to how Short Round used to tag along with Indy in 'Temple of Doom'.
Harrison Ford surprises us with just how capable he still is to do this kind of action film as an octogenarian. Sure some of the stunts requite digital head replacement and doubles, but you really feel like you're going on one last adventure with a much older version of the character… and that's fine. Even though there's a touch of melancholy about the whole affair, it's brave to let our characters age up along with the actor. At one point Indy even lists off why he's so tired, after all he's been shot nine times, tortured with voodoo and has been married (just kidding). Mads Mikkelsen is a fantastic actor, but it feels like he's being underused here and doesn't really come into his own until the final act.
After a fun sequence aboard a diving boat, captained by Renaldo (Antonio Banderas, who fits right in here) and some similar run-ins with Voller and his henchmen (Boyd Holbrook and Olivier Richters). The third act then sees the film almost 'jump the shark' and take the story on a massive detour to a very different time and place. For a moment you can't believe the film takes such an apparent left turn, yet it's no more far fetched in a series where we've encountered voodoo, inter-dimensional beings and the holy grail… so suspend your disbelief and just go with it.
Despite the film so far taking an impressive $130m in its opening week, it has not been the success Mangold and company would have expected or liked. Even though it doesn't have that 'Spielberg magic' which is so synonymous with the series and the film's pacing can be clunky at times, overall the love is most certainly there for Harrison Ford's Indy. There's a maturity present that lifts what could have been just another money spinner into something far weightier, if not quite achieving the entertaining heights of at least the first three films.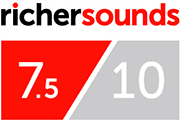 Author: Piers, Maidstone Store