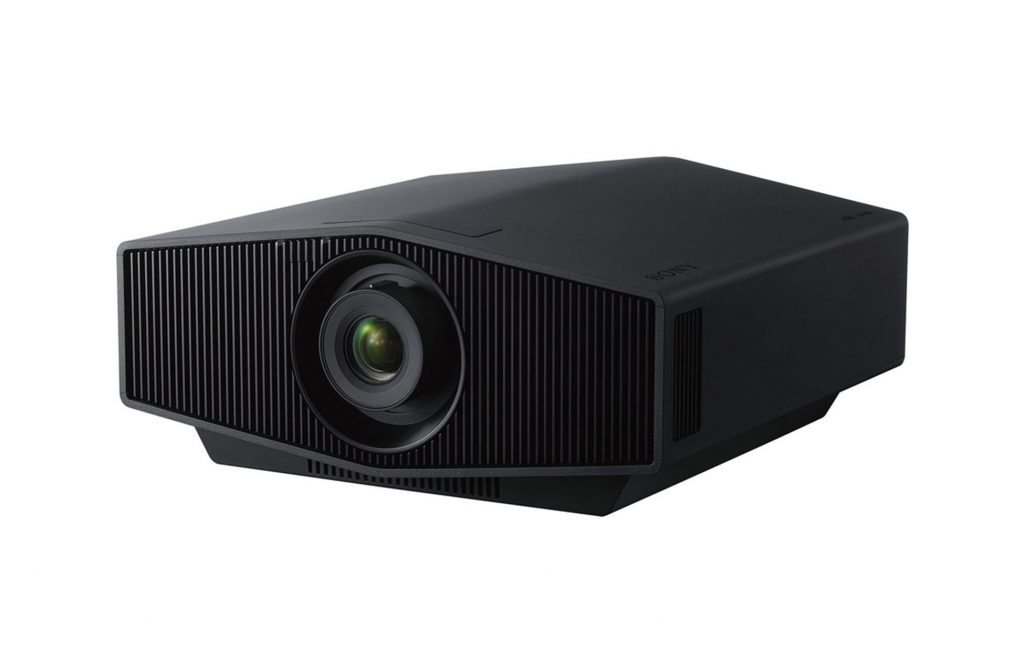 When it comes to native 4K projection without compromising on quality, the Sony VPL-XW5000ES projector stands out as an affordable option. Following on from previous pedigrees such as the VPL-VW290ES.
With its long-life laser light source, advanced image processing, and outstanding motion handling, this projector offers an investment that is easy to justify. However all of that is more or less some marketing spiel. So we mounted it to our demo room ceiling to have a proper hands on test to see how it stacks up against other alternatives in the market.
The Sony VPL-XW5000ES maintains the familiar and sleek design found in previous Sony projectors. Its angled design, centrally-mounted lens and cleverly placed vents make it less imposing than its dimensions would suggest on paper. This doesn't make it small, and at 13kg it's what we would like to refer to as 'reassuringly heavy' – showing it's not mostly air and cheap plastic inside, it's full of lens arrays, circuitry and a hefty lamp and lens.
While the build quality is solid, it is evident that Sony has made cost-conscious decisions to keep unnecessary expenses at bay. For instance, the lens controls for zoom, shift, and focus are manual, which may pose some challenges for precise setup and is a feature found on a lot of cheaper models.
The projector's connections are conveniently located on the left side, featuring two HDMI 2.0 inputs, an Ethernet port, RS-232C connector, 12V trigger, IR input jack, and a USB port for power. It's worth noting that the absence of HDMI 2.1 inputs is a slight disappointment, particularly for avid gamers seeking the full 4K 120Hz high-frame-rate experience. However, for movie enthusiasts, this is not a significant concern, and realistically this is what it has been built for. Sony has a longstanding history of use in Vue cinemas, and despite making the Playstation as well, you can see where their heart lies when making projectors. The inclusion of a backlit remote control enhances usability, even if you need to adjust volume or settings in a dark home cinema atmosphere.
The Sony VPL-XW5000ES boasts impressive features that contribute to its exceptional performance. Its 4K SXRD chipset, combined with the X1 Ultimate processor and dynamic HDR enhancer, delivers stunning image quality with deep blacks, vibrant colours, and improved contrast ratios. The laser phosphor light source ensures long-lasting brightness, rated at 2,000 lumens (which it happily appears brighter than due to the excellent contrast it affords – similar to OLEDs in the TV realm) and offering an impressive lifespan of up to 20,000 hours.
The projector supports HDR10, HLG, and even IMAX Enhanced content, providing a good host of HDR compatibility. Additionally, its motion handling is top-notch, with fluid playback and a low-latency game mode that offers an excellent gaming experience. The lack of Dolby Vision and other dynamic HDR formats is a little disappointing, but always having access to the static formats like HDR10 is a good fallback, even if some may find it a bit galling at the price.
Native 4K images are delivered with exceptional detail and excellent uniformity. While the smaller SXRD chipset and hybrid lens slightly impact sharpness against higher models, Sony's Reality Creation detail enhancement technology ensures that image quality remains top-tier without introducing unwanted artefacts. The X1 Ultimate processor optimises the picture in real-time, providing a visually pleasing experience even with upscaled content, meaning that even non-4K content such as Blu-ray still looks great – as we saw with our older copies of the 'Lord of the Rings' trilogy. Motion handling is another standout feature, with fluid playback and minimal judder, making it a great choice for sports enthusiasts. This reviewer may not have particularly cared about the football outcome on the game he tested it with, but at least the ball was easy to follow throughout.
On the note of the persistent term, Native 4K. It bears noting that a lot of the market below the Sony offers '4K' but this is either downscaled 4K or upscaled lower resolution images, leaving us with an affectionately named 2K. Whilst decent, the difference really shines when you compare 4K between one of these models and the Sony.
The projector offers various picture modes, with Reference mode delivering accurate industry-standard settings and Bright Cinema mode adding more impact with slightly saturated colours. However, black levels are one area where the Sony VPL-XW5000ES falls slightly short, as it struggles to achieve the deep inky blacks of its JVC counterparts.
The projector's support for HDR10 and HLG is commendable, although the absence of HDMI 2.1 inputs prevents HDR10+ and 4K/120Hz support. Nevertheless, Sony's Dynamic HDR Enhancer effectively adjusts tone mapping, resulting in vibrant and detailed HDR images. Bright HDR content truly shines on this projector, displaying punchy highlights and captivating details. However, in darker scenes, the Sony VPL-XW5000ES may struggle to reveal all shadow details.
Overall, the Sony VPL-XW5000ES projector offers native 4K excellence at an affordable price point. Its impressive image processing, commendable HDR tone mapping, fluid motion handling, and low input lag make it an excellent choice for both movie enthusiasts and gamers. To see it for yourself, why not arrange a demo with your local Richer Sounds or call our Telesales team for more information.
Author: Tom, Cardiff Store