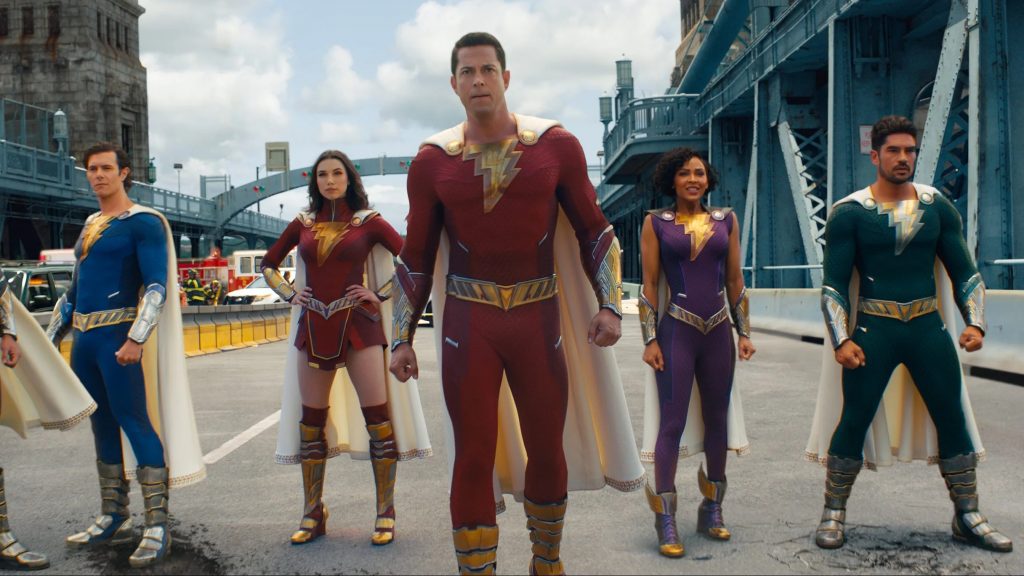 What do you do when three vengeful Daughters of Atlas come for the all-powerful Magic Staff? You summon Shazam and his band of teenage misfit superheroes!
Directed by David F. Sandberg (Annabelle, Shazam!) We see the return, amongst others, of Zachary Levi (Chuck) and Grace Caroline Currey (Fall) and their band of merry boys & girls with their God like superpowers.
With great wisdom, strength, stamina, power, courage and speed, comes great responsibility for a seventeen-and-a-half-year-old Shazam! Mostly unsure of his and their future in the foster world and the ever-expanding DCEU (Detective Comics Extended Universe) our six superheroes are thrust into a new fight to prevent the 'Daughters of Atlas' from regaining their own devastating powers and using them against the mere mortal mankind.
With this second of the proposed trilogy; we find Helen Mirren, Rachel Zegler and Lucy Liu as the all-powerful Gods Hespera, Anthea & Kalypso, brought to our planet to unleash their newly recharged otherworldly abilities and control (un)respectfully Earth's Elements, its axis and cause ultimate chaos with the help of the all-powerful, stolen Magic Staff.
Continuing a new vigour for strong women in major roles, Shazam! The Fury of the Gods is a far larger film visually than its predecessor and is also more confident in how it sets out in its own quest to bring us the bridge between the first and the last films of the potential Shazam trilogy.
Set in Philadelphia… Shazam, Mary, Freddy, Eugene, Pedro and Darla are once again at odds with the dark world outside that constantly stalks them, whilst they themselves are trying find their way through their own innermost troubled adolescence and get through college alive. Interestingly, Grace C. Currey's character Mary and her alter ego is now played by the same actor eliminating the need for Michelle Borth. This brings an interesting thought that now Mary is an adult, both physically and mentally stable at home does she need to hide her form and believe she needs to be something or indeed someone stronger?
The energy and confidence of this second instalment with a larger cast and bigger effects has created a very mixed reaction to the fan base around the globe. On one side, the love of the first Shazam! has left many wanting something of greater depth with its storyline and character development. On the flip side – me included here – felt this new instalment has created a much more fun, larger spectacle that has delivered a greater visual treat with bigger characters, bigger budget and a far more immersive IMAX experience.
With obvious CGI used to a greater extent within the last act, one notable use of mesmerising visuals is through (West Side Story's) Rachel Zegler's Anthea character who has the ability to control Earth's axis within any given diameter from a rooftop to an entire city and beyond. The effects are of a multiverse level that gives a lift to a film that neither falls flat nor necessarily leaves you wanting the final instalment. There is however plenty of fun and brilliantly written scenes that knowingly provide laugh out loud moments with the use of a magic calligraphic pen called 'Steve'.
The very DCEU is constantly attempting to lift itself from the dark depths of the 'Gothamesque' driven storylines that in themselves are dark by nature, to the giddy heights and indeed dramatic depths of the Marvel Universe that more often than not hits. With Shazam: Fury of the Gods, however, this is the case. The brevity is there whilst dealing on the surface with the uncertainty of the foster care system. With David Sandberg's nod to Anabelle early on in the opening act, this sets the tone for what is to come, and within itself… it works!
There are some lovely treats in this film and I highly recommend not viewing the cast list before the screening. *wink*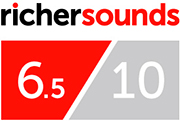 Author: Piers, Maidstone Store