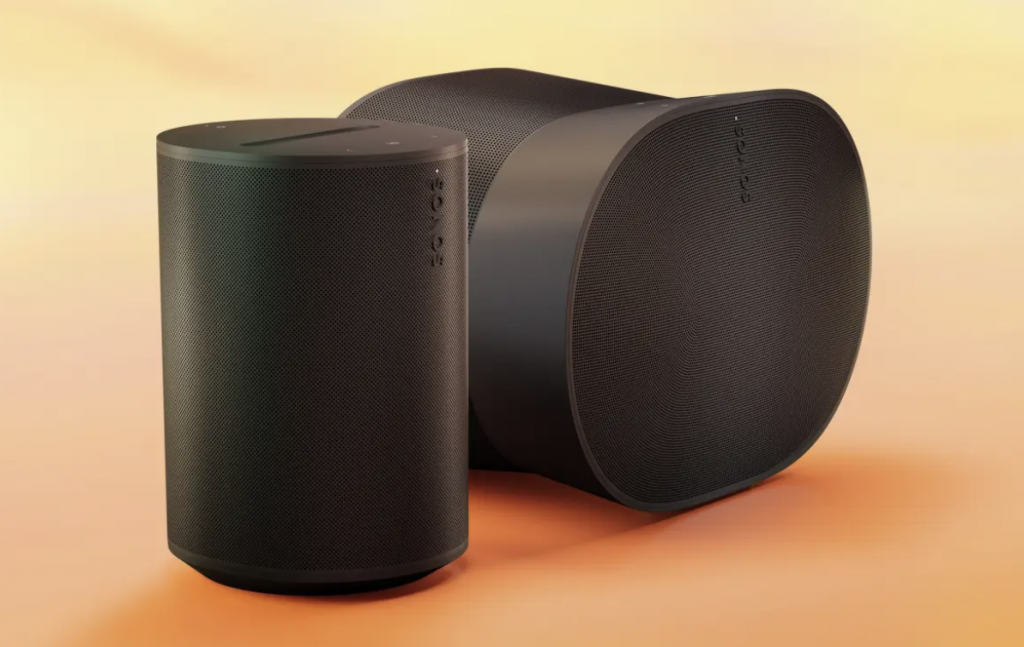 Naming your new speakers 'Era' is a big statement of intent from Sonos. Their range hasn't had much change in recent times with only minor tweaks coming and mostly in their home cinema department. The new ERA 100 and 300 models have the potential to change this.
The ERA 100 is just a bit larger than the current Sonos ONE, which I imagine it will eventually replace. The headline differences are the addition of Bluetooth and a second speaker to give a true (if confined) stereo sound. As with these two we get an analogue connection which was previously only on the FIVE. It takes the form of a USB-C connection so an adaptor would be required if you want to use a turntable. There is also a switch on the back for enabling and disabling the inbuilt microphone.
These, although small changes, do elevate the speaker to a much wider audience. The extra speaker gives it more punch than a ONE and helps to shift the sound around the room with more ease. It still manages to be refined however, a trait that Sonos speakers do very well. One example of this is that you can push the filament up and won't get a harsh sound near the top end. By adding in Bluetooth this opens up the speaker to everyone and makes it just that bit more accessible. It is a feature that Sonos said they wouldn't have but here we are. It now makes them a more compelling rival to other brands such as the Denon 'Home' range. Couple this with the analogue support there really isn't anything these speakers can't do. The only exception would be spatial audio. However, Sonos haven't forgotten about this.
For the unaware Spatial Audio is an audio format which is created in conjunction with Dolby. The premise is to have music surround you in a three dimensional space. It has been used by Apple now for well over a year with their products and more recently Amazon Music. The ERA 100 can't play these tracks in this manner however the ERA 300 can.
The big difference with the ERA 300 is native support for Spatial Audio. The shape of the speaker looks a bit awkward I will admit. However, it is designed in such a manner to allow for speakers to point over your head and all around. This means that it can do true 3D sound. Couple this with a larger chassis means that it fills a room exceptionally well. Currently it is only Apple Music and Amazon Music that support this feature but I imagine more will come along.
Playing certain tracks on it does show off how well it can bounce sound around you. One thing in particular are tracks with pronounced percussion these can be easily heard separate from the rest of the tracks instruments. I did a comparison with the slightly larger FIVE which although was a more powerful sound does lack the refinement I would say of the ERA 300.
One key aspect of the ERA 300 is the fact that a pair can be used as rears, yes the other speakers can do this as well. However, the fact that if you combined this with a Sonos ARC soundbar then you will get a full Dolby Atmos setup. The ARC already does a good job with height audio, brining in a pair of 300s will only push it to new heights. It also comes with the same new functions as the 100.
With both new speakers bringing a host of new features it really helps push Sonos back up to the top of the multi room home market. Both are deserved upgrades and additions to the existing lineup, I do believe this is the new era for Sonos.
Both of these speakers are available to buy now at your local Richer Sounds store or at richersounds.com
Author: Tom, Bath Store