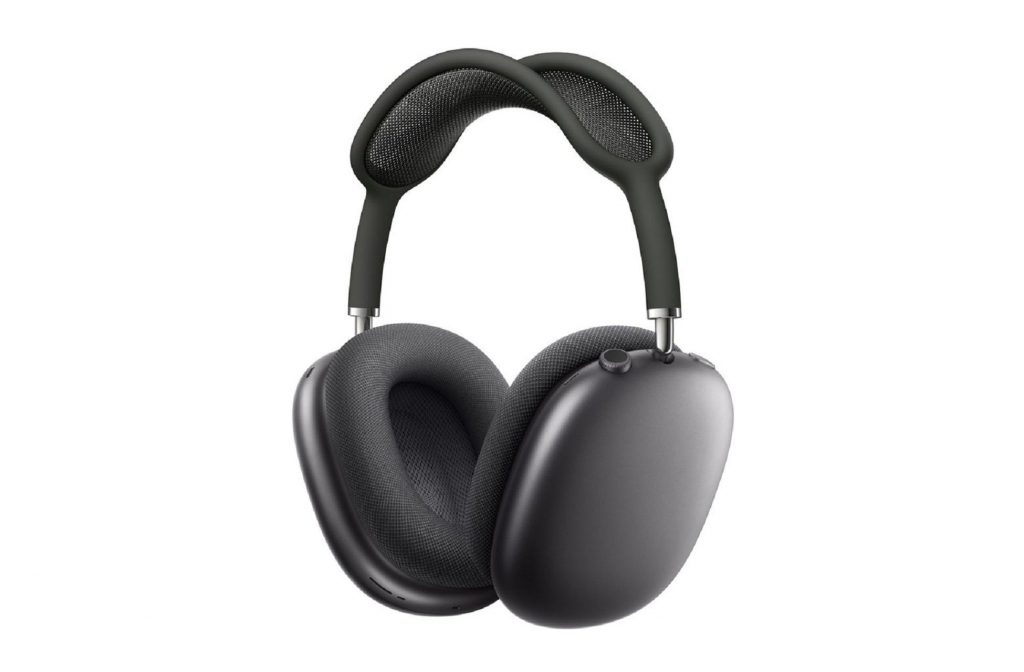 Apple only recently (relatively speaking) got into the vast market that it is wireless headphones. They started off with the AirPods. These became a hit. A few factors aided this, not only did they have a surprisingly good sound for such small earpieces, they were compact, easy to use and integrated perfectly with the Apple ecosystem. They also became a bit of a status symbol – good or bad this helped Apple decide to bring in more variants.
We got noise cancelling pro versions which tweaked the formula to bring some much desired features. However, people were wondering when they would delve into the very busy over-ear headphone market.
Enter the Apple AirPod Max.
The design of these headphones is like most Apple products – simple yet oddly satisfying to behold. Made from a single piece of aluminium for each cup and and stainless steel headbands they certainly look the part. You only get two physical controls on the headphones, one for noise-cancelling controls and a volume wheel which is a bigger variation of the Digital Crown found on the Apple Watch. There is perhaps less need for physical buttons as you can do most of the music controls via Siri if you wish too. The headphones feel solid and very well made.
It's not all about design, they need to back this up with the main purpose of reproducing sound. Apple have gone to great lengths with these headphones and they do sound phenomenal. There is clarity tied there which doesn't trip over the bass. Essentially you have a lot of space and soundstage. They can't reproduce soundstage to the same level as open back headphones, but for closed back it is a great effort! They offer timing and expression that really let you enjoy the music without feeling too claustrophobic, this is where the noise cancelling comes in. As with all noise cancelling headphones the ability to block out ambient noise accentuates our ears' perception of the audio tracks. The level of noise-cancelling is frankly silly and you need to be aware if you are out and about! The combination of these factors leads to a sonic recreation that's only drawback is if the track you are listening too is badly mixed then you can pick this up! However, if you are listening to a track like Deadmau5's 4Ware you can really feel the headphones working hard to show off the track to its fullest.
These headphones don't just rely on sonic performance to keep the user enthralled but they have some serious tech inside that is fresh and new. The main one is Apple's Spatial audio with head tracking. So spatial audio is available in their smaller in ears , but is taken up to the 'max' here. The purpose of this is to put your head in a bubble of sound so that you get atmospheric sounds. When a track is designed for this you will hear the music above your head and all around. The clever trick with these headphones is they bring in head tracking. Essentially this locks the audio in one place so if you move your head then the audio will stay in front of you. At first this is disorienting but you get accustomed to it, it's certainly an experience. However, for me I appreciate the tech behind it but I just can't help think that it is a bit unnecessary. I tried this with a few tracks and couldn't fall in love with it – it seems a bit unnatural. That's for music at least, this feature is also available for films. I didn't get a chance to try it with a film but I could see this being an innovative addition. The other key aspect is the ability to fit into the Apple ecosystem which just works and is, if you are an Apple user at least, a major pull. They just work and with no need to fiddle with Bluetooth or seeing if the headphones are in pairing mode. Just simply bring them close to your phone and they just connect with one tap.
There is an elephant in the room with these headphones in that (at the time of writing) they cost £549. This is an extraordinary amount of money for a product of this type. Putting it well above the award winning Sony WH-1000XM4s. I'd argue they sound better and the extra features set them apart. At this price though they are on their own. I've listened to headphones that are twice the price but they are for a different purpose for a more hi-fi experience. So why would you get these headphones? Well for me they are the complete package (if you ignore the frankly terrible case that they come with), if like me you don't get on that well with in ears but want the Apple integration then they are a win win. The price however, is the main draw back – sitting above the best wireless headphones but below audiophile level. This makes things awkward, but for me at least, if you listen to music everyday and want a smooth and easy experience then I would say it's worth the investment. Going back to the initial point I made, if you can get past the 'image' that they are now associated with then you will be very happy with this purchase.
Learn more about the Apple AirPods Max headphones.
Author: Tom, Bath store