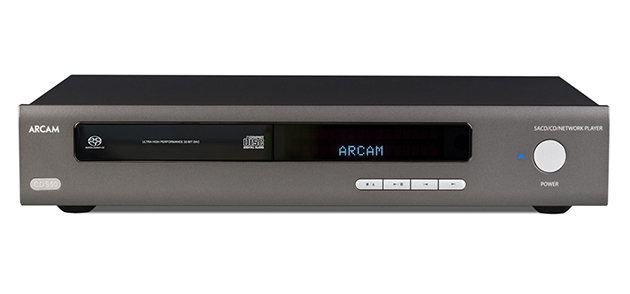 Arcam have been providing audio lovers with equipment to enjoy their music for over 40 years and 2018 sees the Cambridge-based company release a new range of hi-fi gear to whet our appetites. Following on from the successful CDS27, Arcam's latest CD player, the CDS50, sports an updated design as well as some exciting new features.
The expected high build quality is carried over but the flat front panel has been dropped in favour of a facia that curves up onto the top of the chassis. It strikes just the right balance between looking more chic and retaining the Arcam style of the previous model. On the rear the USB, digital optical and coaxial outputs are joined by phono and balance XLR outputs, meaning that whether you pair it with the matching SA10 or SA20 Arcam amplifiers or an entirely different brand, you can use the best connection for your system.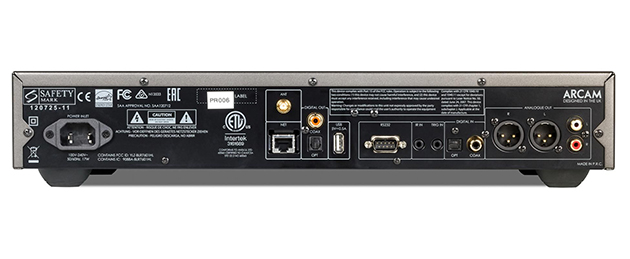 An addition to this model is the optical and coaxial inputs meaning that you can use the CDS50's 32-bit/192kHz ESS DAC (a big upgrade from the 24-bit model used on the CDS27) as an standalone DAC/outboard converter for other sources. This upgraded DAC coupled with the digital re-clocking system to eliminate jitter enhances performance to eke out as much detail as possible. The provided remote control is backlit for ease of use in darker rooms and can also handle commands such as volume for your amplifier too.
The CDS50 is a disc spinner that's capable of not only playing CD and Super Audio CD, but is also able to stream digital audio stored on network hard drives, laptops or desktop computers via UPnP & CIFS standards. Compatible formats include WAV, FLAC, AIFF, AAC, OGG, WMA and MP3 so no matter the mix of content that you have, the CDS50 has no problem recognising it. Controlling the system is the iOS app Musiclife, which allows you to browse all your content as well as providing streaming services such as Tidal, Qobuz, Deezer and internet radio.
It seems logical to pair the CDS50 with the matching SA20 amplifier for testing, and once hooked up with a pair of Revel Concerta M2 standmount speakers the system is soon powered up and singing away. First up, we test a mellow tune, "Rest" by Michael Kiwanuka, and the Arcam treats us to a natural and well detailed presentation. The warmth of the bass guitar is silky smooth and sits perfectly underneath the subtle percussion and guitar work. When the dynamics are taken up a notch with strings, it's enough to stir the emotions but they're controlled enough to not detract from Kiwanuka's soulful vocals.
Choosing to ramp up the energy a bit we switch to "I Wanna Be Your Lover" by Prince and we immediately notice how that control extends to the attacking edge of instruments like the staccato guitar pattern in the verse. The full-bodied sound means we never feel like we're missing out on any particular frequencies and instead are receiving a nice, tonally balanced rendition of the track.
It's a shame that the MusicLife app is only available on iOS devices but it works pretty well and is nicely laid out. It's not quite on the same level as Sonos for user experience but its straight forward enough and does the job. Using this, we decide to listen to a high resolution copy of breakbeat trio Nerve's "Ghosts of Tomorrow". Unsurprisingly, the detail and spaciousness is quite astounding even with the busy arrangements. Ethereal synths, layered drum pattern…the CDS50 handles them with ease.
As I've mentioned on other blog posts, previous Arcam products were sometimes ever so slightly relaxed and not quite as exciting as some people might want. Whilst the CDS50 maintains the control and warmth of its ancestors, it's not afraid to release dynamics and detail when required which all results in you wanting to just keep listening to it. This coupled with the excellent feature set means it's a serious prospect for anyone wanting to combine streaming and CDs without wishing to have two separate components in their hi-fi rack. The new range of Arcam products is available to demo in our stores now so why not give your local Richer Sounds location a ring and arrange a demo today?
Click to find out more about the Arcam CDS50.
Author: Steve, Bristol store