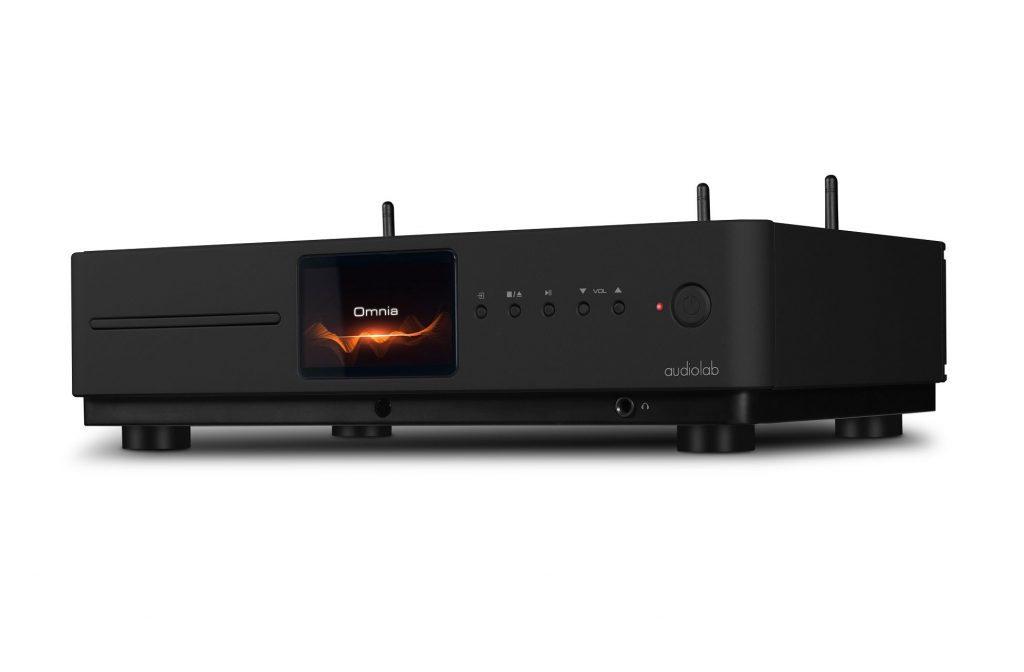 All-in-one hi-fi systems have come a long way in recent years. Top-notch models from premium brands such as Naim and Cambridge Audio prove that you don't always have to go down the separates route to get great sound quality. This time, it's another British firm, Audiolab, that is ready to try its hand at this burgeoning market. Here is a closer look at its new Omnia hi-fi system.
Straight from its packaging, it's clear that the Omnia means business. Your eye is immediately drawn to the colour display in the centre of the front panel, and also the huge number of sockets on the rear of the unit. Music sources cover everything that even the most demanding of hi-fi enthusiasts could think of. There's a slot-loading CD player, a moving magnet phono stage for a turntable, as well as three other analogue RCA inputs, two optical and two coaxial digital sockets, a USB-B port AND there's an in-built network player with internet radio support, too. A headphone socket rounds off this smorgasbord of connectivity, making the Omnia a great choice as a desktop headphone set-up. It's an exhaustive list!
So far so good, and the upsides don't end there. Under the bonnet, Audiolab has opted for a traditional Class AB amplifier, with a very capable 50 watts-per-channel output – more than enough for room-filling sound. There's flexibility in the Omnia's potential use with other products in the future, too. Power amp sockets let you hook up to an even more powerful amp at a later stage. The digital hardware is equally as impressive, with a DAC chipset from ESS Sabre – one of the best names in the business. This allows for playback of Hi-Res Audio formats, such as DSD and MQA, and plays an essential role in making the Omnia sound as good as it does.
We gave the Omnia plenty of time to run in and chose a variety of speakers in order to hear just what it's capable of. We got brilliant results from speakers in DALI's Opticon range, but the Omnia is fairly speaker-agnostic, and doesn't require special treatment to get toe-tapping sound. On with the listening…
After linking our NAS drive, we had a huge choice of CD-quality-and-above tracks to pick from. Kicking off with David Bowie's remarkable final work 'Blackstar', the Omnia instantly proved its mettle. The brooding, eastern tones of the titular opening track sounded lush, enveloping our demo room in its density. Bowie's strong vocal was locked tightly to centre stage, and there was obvious clarity and separation between instruments and vocals. So far, so very good.
Next up was legendary jazz pianist, Bill Evans, and his 'Waltz for Debby'. A live album, recorded by Evans' first trio, which included the equally legendary Scott LaFaro on bass and Paul Motian on drums, shows just how tight that band was – and how cruel it was that LaFaro tragically died not long after in a motor accident. The recording's atmosphere was very impressive, especially as it dates back to 1962. Evans' playing is dynamic but tender, and was rendered brilliantly by the Omnia. Again, separation was top notch, with each of the members' roles clearly defined and easy to follow.
Navigating tracks was incredibly easy, with that full-colour display and DTS Play-Fi app support giving easy access. This is a system that won't trouble even the most ardent technophobe. As well as streaming, we tried the phono input and again found it gave excellent results. Just as with the other sources, it sounded powerful and dynamic, with the ability to really get you involved in the music.
The long and the short of it is this: the Audiolab Omnia is another fantastic example of how to do one-box hi-fi well. It packs an unbelievable amount of tech into its relatively compact chassis, and it knows exactly what to do with it. The Omnia is a must-listen for anyone in the market for a new hi-fi – especially those for whom space is a premium. Nice work Audiolab!
If you'd like to hear the Audiolab Omnia yourself, contact your local Richer Sounds store today and book a demo.
Author: Chris, Liverpool Store